Peter Weller is set to return as Alex Murphy in a new RoboCop game (RoboCop: Rogue City), a first-person shooter.
Nacon just released new gameplay footage of their project RoboCop: Rogue City. The video game was announced last year and went without updates since, however, the company is finally showing fans more of the first-person shooter in the Nacon Connect stream event. The latest trailer with gameplay footage was released alongside a confirmed release window.
RoboCop: Rogue City will be released on PlayStation 5, Xbox Series X and S, Nintendo Switch and PC in June of 2023.
RoboCop: Rogue City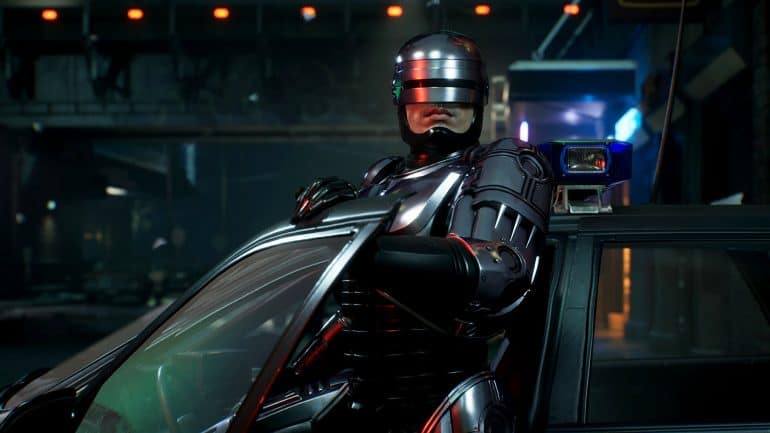 Based on the original 1987 movie, the new RoboCop game promises to be a completely new story and unique experience. Nacon has said that the game will feature first-person shooter gameplay with the exploration of Detroit and multiple-choice dialogue to uncover the story of the futuristic cop.
The game is set in an older, dystopian Detroit and RoboCop can be seen taking out groups of thugs and gangs with his iconic Auto 9 machine pistol and tossing them around like ragdolls. The one-minute and thirty-two-second trailer mixes both CG and gameplay footage.
The trailer opens to a news report heard over an active crime scene. The news reporter can be heard saying, "In local news, a new crime wave that is sweeping Detroit has already claimed the lives of twenty-one police officers." Cutting to the news station itself, a thug can be seen taking the speaking news reporter hostage on live television.
Coming to the rescue, RoboCop arrives on the scene and we are shown the first glimpse of a first-person exploration of the streetscapes of old Detroit. The streets have devolved into anarchy as thugs and gangs shoot, throw civilians out of windows, and create chaos. Fast-paced and action-heavy combat shows us that this is going to be a fast, action-packed game that will thrill any fans of the original RoboCop.
Developers
The company that is developing RoboCop: Rogue City is Teyon, a Polish game development company that is mostly known for its shooters it creates based on film franchises from the 1980s.
Teyon was the company responsible for developing Rambo: The Video Game which was released in 2014. This game was unfortunately reported to be plagued with developmental issues ranging from management to marketing to scope, according to YouTuber Matt McMuscles.
Teyon also developed Terminator: Resistance which was released in 2019. This game was considered to be a solid improvement, not displaying many of the issues that the company had been criticized for in the past.
Teyon's skills appear to be gradually improving, however, fans are concerned that the company will not have the skills to pull off a video game in a franchise that has such a cult following. Concerned that the game will be a flop, just like Rambo: The Video Game, fans are tentatively hopeful for the development company's latest project after the success of the recent trailer.
Are you excited for RoboCop: Rogue City or do you think that the game will flop like Teyon's other projects?