It's been 27 years since Robocop, the fusion of man and machine, first stepped out in a metallic suit and into pop culture.
Resonating with social commentary of the time, Paul Verhoeven's beloved 1987 sci-fi highlighted a number of rising issues, including society's obsession with violence, drugs, and game shows. The well-cast reboot tries to find similar feet by commenting on post 9/11 themes, but leaves behind the playful satire in favor of a darker reboot. Yet, amidst the videogame styled action sequences and CGI explosions, there lies a hint of soul beneath Robocop's metal exterior. The new model proves to be smart, exciting and fun, but ultimately won't be remembered as a classic like its predecessor.
Alex Murphy: Dead or alive, you're coming with me!
With the amount of reboots that get the Hollywood greenlight these days it's hard to distinguish the heartfelt make-overs from the sloppy cash-in products. It's safe to say that Robocop feels like a film with a purpose bigger than poorly imitating the original. It might side step a few of the more serious themes found in its 80s companions, but ultimately delivers enough meat to keep both hungry comic geeks and the general audience pleased. It's always going to be tricky recreating a classic, but Jose Padilha gets just the right blend of old and new to make the film work. Had it steered to close to the original it would be declared redundant.
Raymond Sellars: Make him more tactical. Let's go with black.
Set in the year 2028, undercover cop Alex Murphy (Joel Kinnaman) is chosen by a multi-billion dollar robotics company, OmniCorp, for an experimental program after he is disfigured by a car bomb. Unknown to his family, the company's ruthless CEO (Michael Keaton) has bigger plans for the city's hero and decides to program him into a fierce cyborg police officer. But just how much human and how much robot makes up Robocop? The film kicks into gear when Murphy decides to investigate his own case.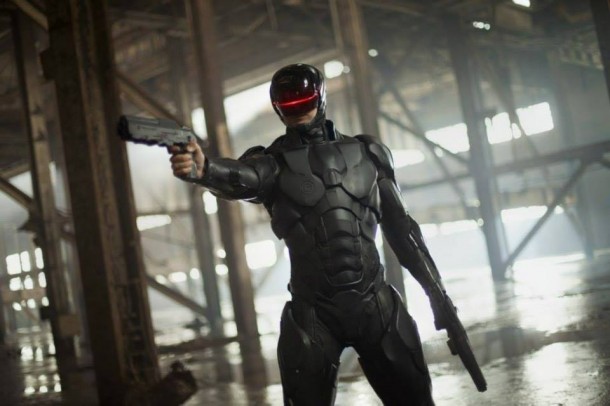 Clara Murphy: You said you could save him, but what kind of a life will he have?
Joshua Zetumer's script does well to update the story to a more modern setting while toning down the violence (you won't find many mutilated bodies here) and refocusing on the sci-fi elements of the comic hero. There are attempts to bring lighter touches to the film, mostly with the use of Samuel L. Jackson's talents and the misplaced banter of Jay Baruchel (whose character seemed to be for a completely different film). The rest of the cast, however, manage to breathe the essential life into the characters that generally aren't that deep or interesting. Thankfully, Padilha understands the importance of character development and, instead of jumping in on action sequences, the story is slowly built up to include a worthy backstory and a believable transition from man to robot. The villain deserved the same treatment, but unfortunately, the ending of the film feels rushed and the conclusion dawns too quickly.
Robocop 2014 isn't for fans of the classic film. It is a new interpretation for a new era. It deserved a little more experimentation and more risks from the director, but overall delivers a solid blockbuster worth seeing on the big screen. Ultimately, it wants to be Batman Begins but falls flat of being as gripping and revolutionary. Still, it's enormous fun!