For someone who claims to not enjoy sports games, I have played a lot of them. I realised this for the first time when trying to find games to compare Riders Republic to.
That might sound like a complaint, but it's really not. I am very grateful to have been "forced" to review games I would not ordinarily play. And, truth be told, sports games are generally very good. How they manage to create an immersive experience when only having audio/visual input is impressive.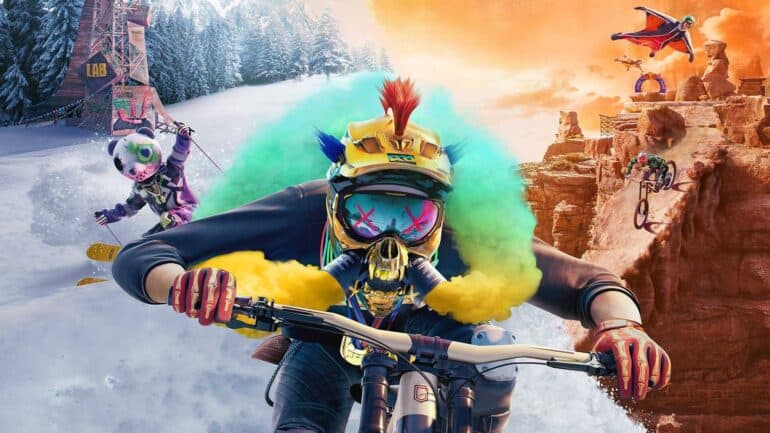 Riding a bicycle, for example, your brain is processing thousands of tiny sensory inputs every second. That's what allows you to stay alive when chucking it down an obstacle-strewn dirt track at 60km/h. For a 2-dimensional game to make you experience that on any level is a testament to what those coding geniuses locked in dark rooms with nothing but a laptop running Linux and a mini-fridge full of Red Bull can do.
So back to my point. I found I had a surprising pool of games I could use for comparison. This is a good thing too because Riders Republic isn't really just one game. It's at least three:
Mountain biking, snowboarding and wingsuit-ing.
Before I get into that, I think it's a good idea to define what Riders Republic is, in essence. The easiest comparison would be to another Ubisoft mega game, The Crew. One game, multi-disciplines. All tied together in a world created by hyperactive teenagers.
Also like The Crew, the game area is huge, and it's all there to be abused by you. As you progress, the map just becomes a flurry of activity and dozens of other players populate your world until it feels like the public swimming pools on a Saturday in summer.
 You and your mates can descend on an event, enforce, or you can choose to take a quieter path on your own and just enjoy the scenery. It is truly a completely open sand bow world.
How does each of the disciplines fare, taken on their own?
Very well, I'm glad to say.
The primary activity in this Beta release anyway, is definitely the mountain bikes. This is also a good thing. The feeling of tackling some of the most challenging tracks in some of the most recognisable national parks in America is thrilling!
The scenery in Riders Republic is breathtaking. The grand sweeping vistas of the Yosemite National Park, Sequoia, Half Dome and Bryce add to the feeling that you are experiencing something special in this game.
There is a compelling argument that Riders Republic is an unofficial sequel to Ubisoft's 2016 outing Steep. I can't weigh in on that in any meaningful way as I know very little about that title. All I can say is Riders Republic is a better-baked offering in every sense.
It took me about an hour to get to a point where I could flex my snowboarding and wingsuit muscles. Making the snowboarding comparison is easy. In my opinion, SSX Tricky is the game to beat. There is something about that game that just demands your undivided attention. I know this to be true because I was playing it the night my first child was born (Don't judge me, the struggle is real).
Honestly, the trick combo's feel a little haphazard. It could just be that the game is still in its Beta or possibly it's my imagination. However, using the same button sequences resulted in different tricks on more than one occasion.
The wingsuit discipline is probably the most similar to The Crew. It is thrilling in all the same ways the aerial stunts in The Crew are thrilling.
Riders Republic has a few flaws, though, in reality, they are probably just personal gripes I have. Maybe I'm just too old, but the continuous stream of dialogue from the AI seems to be written by the same previously mentioned hyperactive teens, and it can become a touch irritating. Like a burr in your sock.
There is also the issue of the inconsistency of the trick system.
Besides these minor issues, Riders Republic looks set to become the benchmark extreme sports game going forward. It rewards the casual tourist as well as the hardcore extreme sports gamer in equal measure, in a similar way to Forza Horizon.
I look forward to playing the full game come October!