In 1989 Matt Groening changed the landscape of television with the release of The Simpsons. From its quirky writing to its fearless approach of world topics, it inspired a host of other smart animated sitcoms such as Family Guy, Futurama, and South Park. Now, Rick and Morty is ready to the same for a new generation of fans.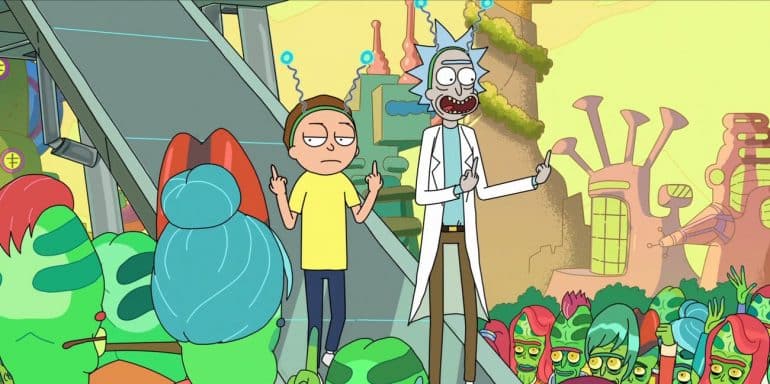 On the outside, Rick and Morty looks like a knockoff of Back to the Future – which it originally was intended to be. When creators Justin Roiland and Dan Harmon approached the network with the idea, they decided to expand it into something more than a parody. Well, they certainly did succeed. The show is quite unlike anything you've ever seen as the madcap scientist Rick Sanchez takes his well-meaning grandson Morty Smith on intergalactic adventures. Along the way, they meet a host of eccentric characters, both on Earth and in other dimensions.
Rick and Morty's biggest strength, however, is in its intelligent writing. There are deep and existential questions raised on an episodic basis. This isn't just a laugh-a-minute festival, as there are some powerful premises to ponder over and consider.
Speaking to GQ, Harmon admitted that this series is something else entirely than the norm. "Rick and Morty is definitely the most freeing, most fun thing I've ever worked on. It's had the biggest impact. I love everything I make—and hate it, I guess—but I have a very special relationship with Rick and Morty."
This weekend be adventurous ? Rick and Morty adventurous ? #AdultSwim pic.twitter.com/oIPLKJnNr1

— Showmax (@ShowmaxOnline) January 11, 2019
The show has built a cult-like following and even resulted in McDonald's being inundated with requests for Szechuan Sauce after it was mentioned in an episode. It's become a pop-culture phenomenon that has numerous Reddit threads dedicated to it and a legion of fans who dissect every episode to uncover all the secrets and hidden threads.
While it's certainly more geared towards adults than children, it doesn't rely on vulgar humour to get its point across. Instead, Rick and Morty values itself as something of a programme for intellectuals. According to The New Yorker, Rick and Morty "supplies an artful answer to the question of what follows postmodernism: a decadent regurgitation of all its tropes, all at once, leavened by some humanistic wistfulness."
The show has been renewed for a fourth season, so there's a lot of misadventures to come.
In the meantime, catch up on all the madness by watching the first three seasons of Rick and Morty on Showmax.