After four seasons of non-stop quality, there was a fear that Rick and Morty might finally dip and enter the sphere of mediocrity. But does Rick and Morty Season 5 Episode 1, titled "Mort Dinner Rick Andre", prove or allay our greatest dread?
You know, this animated show is the only one that can have two or three plots running concurrently and still make complete sense. In this episode, Rick hosts his biggest nemesis, Mr Nimbus (a Namor rip-off who loves nothing more than to thrust his super-tight Speedo), for dinner, while Morty finally has a date with his long-time crush, Jessica.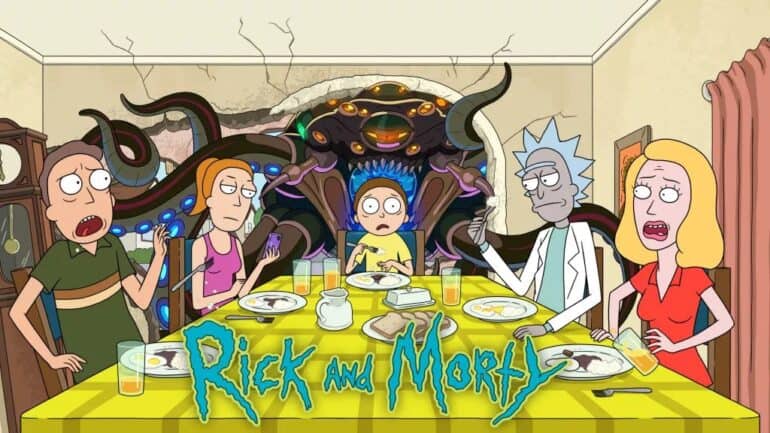 Without delving into too many spoilers, let's say that "Mort Dinner Rick Andre" quickly transforms into an intergalactic, time-breaking adventure that everyone has come to expect from the show. Even if it's a familiar formula of chaos reigning supreme, the writing is always on point, taking you down unexpected twists and turns. At times, you'll shake your head and wonder how the writers room managed to come up with such bonkers concepts. Seriously, the creative juices are most definitely powered by absinthe here.
From a narrative point-of-view, Rick and Morty Season 5 Episode 1 gives Jessica some much-deserved screen time. After so much time on the periphery of the adventures, which the show openly admits in a meta way, she finally receives a moment of her own rather than being merely a plot device for Morty. The ending might not be to be to fans' taste, though, but would you expect anything less? If we got what we wanted right now, there'd be no point to tune in again.
For the viewers who've been invested in the show since the first episode, it's reassuring to see that this season isn't trying to reinvent the wheel. It's exactly what you'd expect from Rick and Morty, with new gags and new characters thrown into the mix. But it's also unlikely to convince the doubters to change their views on it.
Overall, Rick and Morty Season 5 Episode 1 gets off to the right start. It understands exactly what it is, sticks to its guns, and doesn't get sucked into conversations of what everyone thinks it should be. In fact, it might very well be one of the only series that doesn't give a crap what the internet thinks about it.
Catch Rick and Morty Season 5 Episode 1 on Showmax on Monday, 21 June.