It's quite possible that the brilliance of this Rick And Morty episode will be entirely overlooked. And if so, it'll probably be because of the pooping.
As funny as toilet humour can be, the reality is that usually it's just a cheap laugh. It's a double-edged sword; some are going to laugh themselves silly at Rick's quest to poop in peace and comfort, while there are probably plenty who will dismiss it all as being beneath a show that's at its best when it's being sly with how smart it is. The thing is, this episode really is smart. It just doesn't look or feel like it.
Even the greatest scientist in the universe needs to find a sense of harmony from time to time. For Rick Sanchez, that means he needs to use the toilet in peace – so much so that he has a very specific toilet for the job, one that is his and his alone. Except now, much to his horror, someone else has used it. Overcome with rage at having his personal space violated, Rick sets out to learn the identity of the person responsible so he can exact his terrible vengeance upon them.
Meanwhile, Earth is falling apart and society is crumbling. Why? Well, as usual, it's all Jerry's fault. Despite being warned not to, he's helped Rick's intern Glootie develop a new phone app which instantly allows people to find their soulmates. It sounds like a good thing in theory, but the human race suddenly becomes obsessed with uniting with their perfect partners, while an alien invasion swoops in to take advantage of the whole situation. With Rick busy on his own quest, can the combined abilities of Morty and Jerry save the world? And can Beth stop Summer from throwing her life away on a random fling?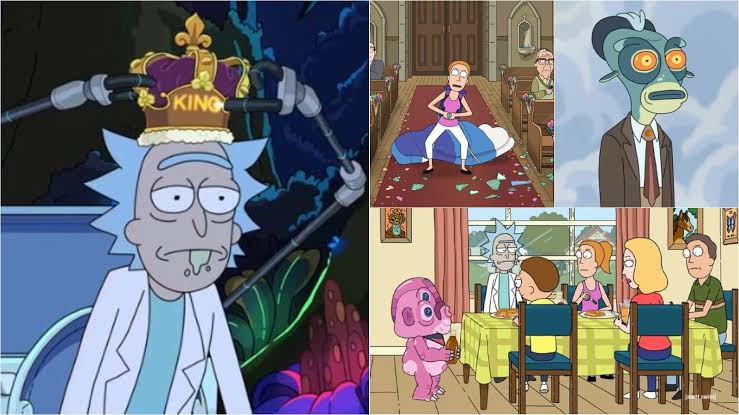 Rick's adventure is similar to the Pickle Rick story, even if it may not seem like it at first, as Rick becomes so overwhelmed with making somebody else suffer that he barely takes time to acknowledge what the real problem is: himself. It's a classic Rick move which results in typical tragic realisations. Sure, he wants peace and harmony while he poops; but he's also going to ridiculous lengths to achieve it, and as much as he thinks it brings him personal peace it also exposes how much he loathes himself as a person.
While Rick's revenge may be separate from the B-plot, both work in tandem to show the dual nature of what this episode is really about. The concept of the whole human race chopping and changing their life-partners at a moment's notice, while far-fetched, contains more than a grain of truth to it. We live in an age where we're more connected than ever to the world through technology, but are also incredibly alone. It's a world duality, where people believe more in technology than in themselves and others, hoping to find something (or someone) that we may be missing to make our lives complete. The irony that Jerry himself – a man desperate to find his place in the world – helps to create this app simply drives the point home. It's a flawed system co-created by a flawed man, exposing our own deficiencies and dilemmas.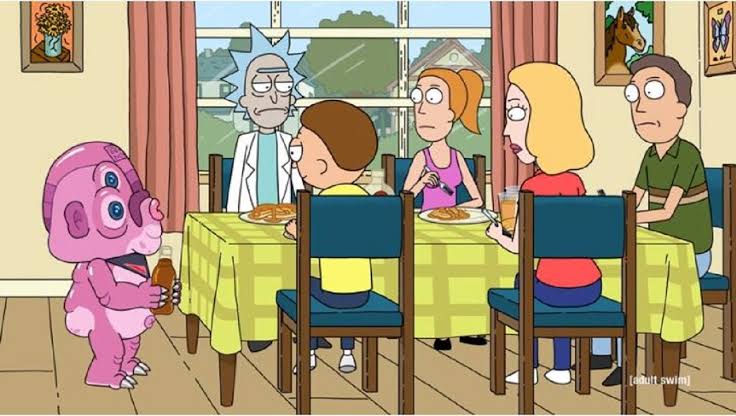 Everything here is about our overwhelming need to be loved, by others as well as ourselves… while never being satisfied. It's the essence of Rick. Or, sure, maybe the episode is all just about pooping in peace and how mobile phones and alien invasions suck. Take from it what you will.
There are a couple of drawbacks which stop this Rick And Morty episode from being an outright classic. It isn't exactly laugh-out-loud funny, the jokes are scarce, and while the plot is excellent there's nothing new being said here. The voice cast, while incredible, also seem curiously wasted. Glootie is nowhere near as interesting as he first appears and, by the end of the episode, he's worn out his welcome. Plus, again, with Rick and Morty following individual adventures it's a shame that they don't get to play off each other.
Still, as Rick And Morty episodes go this is a simple one… but far deeper than many may give it credit for, and with some subtle background moments too which should give fans plenty to ponder. It's not quite on the same level as Pickle Rick, but it's got lots to say and shouldn't be overlooked.
The Review
Rick And Morty
Almost a classic episode, let down by a lack of jokes.