In episode 3 of Rick And Morty Season 4, it's just another day in the adventurous lives of Rick and Morty as they wrap up some by-the-numbers tomb-raiding. While Morty seeks genuine thrills and excitement from the quest, Rick continues to drag down the extraordinary and make it humdrum. However, when Rick learns that the tomb has already been raided – by his hated nemesis Miles Knightly, no less – the duo travel to HeistCon on a quest for vengeance.
But when Rick and Miles engage in a "heist-off" to see which of them is the sneakiest thief, things rapidly spiral out of control. Despite Rick's insistence that the cinema's portrayal of heists and inevitable double-crosses are stupid, the greatest scientist in the universe must put together a crew and a plan to save the universe – even if it means having to out-think himself. Can Rick pull off the seemingly impossible and save the universe? And even if he does, will Morty ever finish that screenplay he's been working on?
Rick Sanchez, you son-of-a-bitch… I'm in!
It's the same old story: somebody makes a plan, recruits an unlikely crew, the plan nearly falls apart but then succeeds and, finally, there's a big twist reveal. Odds are, you know the routine even if you're not a fan of Ocean's Twelve (but really, who is?), any of the Ocean's films, or heist movies in general. Personally, I'm a fan of How To Steal A Million, so make of that what you will. The point is, there's a well-known formula and it's this concept which keeps the main joke of the episode firing on all cylinders.
Unfortunately, it's also one of the episode's biggest flaws. But we'll get to that in a moment.
In what's easily the funniest and most fast-paced adventure of the season so far, Rick's constant skewering of the heist story genre is completely spot-on. Along with some other jabs at pop culture, it does more than enough to live up to the expectations of the fans. The return of Mr. – no, that's PROFESSOR now – Poopybutthole is a welcome one, even if it's only brief, but the real joy is seeing Rick and Morty sharing screentime again. Oh, plus there's one of the funniest jokes in years, as the predictability of heist movies is contrasted with the work of David Lynch.
Damn, that joke's a classic.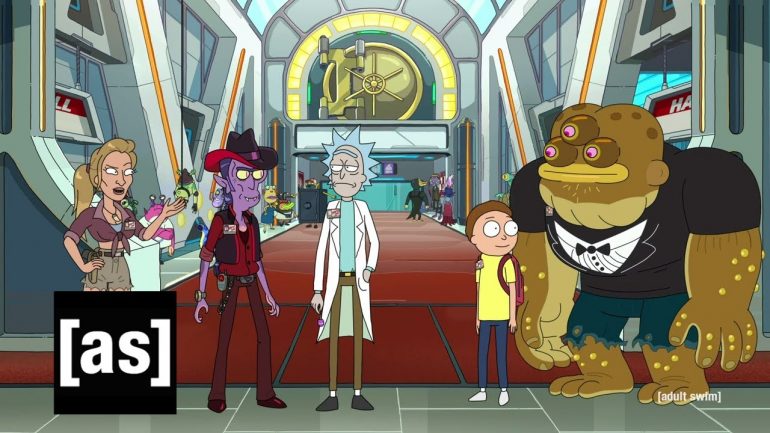 However, as good as this episode is, it also suffers from becoming exactly what it's trying to parody. If heist movies are predictable, so are many of the jokes about it; individual moments within it are better than the whole production; and any ad nauseam double-crosses and twists are telegraphed, surprising almost nobody. That last part is down to how well viewers know Rick by now. Fans know that he's usually the smartest person in the room at any time, and the only chance of him not being a hundred steps ahead of everyone would be another Vindicators-like situation where he's his own worst enemy. Therefore, the stakes don't seem too high, even with the universe at risk, so the ultimate twist provides no shocks at all.
Not that it's a problem, really. It still works, and the episode is highly enjoyable and thoroughly entertaining. It's just a bit obvious… although technically it does speak to far greater issues going on with Rick and is totally in character for him.
Then there's the elephant in the room by the name of Elon Tusk.
The inclusion of an alternate reality Elon Musk in the story (voiced by the Tesla man himself) is the sort of shameless name-dropping guest star appearance that made The Simpsons less credible. It doesn't matter if Musk is a celebrity fan himself, and if he must appear then fine… but in this case, it's gratuitous. Revolving a couple of clumsy jokes around him is awkward at best, and while it doesn't destroy the episode it certainly knocks it down a little.
On the whole, though this is a fast and fun joyride of an episode that's never boring. It's full of fantastic moments that are destined to become highlights, proving that when Rick and Morty works properly it can still be one of the smartest shows on TV.
The Review
One Crew over the Crewcoo's Morty
A fast and fun episode, but has built-in problems.