In WWE, there have been many epic rivalries for the title. Hulk Hogan vs "The Macho Man" Randy Savage. Shawn Michaels vs Bret Hart. "Stone Cold" Steve Austin vs The Rock. In more recent times, one of the best battles was between Drew McIntyre and Randy Orton. McIntyre actually referred to Orton as his greatest opponent on the Rasslin' with Brandon F. Walker podcast. Now, this rivalry comes home with the WWE Championship Rivals playset (available on Takealot for around R850).
What's in the box?
The WWE Championship Rivals playset comes with the two action figures and a replica of the WWE Championship title. At three feet long, the title is long enough for a child to wrap around their waist by using the Velcro or to carry around on their shoulder. Considering the detail of the design, it also wouldn't look too bad up on display case.
Each figure is 15.24-cm in height and contains multiple points of articulation, so that you can set up numerous poses and recreate iconic moments from the Orton-McIntyre rivalry. This is particularly useful when you want to hit the RKO or Claymore out of nowhere. More impressive is the design of the action figures that utilises TrueFX enhanced detailing for the faces, which means the figures look like their real-life counterparts down to their haircuts and facial hair.
Take the battles into the ring or elsewhere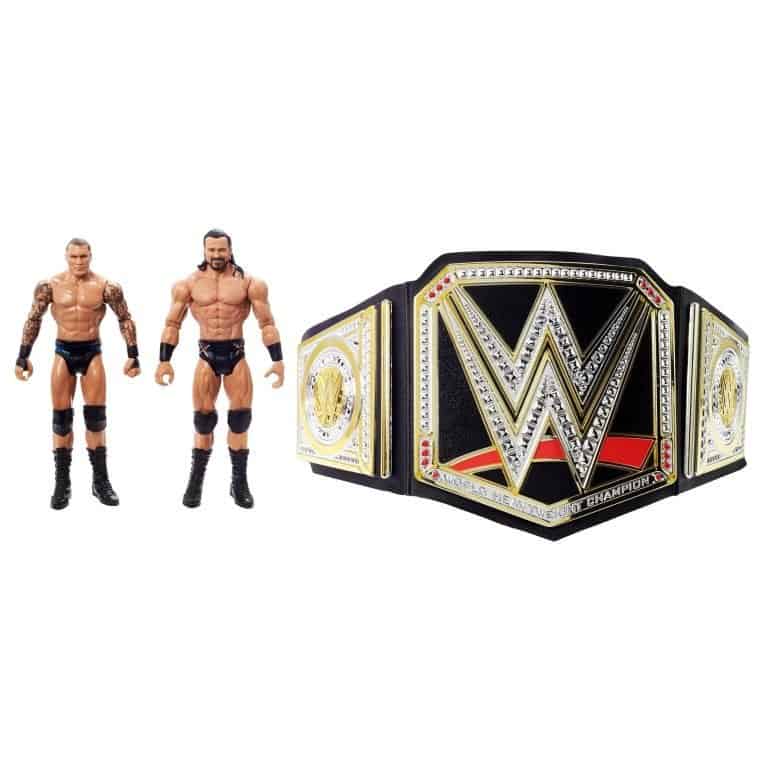 The action figures are the same size as the recent releases from Mattel, so that means they could easily be paired along with other accessories such as the WWE Wrekkin' Kickout Ring, WWE Superstar Ring, or even the WWE Wrekkin' Slambulance Vehicle.
Alternatively, if you'd like to replicate RKBro's recent tag championship run, all you'd need is to get a Riddle action figure to team up with Orton, as well as a partner for McIntyre. There's a whole host of WWE action figures available right now, so it's all down to personal choice, really.
Overall thoughts
In 2020, Orton and McIntyre dazzled fans with their epic showdowns as they traded the WWE Championship between them. While the two haven't come face to face in the ring for a while, now is the chance for wrestling fans to recreate their encounters in their own living room. In fact, even if there's no desire to play with these figurines or the title in this WWE Championship Rivals playset, they are some mighty fine eye-appealing additions to the toy shelf.
Tell us, will you be picking up the WWE Championship Rivals playset featuring Randy Orton and Drew McIntyre?