Developed by Teyon and published by Nacon, RoboCop: Rogue City marks the return of Peter Weller to his iconic role as he voices RoboCop in this arcade first-person shooter. In addition, this is the first time in nearly 20 years that the tinman has had his own video game. But has it been worth the wait? Well, that depends on if players are prepared to temper their expectations on what's clearly not an expensively produced game.
RELATED: The Rock Is The Only Hope For The RoboCop Franchise
Set in between the events of RoboCop 2 and RoboCop 3, the lawman formerly known as Alex Murphy needs to deal with a new threat that comes to Old Detroit. At the same time, he experiences strange glitches in his programming that cause him to jumble up memories with what's real. It isn't too difficult to see the kind of challenges this creates, especially in the heat of battle. Joining RoboCop are familiar faces from the past, such as his partner Anne Lewis and Sergeant Warren Reed.
Would you buy it for a dollar?
The main story of the game takes around 10 hours to complete, adding another two to three hours for the side missions. While it leans on the shorter side compared to other modern titles, RoboCop: Rogue City doesn't overstay its welcome too much. As an arcade FPS, with little variety in overall upgrades and gameplay, the tediousness tends to creep in before the game wraps. However, it quickly ends before it becomes a chore with a narrative that feels natural in the overall continuity.
Even from the retail price of RoboCop: Rogue City alone, it's clear Teyon didn't receive a blank cheque to create the game. The graphics – especially in the cut scenes – suffer from severe frame drops and occasional clunkiness. (Heck, at times, the characters' mouth movements don't even match when they speak.) Yet, take away the sporadic reminder of the PlayStation 3's graphics, and the rest of the design plays well into the late '80s and early '90s aesthetic. From the vehicles to the clothing and room décor, Teyon provides a perfect snapshot of the period that fits right into the RoboCop timeline and suits the tone.
RELATED: Why Zack Snyder Would Be Perfect To Direct A RoboCop Reboot Movie
Nice shootin', son
Where RoboCop: Rogue City shines is in its addictive gameplay. Now, this isn't a fast-paced FPS like Doom; since RoboCop is like a tank, his movements are slower and rigid. However, what he lacks in agility, he more than makes up for in his ability to take and inflict damage. (And if he does take damage, there are OCP Recovery Charges scattered throughout the game to heal him.) Utilising his primary weapon the Auto 9 gun, which boasts unlimited ammunition, the character enters large-scale environments to shoot up a variety of enemies. RoboCop doesn't need to rely only on the Auto 9, though, as he can pick up other enemy weapons such as assault rifles and use them until the ammo runs out.
Additionally, he can punch, grab, throw, and use enemies as human shields. Environmental objects also play a major role here, since RoboCop can hurl computers, chairs, and even guitars to inflict long-range damage. Gas cannisters prove to be equally important, since the character can use these to clear out an area packed with enemies.
RELATED: RoboCop 2014 Reboot: Why It Deserves WAY More Respect & Love
Thank you for your co-operation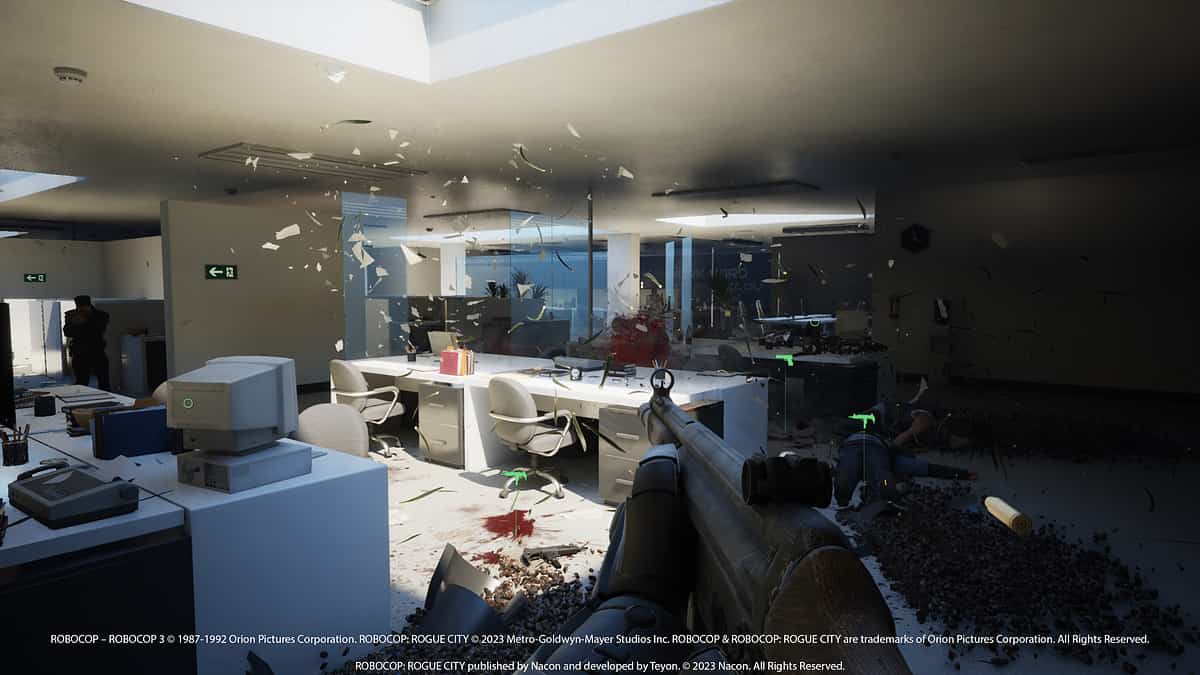 Much like Paul Verhoeven's 1987 sci-fi action satire movie, RoboCop: Rogue City lacks the finesse, but it more than makes up for it with in its enjoyability factor. The passion comes across in how this title fits into the RoboCop Universe seamlessly, and it's a mandatory experience for anyone who loved the original film series.
The Review
RoboCop: Rogue City
While messy and clunky, RoboCop: Rogue City knows how to deliver the fun.
PROS
Arcade-style FPS gameplay
Complements the original film series
Peter Weller's voice
CONS
Clunky graphics
Lack of variety in gameplay
Review Breakdown
Gameplay

0%

Graphics

0%

Replay Value

0%

Sound and Music

0%

Story

0%