Hot Wheels Unleashed 2: Turbocharged is the right type of sequel to create if you want to establish a franchise like this in the video-game racing genre. As a sequel to the 2021 game, this title takes things to a new level in all the right ways.
RELATED: Marvel's Spider-Man 2 Director Teases Another Marvel Character Game (& It's Not Wolverine)
Graphics and Visuals
Hot Wheels Unleashed 2 immediately captures your attention with its stunning graphics. The visual quality here usually ranges depending on the scene, but you'll find that it is nothing less than excellent. At certain points, it's even worth describing as remarkable! The game's development team, Milestone, focused on evening out a lot of important details when designing this game. This philosophy has helped ensure that the Hot Wheels vehicles available here are close to the appearance of their real-life inspirations.
If you've ever played with Hot Wheels before, it's like the full version of your imagination brought to life on the screen. The textures, moulded parts, little knit lines and other embellishments are the key details that mimic real Hot Wheels extremely well. There are even little bits of extra paint on the cars that are faithful to the source material.
RELATED: Review: Sonic Superstars Takes The Hedgehog Back To High-Speed Platforming Roots
Under certain lighting conditions, you'll find that there are some other nice imperfections present here. Child-sized fingerprints can be noticed, and scratches from intense flips and races will build up. It's a real visual feast that will make you an instant Hot Wheels enthusiast, even if you're not familiar with the toy line.
Gameplay and Handling
Hot Wheels Unleashed 2 is a true charm in terms of gameplay. It offers the classic arcade atmosphere expected from the genre, but it also manages to establish its own identity on top of that. It's a game that's easy to pick up but also extremely challenging to master.
Handling is easier said than done here. Unless you're extremely familiar with these types of games, you'll be running into a lot of walls and obstacles. There is a bit of skill expression among the best players, and the nuanced in-air controls can look like something straight out of a montage once mastered. You'll be able to adjust your direction in the air and boost through the sky with deadly precision.
RELATED: The Marvel's Spider-Man 2 Suit Everyone Is Talking About
Taking the time to learn all the tricks this game has to offer is definitely worth it. What's more, you'll find that the double-jump and lateral dash abilities help with adding a little more complexity to even the most basic races.
Vehicle Classes
Hot Wheels Unleashed 2 is well-balanced, thanks to the six vehicle classes. This includes:
Rocket
Balanced
Swift
Drifter
Off-Road
Heavy Duty
Each of these classes will feel unique enough to play, especially because they have their own advantages and disadvantages to deal with. Overall, they encourage players to choose their vehicles carefully and according to the map and current conditions.
RELATED: Marvel's Spider-Man 2 Shortchanged Hailey Cooper – Here's How to Fix It
With the game's perk and upgrade systems, you'll be able to customize vehicles to your own main specifications. These perks can also blur the lines between different classes. Allowing you to fully experience a car that matches everything you want. With this level of flexibility, you can make every race a unique experience. It's also extra fun to approach the same tracks with new car designs.
Event Challenges
There are instances where the game forces you to use vehicle classes that aren't necessarily the best for a challenge. In these moments, it's best to embrace the new level of difficulty even though it can be frustrating. It would've been better if these events weren't so restrictive. Hopefully, the devs can balance this in the future in order to cater to a wider audience. There's barely any chance of most players completing some of these extreme challenges in the future.
Environments and Tracks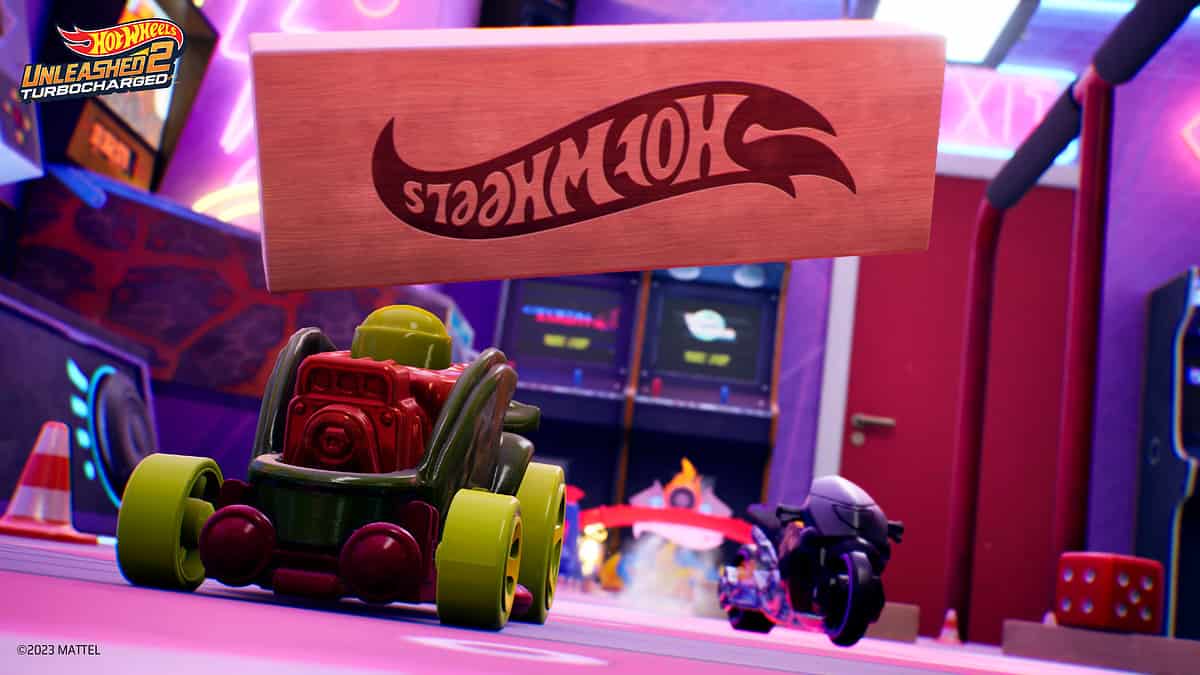 The game's environments are extremely imaginative. You'll see a ton of interesting stuff you never expected in a video game, especially not a Hot Wheels one. There's a dinosaur museum that has prehistoric displays, and there's also a well-lit Arcade and Gas Station level that helps to spice things up for a visually appealing aesthetic.
RELATED: Marvel's Spider-Man 2 Fulfils Batman: Arkham's Potential – And Proves WB Games Messed Up
Each of the tracks are unique, and there are shortcuts available that add a whole new element of surprise to the experience. Compared to the original version of Hot Wheels Unleashed, some players may not be fans of the shortcuts that exist here. This includes stuff like the double jump. With these shortcut mechanics, the number of checkpoints have also increased. Overall, this has affected the creative shortcuts available for players to use.
Track Builder
A standout feature in Hot Wheels Unleashed 2. Players are offered the freedom to create and customize tracks, and this provides an opportunity for each player to bring their ideal tracks to life. However, it doesn't exactly come together like you might imagine. The old environments are not available in this track builder, so there's a limited potential for track variety. With the double jump present, there could have been some leverage for exciting shortcuts. Unfortunately, players don't get that experience.
Multiplayer and Co-Op
In Hot Wheels Unleashed 2, players retain the two-player split-screen feature, and it makes things much more enjoyable when exploring the various event types. There are waypoint races that add a layer of competitiveness to your encounters. In these races, the gloves are off, and there's a high-risk, high-reward bout waiting for you. The game's multiplayer component is a surefire way to keep your attention. There's enough to do here if you're playing online with randoms or strictly with friends and family.
RELATED: Gartic Phone: What Is It And How Do You Play?
Verdict
Hot Wheels Unleashed 2: Turbocharged is a worthy sequel to the first game in the franchise. It's a visual feast with some impressive arcade racing included. Although you'll experience some challenges along the way, it remains faithful to the Hot Wheels experience. At its core, it's a fun game for players of all ages, and if you're a highly competitive player, there's enough depth to find here as a reward.
Are you going to give Hot Wheels Unleashed 2: Turbocharged a go? Let us know what you think of the game in the comments below!
The Review
Hot Wheels Unleashed 2: Turbocharged
Taking everything they learnt from the first release, Hot Wheels Unleashed 2: Turbocharged focuses on what works. It's a great title to player with younger gamers.
PROS
Great for younger gamers
Interesting settings and course
Loads of fun
Simple and easy gameplay
Review Breakdown
Gameplay

0%

Graphics

0%

Story

0%

Sound and Music

0%

Replay Value

0%