When it came to turning average readers into lifelong fans, sometimes it takes a personal touch. And in 1965, Marvel and Stan Lee knew what they were doing. Up until that point, Marvel had been telling the best stories they could and attracting new readers. And, as was usual for the time, they would respond to some of the letters sent by those readers in the letters pages of their various titles. It was standard, something most newspapers, magazines and comics did already. However, Stan Lee tended to respond somewhat differently in the Stan's Soapbox columns.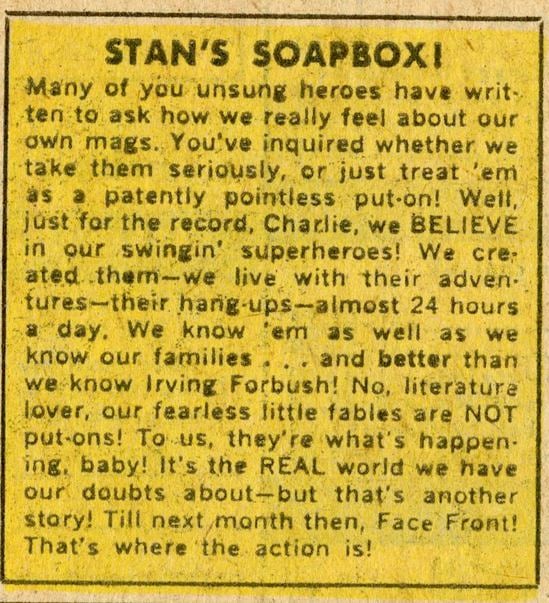 Abandoning the usual formality, his editorial responses to the letters received would address the readers by their first names – sometimes even shortening them, to make his responses even less formal. When somebody wrote in with a letter to "The Editor" or "Sir", he would change it and let people know that they could just call him "Stan". There were no formal titles allowed, and his replies were light and jovial. He spoke like he was everyone's best friend, just chatting personally. His replies conveyed the same friendly way of speaking with people which he had in real life, and it was a notable difference from the uptight letter columns of their "distinguished competition".
By 1965, the personal approach of dealing with fans went beyond the letters page, as they started to feature the Merry Marvel Bullpen Page – later to be known simply as Bullpen Bulletins/ The Bullpen pages covered special announcements and checklists to promote all their titles. Full of typical Stan Lee alliteration and self-deprecating hyperbole, reading them wasn't necessary but they were usually fun. More than that, they made readers feel like Marvel – and Stan – was talking directly to them. It presented the impression that Marvel wasn't just some humourless, faceless company.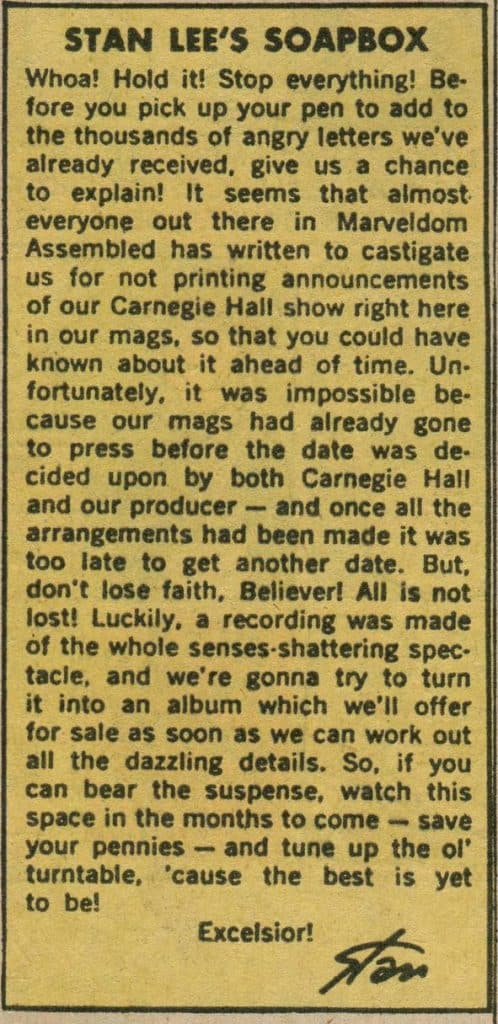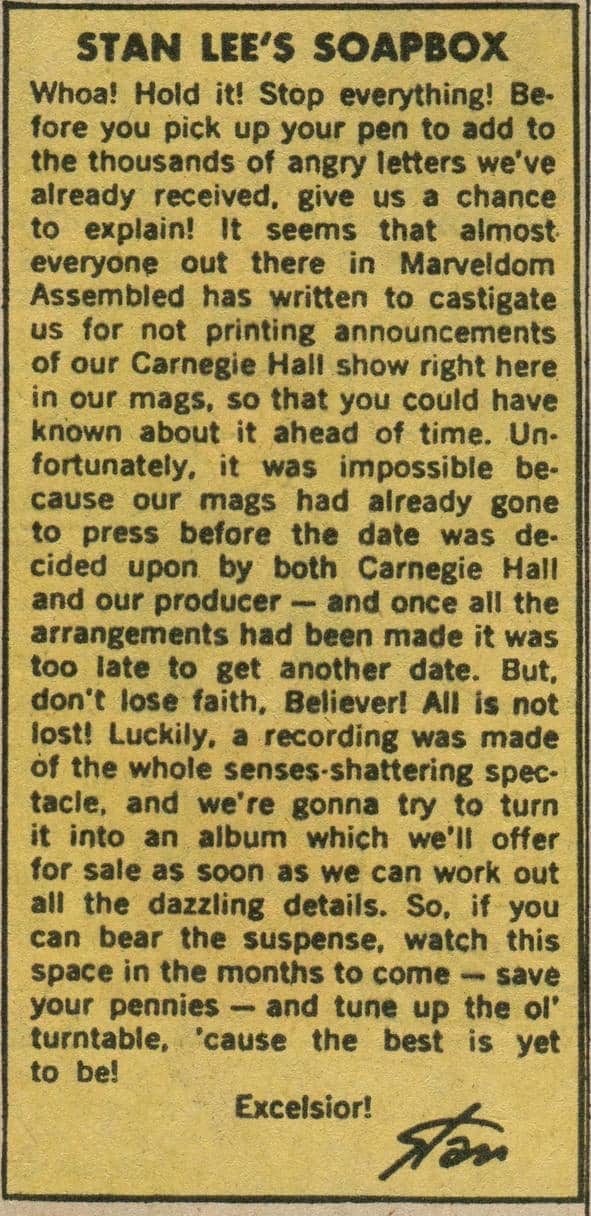 Plenty happened in those Bullpen pages, and readers got to learn of Marvel's various staff members, artists and writers. Readers got to know them by name – or nickname, more usually – and even if some of the Bullpen's supposed playful shenanigans were artificial or awkward it still helped to present an impression of fun that the readers could join in with. But the Bullpen's crowning achievement was the Stan's Soapbox column, which debuted on the Bullpen page in 1967.
Each Soapbox column was a self-contained mini-essay from Stan, in which he would chat to the readers about whatever was on his mind at the time. Often, he would do what Stan tended to do best and simply promote Marvel, their comics, and whatever film, TV or other productions they might be involved with at the time. Occasionally, he would use the Soapbox to goof around or answer more direct questions from readers. But sometimes he would us his Soapbox for far deeper and more important reasons.
It was a time of war, and of social and political turmoil in America. Given the nature of some of the characters and comic books Marvel was creating, it was inevitable that things would get serious. Marvel had created characters like Black Panther, while the plight of the X-Men was an allegory for the Civil Rights movement battling against bigotry. As such, readers would repeatedly press Stan on what Marvel's political stance was. In September 1968, he penned a Soapbox on tolerance and in November of that year he was writing about bigotry.
He would use this platform to explain that Marvel tried to not take sides whenever possible, but that they weren't exactly neutral either – as fans well knew. The staff working there was like any diverse group of people, he explained, with each one having their own opinions and so, therefore, Marvel could never be politically defined. However, Stan made it absolutely clear that bigotry in any form was unacceptable, and that love and unity should always triumph over hatred and division. He would express that the human race had a divine destiny to treat others with tolerance and respect.
As Stan Lee pointed out in one of his Soapbox columns, Marvel Comics didn't have the answers to society's problems, and apologised that sometimes their attempts at highlighting society's problems were clumsy… but still, they tried to do what they could and wouldn't stop.
Stan Lee wrote hundreds of Stan's Soapbox columns and spoke to readers in a personal way which many readers weren't used to. He would let the readers know that he – and Marvel – cared about the things they cared about and viewed them as people, not just sales figures. His words, conveying his nature, made readers feel connected.
Stan Lee achieved a great many things in his life, and co-created some of the greatest, most popular superheroes out there and those characters have brought in countless readers. But that small monthly column is known as Stan's Soapbox still stands as one of his greatest achievements because it helped turn many of those readers into lifelong fans. Stan's Soapbox is so real, so personal, so… Stan.