There are some stories that just stick with you, and Fantastic Four #22's is one of them. I've got a bunch of old original classic Marvel comics in my collection. They're originals, but in dreadful shape and not worth much in terms of cash. Fantastic Four #22 is my favourite though, and the sentimental value of the story for me is worth more than if the comic itself were in mint condition. Sure, it's the story where Sue learns the full extent of her powers and saves the team. That's almost good enough as it is. But it's the work of Stan Lee and Jack Kirby here which really makes it special for me.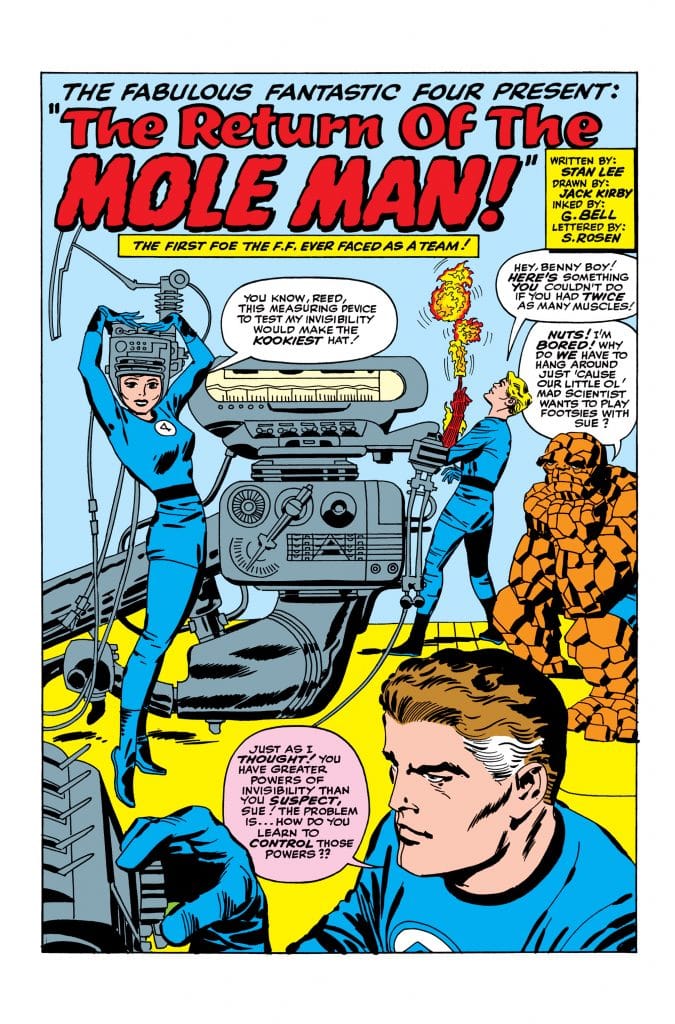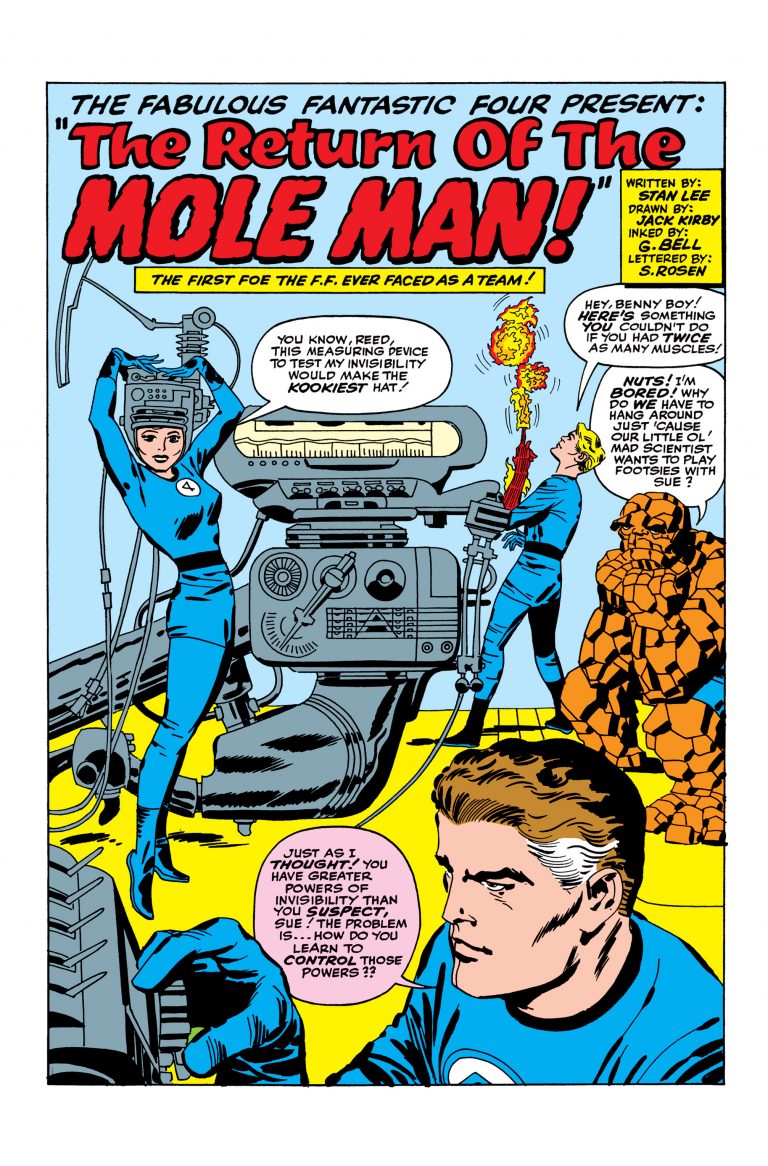 It's a typical day at the Baxter Building, home of Marvel's First Family: Sue Storm is practising her invisibility, while Reed Richards – Mister Fantastic himself – reckons there's more to Sue's ability and figures that it's actually a type of force field. It's a good thing too, because the local tenants are freaking out about all the property damage lately. Not only that, but the cops are annoyed because Reed's just accepted delivery of – get this, folks – a ballistic missile! Also, the Women's Canasta and Mah Jong Society are protesting, and the Thing and the Human Torch are sparring as usual. There's only one option left for the team:
It's time they go on vacation.
Their destination is a weird island that's for sale off the coast of New Jersey that Reed read about… in a pamphlet. They fly there in the amazing U-Car, but once at the island they're captured by… the Mole Man! He's got a Doctor Evil-style plan which involves building hydraulic presses underneath every major city on Earth, and lowering them all down to the planet's core to trigger an atomic war. Meanwhile, the Fantastic Four face individual challenges; the Human Torch is trapped in a vacuum, the ever-lovin' blue-eyed Thing is trapped in a room of cotton, Sue is stuck in a holographic chamber, and Reed gets gassed. Can they escape and team up to defeat the Mole Man?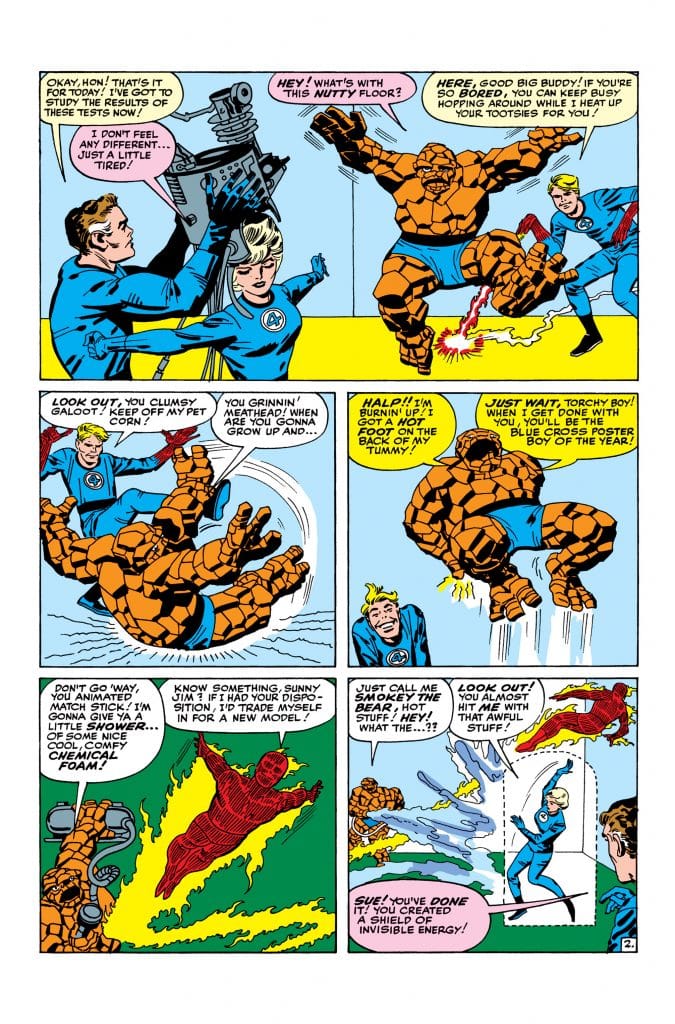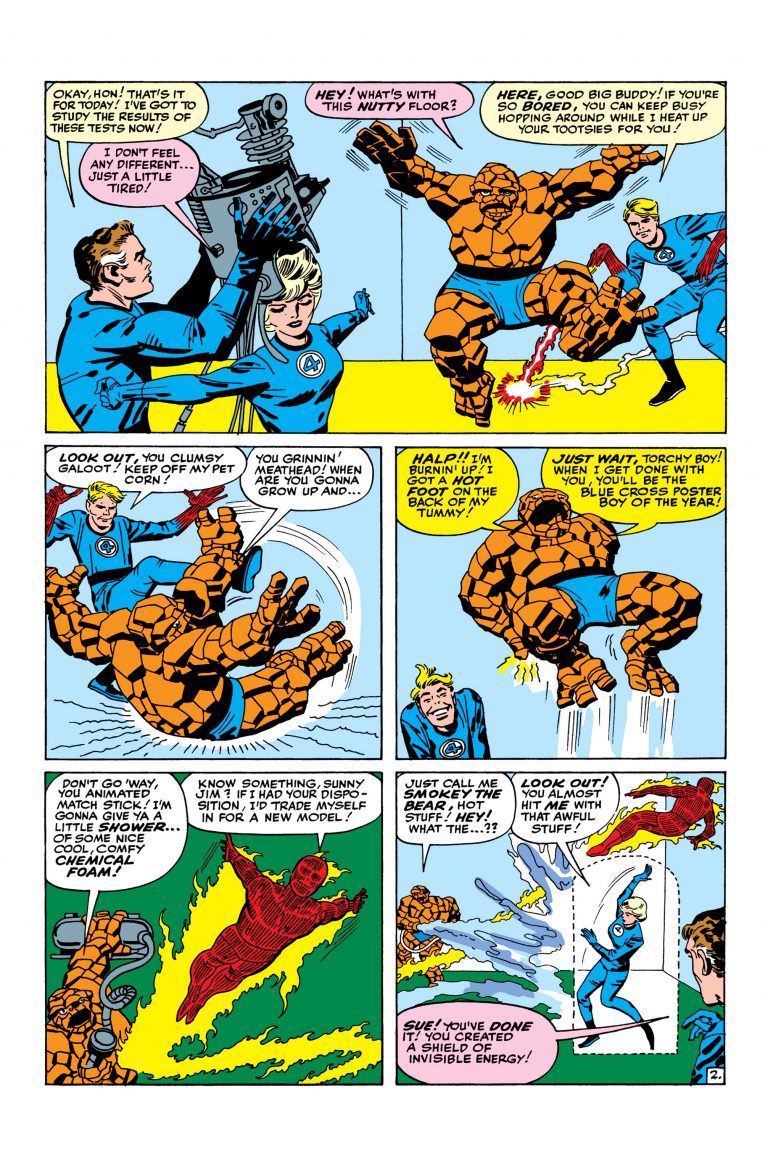 s="aligncenter size-large wp-image-140338″ />
The story in Fantastic Four #22, to be fair, is ridiculous and shows Marvel's first family at their most eccentric. I'm not kidding about the canasta and mah jong club, Reed ordering a ballistic missile like it's as normal as a pizza delivery, or even the Mole Man's secret island being advertised in a pamphlet. There's more insanity and comedy going on than you can imagine, especially in the Baxter Building scenes at the start. Seeing the Thing handling phone calls with complaining residents is hilarious, while Reed getting a wrong number for Sam's Delicatessen is a riot.
By real world standards, it's ludicrously far-fetched. And that's exactly the point. This story instantly pulls you in, presenting readers with characters and a world that's more Addams Family than Avengers. The weirdness just keeps building, each page delivering even more absurdity in a way that's captivating. A lot of the credit here has to go to Jack Kirby, whose art is truly stunning here with some of the maddest angles and images you'll ever see in comic book panels. The characters look fantastic (no pun intended), and there's a sense of weight to every object.
And then there's Stan Lee's writing… damn, it's brilliant. Yes, every character has more dialogue than can even comfortably fit in a word bubble. Every melodramatic statement is practically a speech in itself, with the characters almost narrating their own story even though it isn't necessary. And, as is usual in the world of Marvel comics back then, every sentence ends with an exclamation mark. But it's fun! Stan Lee was a true purveyor of wonder, and his writing may seem hammy at times… but here it's so imaginative and free-wheeling that it's some of his best work ever. Is Fantastic Four #22 too goofy? At times, possibly. But it's also unlike anything else out there, then or now.
Simply put, Fantastic Four #22 is a great read and one that I can't recommend enough. It's outdated in many ways, sure, but it's also entertaining from beginning to end. Telling not only an exciting adventure but also helping establish Sue's new power and status as one of the Marvel universe's strongest characters, Fantastic Four #22 is a classic in every sense of the word.
The Review
Fantastic Four #22
This classic issue never gets old, and highlights The Man and The King's work at its best.