After the tragedy that took place in the set of Alec Baldwin's latest project, Rust, there has been some serious talk about the use of real guns as props in movies. The subject of gun safety and ownership has always been a bit loaded – no pun intended – in America. Following these sorrowful events, is it time for real guns to be replaced by realistic-looking props in the film industry?
This isn't the first time a tragedy like this has happened, either. Though rare, accidents like what happened on the set of Rust have happened before, sometimes with equally fatal consequences. Let's take a look at the history of prop guns in movies, and why are we still using real weapons in otherwise manufactured environments.
Blanks and Bullets
Before we set out on explaining the differences between a blank cartridge and a live round, we should tackle the elephant in the room first: these accidents are so rare precisely because prop weapons are treated with the utmost care by professional armourers on every movie set.
For every lamentable episode that happens using blanks, there are hundreds of successful filmings that happen without accidents using real guns. A properly trained armourer should know how to properly load a blank and distinguish between a prop round and a live one.
Now, for the technicalities of blank rounds. While some filmmakers will swear that using post-production effects like digital muzzle flares are just as effective as the real thing, some directors still prefer the organic reaction that can only be achieved by firing real guns.
However, shooting live rounds at any person would be highly unethical and terribly dangerous, for obvious reasons. That's why blank cartridges are used in most movies: that's the safest way to get a real muzzle flare without firing a real projectile.
To put it simply, a blank is a cartridge that lacks the "tip" of the projectile. In a common live round, a bullet sits at the top of the casing, which is fired when the primer of the gun ignites the gunpowder inside the projectile's casing. That's the reason why a blank produces a flash but doesn't hurt the person receiving the shot: because there's no shot left to receive.
That said, blank ammunition can still be deadly. Depending on the type of weapon, the casing could hurt whoever's shooting the gun. Additionally, removing the bullet from the rest of the cartridge is a process that requires utmost care, as any remnants of the projectile, or even debris used to clean the cartridge, could prove to be deadly when shot by a gun.
Usually, blank rounds will contain a wadding, which in most cases happens to be paper or polyester.
The logic behind using a real gun as a prop is that, with the real weapon, the actors could use the authentic kickback to make their reactions to the shots seem more realistic.
Even if they're just using guns for a single scene, it's usually good advice for actors to train in proper gun usage and the basics of gun safety. For example, avoid keeping your finger on the trigger, and never point the gun at yourself, no matter if it's loaded or not.
Failure to follow gun safety protocol on a movie set is not an "accident," it is negligence.
Please educate and protect yourself. pic.twitter.com/BnnIaK1LpM

— Eliza Hutton (@ElizaHutton1) October 27, 2021
A History of (Prop) Violence
 As we mentioned before, what happened during the filming of Rust is far from being the first time an incident involving prop guns has taken place.
Perhaps the most well-documented case of a fatality caused by a prop gun is the death of Brandon Lee. The son of the late Bruce Lee was filming 1994's The Crow when a live revolver round hit his stomach, which led him to die in a hospital six hours later.
Of course, Brandon Lee's demise was far from the first incident that occurred due to a prop gun misfire. On the contrary: accidents like this have been happening at least since the early 20th century.
One of the first incidents of the sort to ever be documented happened on the set of 1915's The Captive, when a rifle loaded with live rounds killed an extra called Charles Chandler.
One of the most infamous cases of death by a prop gun happened during the filming of an episode of the show Cover Up.
In 1984, actor Jon-Erik Hexum was bored in between scenes with a loaded prop gun in his hand. Ignoring the dangers that the weapon posed, the actor took the gun and aimed at his temple, Russian roulette-style.
Even though the cartridge he fired was a blank, the detonation still contained enough force to fracture his skull. Let's not forget that these bullets contain a wadding that can still pack a serious punch, especially at point-blank distances.
Other notorious cases where a blank round caused a tragedy on a movie set include the Buster Keaton film The General, where assistant director Harry Barnes was shot in the head with a blank round. Thankfully, he was at a considerable distance from the gun, so his injuries weren't too severe.
Though certain groups have advocated in favour of putting an end to the use of real guns in movies, firearms and movie prop experts consider that there's no reason for such a drastic measure. As long as a professional takes care of the armament on set, using a prop gun should be a relatively safe affair.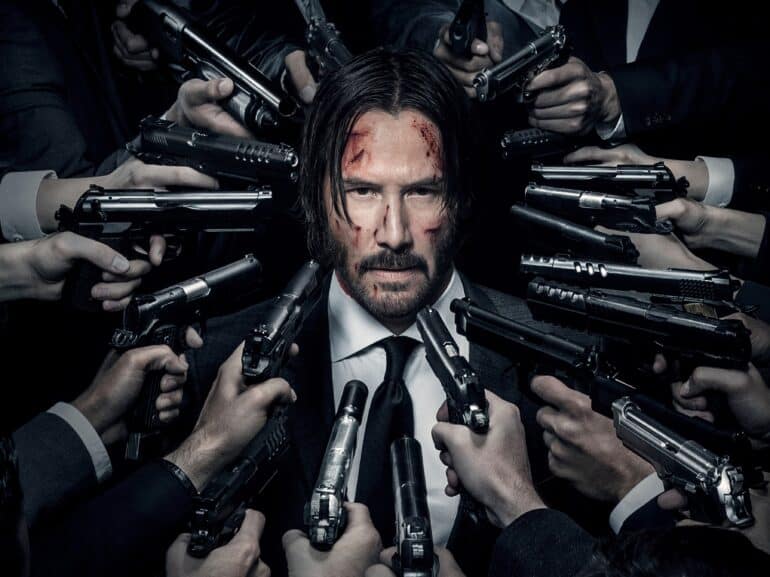 To Ban or Not To Ban
 While the subject of banning guns in other facets of public life is a touchy subject, there's still a huge number of people wondering why real guns are still used in movie sets. After all, with how far digital visual effects have come in recent years, using fake guns instead of real ones should be a no-brainer.
However, most of the time, using a real gun instead of an extremely convincing prop can be the most cost-effective way of adding firearms to a film.
Going down the prop-building rabbit hole can be an eye-opening experience. From noiseless paper bags to bending knives, there are all sorts of ingenious ways to replace real-world objects so they look or sound better on camera.
While the idea of replacing real guns with realistic-looking props has been seriously considered before, the fact remains that there's still no real reason to outright ban their use by firearm experts.
Statistically speaking, there have been more accidents involving stunt drivers and their cars than accidental shootings, and no one is even considering banning the use of real cars to perform stunts.
The truth is that Halyna Hutchinson wasn't killed just by a gun: she was the victim of a series of terrible decisions, and by a bafflingly egregious case of unprofessionalism.
For starters, the person in charge of the firearms on the set of Rust clearly wasn't prepared for the job. The movie was going through a rough week of production, including the firing of the film's first armourer over a series of accidents.
No matter if it is a prop or not, a gun is still a gun, and guns shouldn't be toyed with under any circumstance. More than sparking a debate about whether or not to ban guns, what happened with Rust should be an example of why it's so necessary for movie sets to have a professional armourer present at all times.
Offering new opportunities to emerging talents can be one of the bases of the entertainment industry, but that doesn't mean that the experience of such an important role as a prop safety expert should be overlooked.
In the end, the result is the rather lamentable story that's unfolding right now: a talented cinematographer dead and a filmmaker wounded due to negligence.
The jury's still out on whether someone on the production of Rust will be charged over what happened to Hutchinson. One thing is for sure, though: this is an event that will ripple all over Hollywood, sparking a real debate on the importance of safe working conditions for both actors and the rest of the team.
Additionally, there's still no info on whether Rust will ever be released. Considering the controversy that the death of Halyna Hutchinson has caused, the most logical conclusion would be to put the film on an indefinite hiatus.
The anecdotal evidence – as we saw in the case of The Crow – tells us that's highly likely that the movie will come out anyways. The thing is that this film will forever be haunted by the events that transpired on October 22th, 2021.
Baldwin was the one who shot the gun: that's something that he has admitted to the authorities – but he's hardly the one to blame in this situation. Even the armourer, Hannah Gutierrez-Reed isn't entirely responsible, as she was hired unexpectedly for a project that was evidently above her skill level.
As mentioned before, this is a case where a multitude of unfortunate circumstances led to the worst conclusion imaginable.
Sadly, as long as no real action is taken regarding safety standards on movie sets, this is a tragedy that's bound to repeat itself in the future.
Tell us what you think. Should real guns be banned from movies?