Apart from the actual rig and its internals, there are a few key peripherals that make up most gamers' essential list. Any improvement that each brings, however small, plays a significant part in the overall experience and could, at times, be the difference between a narrow victory or loss. When working in a team, one of the more important peripherals is the gaming headset. While it helps to provide quality audio for in-game interaction, it's also the primary means of communication between team members. Choosing a quality headset is not an easy decision, especially with the ever-growing list of brands and their catalogue of products.
Razer has been one of the leading gaming brands over the past decade, offering a wide variety of peripherals. This includes a great line-up of gaming headsets. I recently received the Razer Kraken Ultimate gaming headsets for review, which has quite a few features to explore, including THX Spatial Audio.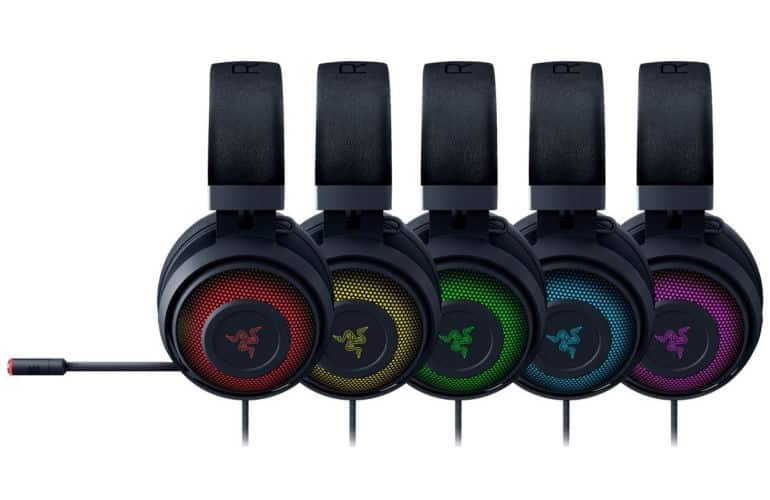 Build and Design
There's no one-size-fits-all headset design that can cater to all gamers. Some users prefer the over-ear frame, while others prefer on-ear or even in-ear – the latter typically isn't associated with gaming headsets. The Ultimate is a headset that comes from a long line of Kraken headphones, synonymous with gaming audio. Over the years, the brand has improved year-on-year, aiming for the top spot.
In the early days, Razer over-ear headsets were typically oversized, which at times felt too clunky and heavy. With the Kraken Ultimate, the design has been streamlined quite significantly. The size has been reduced, but it's still comfortable enough to fit snug around the ears without any discomfort. Razer has a clear focus on most of its products being premium gaming devices first, before any attention is placed on the likes of portability, with even its overall appearance, not a key focus area. That said, the design isn't bad here, as the Ultimate certainly looks the part.
The focus gaming audio is also the reason why the unit includes only a (braided) USB input to your PC or laptop. This provides the best option for sufficient power for audio quality as well as the RGB lighting. The device measures 196x175x99mm, which isn't small, but it's light enough at 391g to be comfortable. Speaking of comfort, the inner provides ample cushioning thanks to the breathable foam. Even after hours of use, they still felt just as comfortable to wear, even while they heated up just a tad.
Around the outside of the earcups, the Ultimate has a metal mesh-like finish, which houses the LEDs for its RGB lighting effects. The lighting isn't overpowering by any means and really looks the part, even though you won't be seeing it while you're gaming.
There are a few buttons added onto the plastic rims of the earcups, which includes a volume wheel and spatial audio toggle. I really like the idea of a volume wheel on the headset over the standard button approach. For starters, it's a lot easier. Secondly, you also don't get the annoying click sounds in your ear. And lastly, it's a lot faster than clicking through to raise the volume, 2 bits at a time. The earcups also house a retractable microphone, which can easily be pulled out and pushed back in again when not in use. While it's not the first time the retractable mic was been featured, it's not often you see it on a gaming unit, which commonly has detachable mic setups. There is an LED light at the tip of the mic, which indicates that it's powered on, while highlighted in red when it's on mute. The mic is fairly flexible, which is how it allows it to push retract into the earcup, but also to position when in use. It's solid enough to stay in position when in use but makes it a tad bit on the tricky side when attempting to push it back into its housing.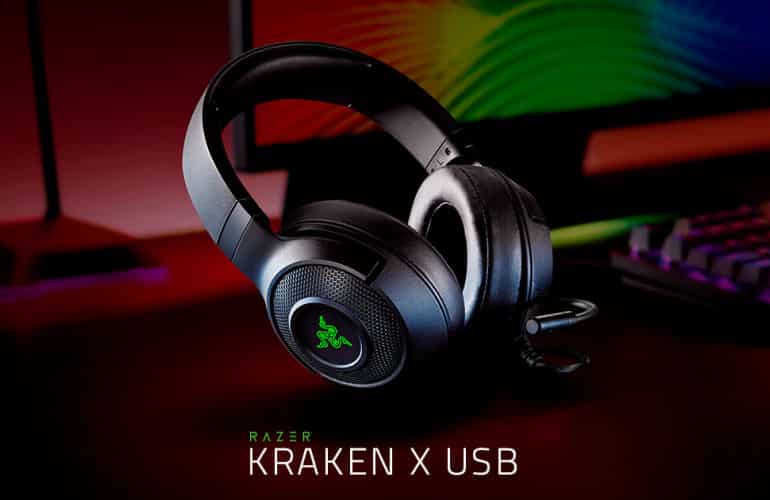 Features
Apart from the already discussed physical features on the Kraken Ultimate, the unit has a few additional features that make it stand out. Firstly, we have to discuss the Razer Synapse software, which is a requirement for all said features. Once the device is plugged in via the USB port, users will automatically be prompted to install the software. After installation is completed, you now have the full suite of features at your disposal.
The first of these features is the THX Spatial Audio, which can be activated and deactivated via the software. Many other headsets have similar features for spatial or surround sound audio, for virtual 5.1 and 7.1 setups, the THX Spatial Audio offers a more subtle approach. This also allows it to be more precise, allowing you to pick up those sounds of enemy footsteps or gunshots as well as the direction in which they're coming.
The Synapse tool, while it does open up a list of features for use during your gaming sessions, it's not without its issues. For the most part, it works. There are, however, those times where it runs quite sluggishly when attempting to fine-tune the setup for a specific game. While these issues aren't enough to put you off from the headset, I only write of it because it happened a few too many times to ignore entirely. It may not be suited for all types of games or even films and music, but it does a really good job of simulating the surround sound effect. The Synapse software will add all new games to its list of those that support the feature, also suggesting when it shouldn't be used.
While the spatial effect adds quite a bit to your gaming, users can also choose from a preset of equaliser profiles for music, movies and games, as well as options focusing on voice clarity or bass boost. If these don't quite meet your requirements, you're able to customise the setup to your liking. The customisation is fairly straight-forward as well, so most users should be able to navigate their way around it. For those more technically inclined, such as audiophiles, you can even set up individual EQ settings per software, which will automatically run when that program or game is opened.
There are also specialised settings for the microphone. These include background noise filters, volume and other small tweaks. Having attempted to adjust some of these settings, I found I wasn't quite up to improving any aspect of the mic audio quality. As such, I recommend using the default settings here, as it's already pretty accurate.
Lastly, the LED lighting settings. This can only be controlled via the Synapse software, where users can choose between colours, effects and the likes. As mentioned previously, the LED lights are only visible to those around you and don't offer any type of advantages, even aesthetically, when they're in use – unless of course you're surrounded by a group of other gamers with headphones.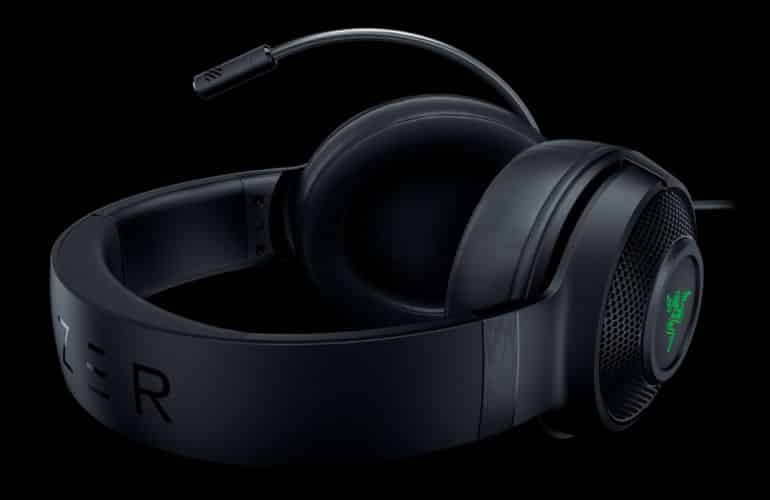 Performance and Audio Quality
Despite all the good looks and nifty features, a pair of gaming headsets wouldn't be much without any audio quality to speak of. The Kraken Ultimate offers great sound across the various categories and effects used, especially when it comes to gaming. As mentioned earlier, the THX Spatial Audio on the device is really engaging, especially in first-person shooter games. The detail in the individual sounds makes it really useful in those intense moments where any small advantage will make the difference.
When it comes to other types of audio, such as music or movies, the Kraken Ultimate doesn't offer the same level of quality. It's still sufficient quality but doesn't compare to other headsets dedicated to studio-quality audio. As stated earlier, you can select a different EQ presets, which improves the sound a tad. Voice (highs)is well-balanced making the sound very good overall, but you'll need to turn on the bass boost to get the most out of the lows.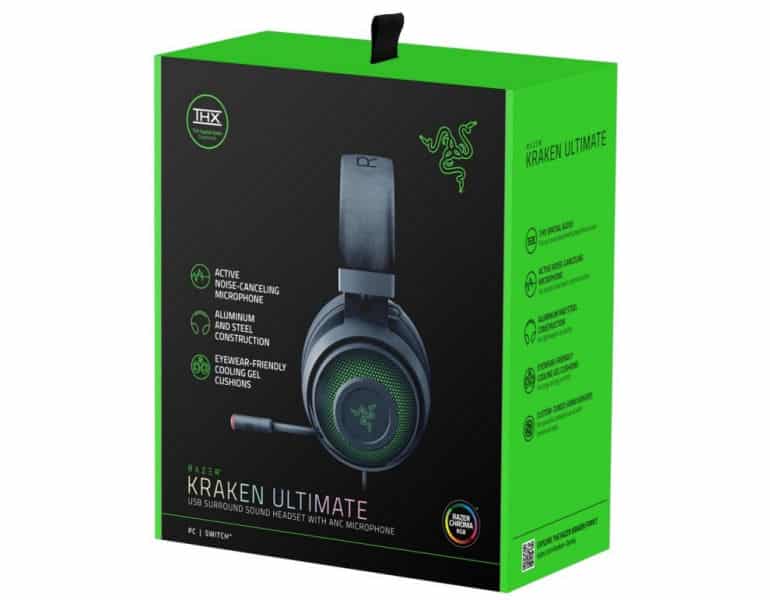 Conclusion
There are a great many gaming headsets to choose from, with the list continuing to grow rapidly each passing month. That said, those well-establish brands aren't resting on the laurels, as they too continue to improve and improvise. The Razer Kraken Ultimate isn't the most advanced in terms of features or design but offers a well-rounded mix of the two along with great gaming audio to really make it worth a look (or listen).
At a retail price of R2,499, it's not going to be the most affordable, but thanks to its list of features and overall performances, the headset is well worth it. If you have the funds to support your purchase, you won't find too much to dissuade you with the Kraken Ultimate.
The Review
Razer Kraken Ultimate
The Razer Kraken Ultimate is a great headset for gamers with its spatial audio features. It may be a little on the pricey end of the scale, but does a great job at what it set out to achieve and is highly recommended.
PROS
Looks great
Well-balanced gaming audio
Retractable microphone
RGB LED lighting
CONS
Not 100% suited to other genres
Price may be a factor
Review Breakdown
Ease of Learning

0%

Ease of Use

0%

Design

0%

Performance

0%

Enjoyment

0%

Value for Money

0%