Insomniac Games has been on fire recently. Spider-Man in 2018, Miles Morales in 2020 (with a Spider-Man Remastered for the PS5 as a bonus), and now, in 2021, they have released Ratchet & Clank: Rift Apart – which was built from the ground up for the PlayStation 5.
Is it really so fantastic that it warrants being a PS5 exclusive? Is this the PS5 game that justifies you dropping R12k on a PlayStation 5 as soon as it becomes available? Well, I am going to tell you why I loved it so much and you can make that financial decision yourself.
Is it a rift apart from the mainline story?
Yes and no. You don't have to have had played the previous 16 games to know what is going on in Ratchet & Clank: Rift Apart. It sure does make the story experience richer if you did, but a good old recap video on YouTube should do the trick. I would recommend that you do so that when you start this adventure, you have a greater appreciation for the Lombax and his high tech talking backpack of a best friend.
This time around, Ratchet and Clank have done their fair share of saving the galaxy on numerous occasions (16 games worth!) and so the
game starts off with a parade in their honour. Clank wants to surprise Ratchet by gifting him a device that would allow him to travel
dimensions and potentially let him meet other Lombaxes, given they are mostly extinct in their world.
It's a sweet gesture, but what could possibly go wrong, right? Evil psychotic robot Doctor wanting to change his reality is what could go wrong. And boy does it.
Doctor Nefarious gets his wish and together with Ratchet & Clank is thrown into a dimension where Nefarious is in fact the supreme ruler
of the galaxy — except Nefarious' doppelgänger is out doing supreme ruler stuff and so Nefarious can just step in no question asked.
Convenient.
Ratchet & Clank are separated but another Lombax, named Rivet, with a love for wacky weapons and part of the resistance
against Emperor Nefarious, finds Clank and helps him. Convenient.
Together with Clank's newfound friend, they go on a journey to reunite with Ratchet to defeat Nefarious all while fixing space and time that is crumbling around them.
Overall, I loved the story in Ratchet & Clank: Rift Apart. It is no award-winning masterpiece, but sure is fun and that counts a lot in my books. There is plenty of humour, some more childlike than others — but hey check the age rating, what were you expecting?
The writing is by no means like a Dora the Explorer episode but rather an episode of Avatar The Last Airbender. Meaning it is really well done, tackling relevant themes all while telling a fun story about planet and dimension-hopping.
Not to get into spoilers, but there is some great character development in the last quarter that really is touching. With their last two Spider-Man games, Insomniac have proven that they know how to write maturely, and Ratchet & Clank: Rift Apart is no exception.
But most people are probably not playing this game for the story, they are playing it for the gameplay.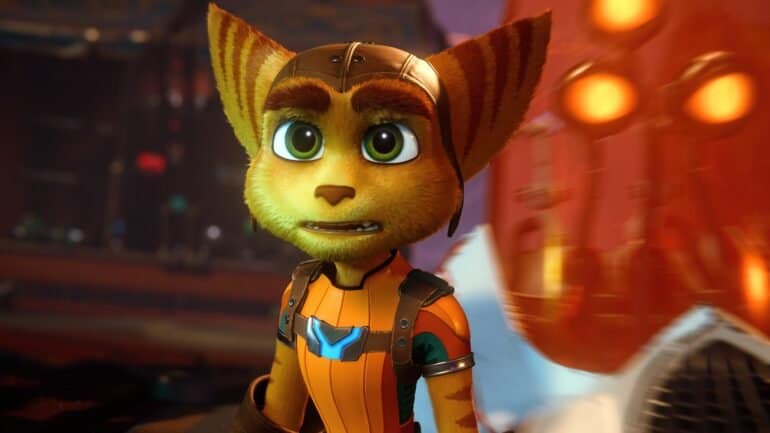 Ratchet & Clank: Rift Apart really makes you feel like a Lombax!
You play as either Ratchet or Rivet, depending on the story focus, and sometimes even as Clank (but more on that later).
Both Lombaxes play the same, probably so that no one complains they got half a Ratchet game. The core 3D platforming is still very much there, meaning you will be jumping around, grinding on rails and smashing stuff with your wrench just like the good old days.
There are some notable upgrades, such as being able to run along specific walls thanks to a new glove. Dimension dashing is a cool new way to reach out of reach places and a way to evade enemy attacks. Tears within reality also sometimes allow you to grapple towards new areas and even feature in combat — which can give you an edge when you need to get out of a tight spot or even get the drop on your enemies.
Ultimately, I don't think the idea of dimension-hopping was exploited enough in Ratchet & Clank: Rift Apart. I wish there was more that connected to the gameplay that is outside the scripted events.
My favourite of all these new ways of traversal has to be the upgraded hover boots. They have shown up in previous games, but this time it allows you to move at breakneck speeds. To make it even better, these boots are not only for specific moments but can be used at any time as soon as you get them. So moving around the planets never feels boring because you gotta walk around on legs like a peasant.
Also, it really helps you in the heat of battle when you are low on ammo or health and so you can shoot out, grab what you need, and then shoot right back in and finish the job.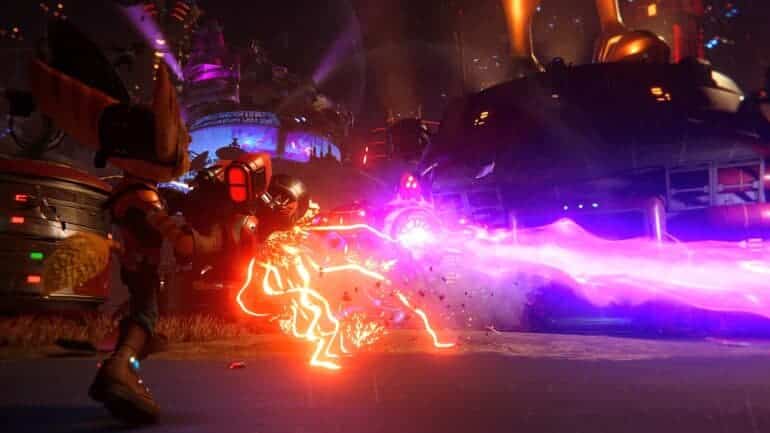 When you couple that with the tools of destruction, you have one very fun combat system. If you played a Ratchet & Clank game before, you know what you are in for: over the top weapons that are so much fun to shoot. This is probably why the series has done so well over the years.
Classic weapons return. From the Burst Pistol, which is the reliable high fire rate blaster you know and love, to the rocket launcher ( known as the Warmonger), to the Pixelizer shotgun I fell in love with in the last game that turns your enemies from detailed models into retro blocky messes, they're all fun.
My favourite newcomers have to be guns like The Enforcer, which is a new type of shotgun that literally shoots out energy blasts that cripple all who get in its way. And the Lighting Rod, which electrocutes your enemies both stopping them in their tracks and eventually turning them into dust. Lastly, the Blackhome Storm is basically a Minigun on steroids.
There are so many more weapons I didn't mention here that I encourage you to discover for yourself. You can do this by collecting the game's currency, known as bolts (found everywhere in the game), and buying weapons from your local Ms Zurkon.
I have to say no matter what weapon you use, it is always fun but, more impressively, is always a marvel to look at. The expression "diarrhoea Christmas lights" comes to mind because so much is happening on screen when you are fighting off enemies.
In fact, it surprises me that my PS5 doesn't shut down from the sheer amount of what happens on screen at one given time in Ratchet & Clank: Rift Apart. The more you use the weapon, the better it gets.
If there is any disappointment to the combat, it has to be how there are little to no wrench upgrades. What you get in the beginning is
what you have until the end. There are also cosmetic items you can equip that change your look and lightly upgrade your skills. It isn't bad but it's just a little too basic and you never really feel the difference. Some attention to that would have been appreciated but by no means takes away from the main game. The game encourages you to collect them but, since they don't do too much, there is little
incentive to actually collect other than to look different.
Thankfully, looking for the collectables throughout the planets is a joy because everything looks so dang gorgeous.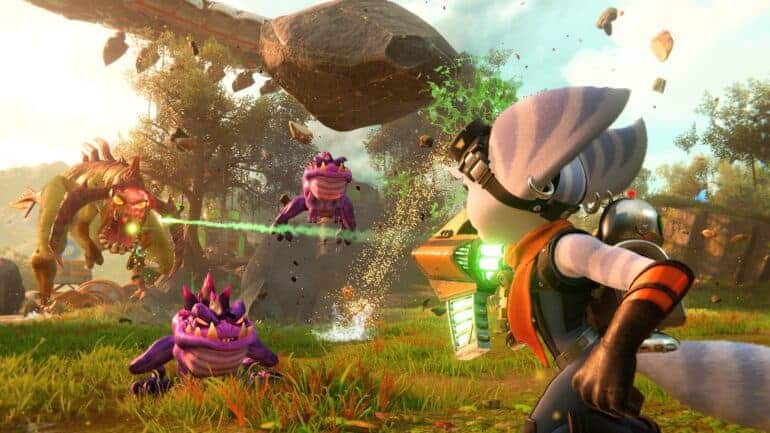 Size doesn't matter. Quality does!
The amount of detail Insomniac put into Ratchet & Clank: Rift Apart can be so jaw-dropping that there were moments I forgot to actually do the mission objective. If you found me playing this game, there is a good chance you would see me in the photo mode — mostly because they have done such a great job at making everything from character design to world structure look so good that I can't help but stop and take a picture.
The planets we get to explore are all so fantastic. The cold and rainy Nefarious City screams robot dystopia, and the Scarstu Debris Field has both a Star Wars-like cantina and a gladiator ring run by Zurkon Jnr. Every location is so expertly crafted that it is something to admire every time.
Some planets are more "open-world" than others. But don't expect Assassin's Creed level design – rather more larger worlds to fly around in your hover boots.
There are side objectives, but they are very few and are always just a nice distraction that allows for the world to be fleshed out more. Like on the Pirate Haven planet Ardolis, there is an opportunity for you to go steal the booty from pirates in the opposite direction of your main goal. It is oftentimes simple and just a fun way to spend more time on these planets in meaningful ways.
Ratchet & Clank: Rift Apart is mostly linear though, and so they haven't changed what they have done in the past too much. But the worlds opening a little bit more was a very welcome addition, even if it does feel a bit barren in the larger areas like Savali's wasteland terrain.
I think it is also important for me to point out how Ratchet & Clank: Rift Apart runs performance-wise. Thanks to the SSD, loading is instant, which helps with the whole seamless dimension jumping by the way.
After a quick game update, you can choose between three modes. The first is the default way and my personal favourite way to play, Fidelity mode — which allows 4K 30FPS with ray tracing. Then you can choose Performance mode — which allows for lower resolution but with a locked 60fps. Lastly, there is a Performance RT mode that has an even lower resolution but with ray tracing that targets 60fps.
I like it when games give you this choice. You can pick what suits you best and enjoy the benefits you decide to have.
All in all, Ratchet & Clank: Rift Apart upped its arsenal
In the end, I do think this is the PS5 exclusive we have been waiting for. It may not be that long (my personal time was around 20
hours) but I wouldn't be surprised if a lot of that time was because of all the photos I tried to take.
That right there however is a testament to how incredible this game truly is. If a game that has outstanding gunfights, awesome level design and a fun narrative that drives it all doesn't convince you that you need to go out and buy a PS5 right now (if you can find one that is), then I don't know what will!
Ratchet & Clank: Rift Apart is Ratchet and Clank's best adventure yet, and you don't want to miss out on it. I promise you won't regret it.
The Review
Ratchet & Clank: Rift Apart
Ratchet & Clank Rift Apart is the best reason to own a PS5 right now. Incredible care went into making this game, and the level of detail shows that Insomniac is one of the best in the business. The explosive action is taken to the next level too, with so much happening on the screen that it is a spectacle to behold and play. Sure, it is not perfect but this is what fun looks like, and I feel blessed to have experienced every second of it.
PROS
Wacky weapons
Light upgrades to traversal
The level of detail
The focus of the game is to always make you have fun
PS5 performance
CONS
Dimension hopping is not used to its full potential
Doesn't bring too much new to the series
Review Breakdown
Gameplay

0%

Graphics

0%

Replay Value

0%

Sound and Music

0%

Story

0%