Ster-Kinekor hosted their first outdoor big screen experience at the Bidvest Wanderers Stadium in Rosebank, Johannesburg. While this is not the first such event, having hosted a few experiences in 2017, including Wonder Woman, it's the first outdoor screening to officially take place. The first had been cancelled as the giant screen blew over after inclement weather forced their hand. While things didn't go to plan this time as well, with icy cold weather in the Gauteng area, thankfully, the rain had ceased by mid-afternoon and we could enjoy Dwayne Johnson's latest blockbuster film, Rampage.
We're at the pre-screening of the new Dwayne Johnson movie, Rampage, at the first ever Ster-Kinekor outdoor film experience in South Africa. . #rampage #movie #dwaynejohnson #therock #instagood #photooftheday #sterkinekor #screening #prescreening #film #rampagemovie #southafrica #instadaily #instagram #premiere #outdoor #outdoormovie #bigscreen
Rampage is a film based on the 1986 arcade game, which Warner Bros. acquired the rights to as part of their acquisition of Midway Games in 2009. Here Dwayne Johnson, known most famously as The Rock, stars as a primatologist, Davis Okoye, who is the former head of an anti-poaching unit and a former navy seal who has undertaken a few classified operations in his day. Isn't that just lucky for the team?
It all starts off pretty much as your stereotypical '90s action film, with dry and predictable dialogue and even dryer generic bad guys, complete with your standard face scars. Unsurprisingly, they report to the head of an evil organisation performing dubious experiments for major profits. And, as is always the case, their experiments have dire consequences. Their deadly pathogen finds its way crashing back to earth from an experiment gone wrong at a space station. George, an albino Gorilla turned star tenant of a San Diego wildlife preserve, a wold nicknamed Ralph, and an alligator named Lizzie are affected by the released gas, causing them to mutate into giant monsters. The reign of carnage is intercepted by means of a plan hatched by the brother-sister duo of the evil organisation, who lure the monsters to Chicago, for no apparent reason, to see how much damage they could wreak on the city.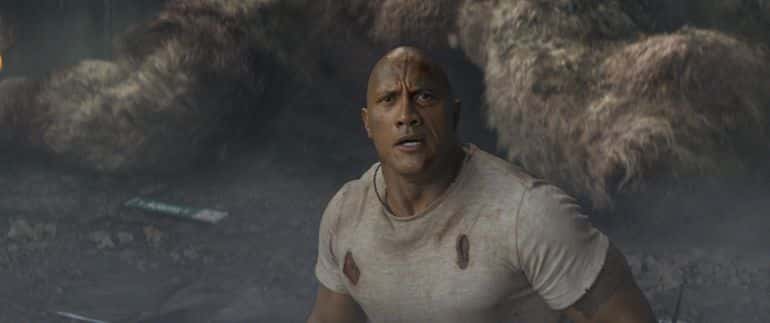 In a nutshell, that's pretty much the entire plot of the film. The rest of the dialogue and in-between scenes are forgettable, to say the least. I found myself drifting for large portions of the opening scenes, trying to capture the audience by means of silly jokes and typical bad guy speak. It didn't work.
Fast-forward to about the halfway mark of the film, and things kick up a notch or two. Finally, we get what we came to see. Rampage. When the monsters all reach Chicago and all hell breaks loose. Buildings are shattered, tanks are destroyed, and almost everything in their paths is squashed. If you're familiar with the original game, the aim was to tear down skyscrapers before moving on to the next level. And that's what happens here.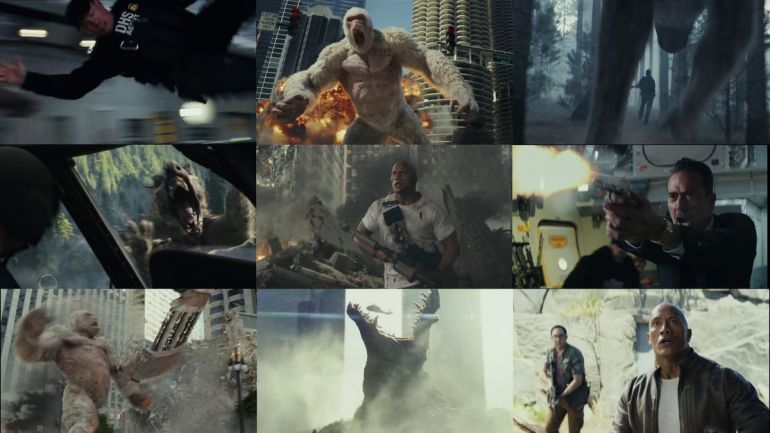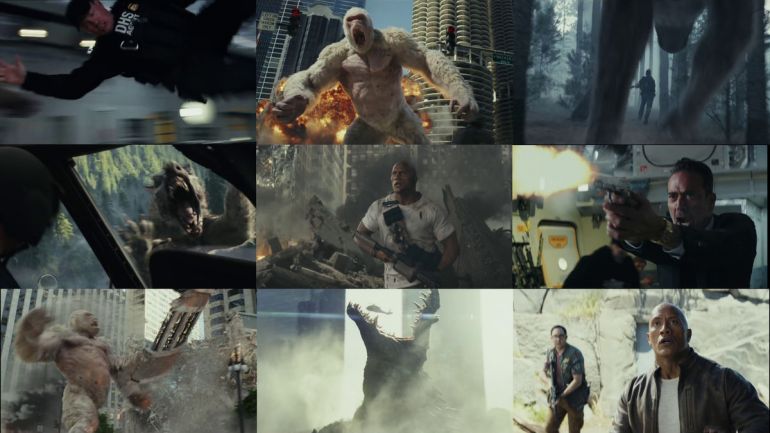 While the movie falls flat from a storyline, dialogue and chemistry perspective, the action adequately makes up for the slow burner, exploding into full chaos within a matter of seconds. There were even a few scenes that shocked everyone in the audience by how crazy and over-the-top they were, in a good way. Unfortunately, there isn't enough rampaging. I would have loved to see more buildings and surroundings destroyed in the manic chaos.