The past few years have seen gamers exploring quite a few post-apocalyptic wastelands and, while most of these have been draped in various shades of brown and grey, a new trend has emerged. Enter the multi-coloured neon doused post-apocalypse. Nowhere is there a better example of this new direction than in Rage 2.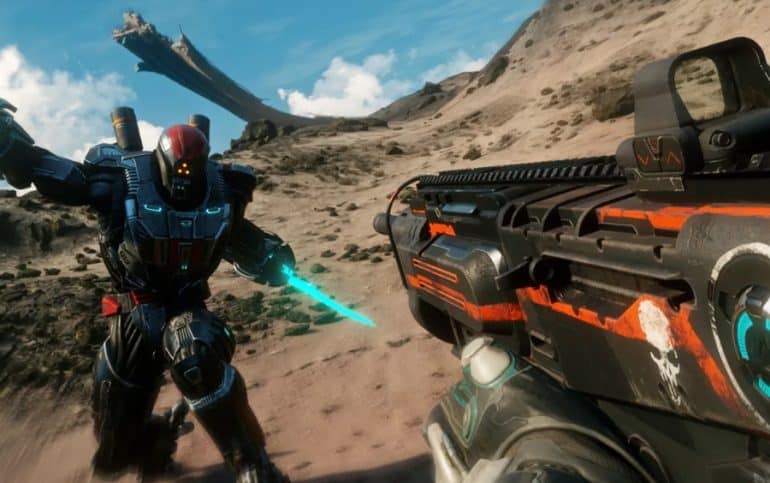 It was this colourfulness, combined with over-the-top action, that first drew many gamers attention to a game that, to be honest, many weren't expecting. This, along with the fact that id Software, the guys behind almost all the great first-person shooters, and Avalanche Studios, who developed the Just Cause games, would be teaming up, meant that the hype surrounding Rage 2 grew at a rapid pace.
So, does the game live up to all this expectation or is it just another post-apocalyptic first-person shooter better left and forgotten in the wasteland?
As you know, any good post-apocalyptic game needs a bad-ass protagonist. In the case of Rage 2, you take on the role of Walker. After a brutal attack on his home by the newly emerged Authority, he becomes one of the only surviving Rangers.
Rangers are sort of the super-powered guardians of the wasteland. With Walker being the last surviving ranger, it's up to him to stop the evil Authority lead by General Cross.
You get to choose to play either as a male or female. With Rage 2's protagonist actually being voiced this time around, it's a welcome addition. It's not an Oscar-winning plot, but it does help push things forward to the most important part of the game: combat.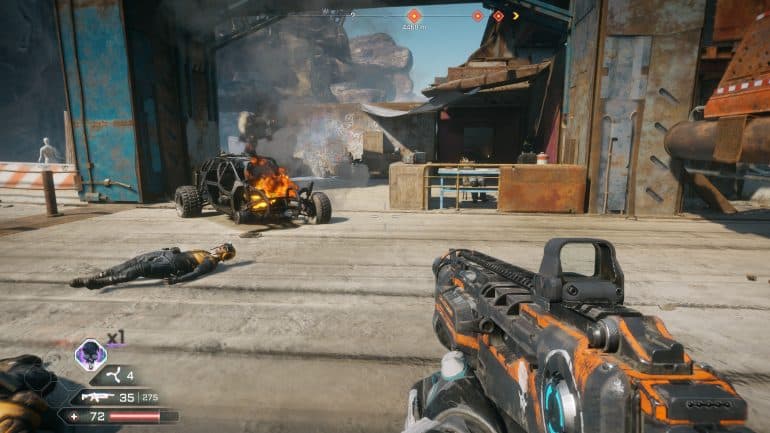 As one would expect from a game from id Software, the combat in Rage 2 is where the game truly shines.
It doesn't take long for Walker to figure out that he can learn some sweet combat abilities and gain new weapons for his arsenal from the game's Arks. These huge structures are scattered across the wasteland and it's up to you, the player, to unlock these abilities and weapons in whichever order you choose.
There are some that you will acquire through the main campaign, but most of these Arks need to be found by exploring the game's environments. It's thanks to these abilities that id Software's signature fast-and-fluid combat is elevated even more. Having the ability to, for example, slam into the ground reducing your enemies to a bloody pulp or using Shatter (effectively the game's force push) to sling enemies off structures and cliffs, opens a lot of options during combat encounters.
The same goes for some of the game's unique weapons. You have the stock standard assault rifle and pistol. Then you have the combat shotgun, which rarely left my hand as it was devastating when wielded against my foes. There are also some more unique weapons such as the Grav-Dart Launcher which lets you fire a bunch of darts at enemies and then, using the alt fire, launch them into the air or other objects.
The game also introduces Overdrive, Walker's ability to basically bathe everything in neon pink and make himself temporarily invulnerable while also boosting his weapon damage. It's when combining these various abilities and weapons in combat that Rage 2's personality comes to the forefront and the game manages to distinguish itself from its fellow first-person shooters. It's a game that absolutely nails the moment-to-moment combat perfectly.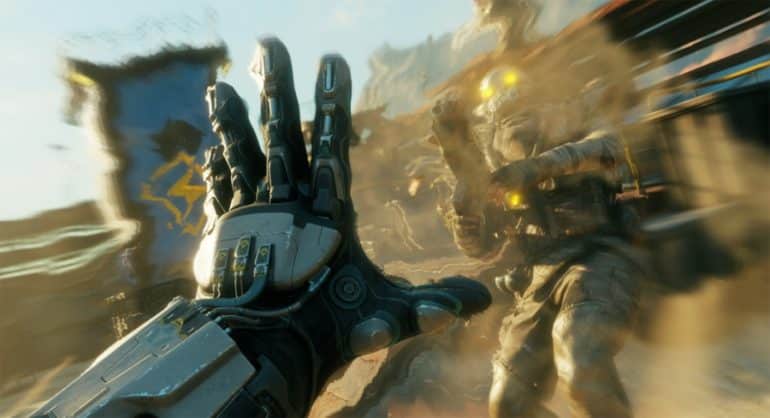 Naturally, the game also gives you access to various skill trees, upgrades for your abilities, weapons and vehicles which can be bought using the game's various in-game currencies. These upgrades take on the form of weapon mods and various buffs. It's quite a lot to get the hang off and can seem a bit intimidating at first. To the game's credit, you do start to feel like an overpowered wasteland god as you begin to upgrade all these.
In order to become stronger, and able to take on the Authority and General Cross, means finding the necessary Arks, currencies and upgrades in order to become the powerful bringer of death that you were meant to be. This means completing various side-missions for the game's three leaders and exploring the game's open-world.
Unfortunately, while Rage 2's combat shines, it's when you start exploring the open-world that the game stumbles like an irradiated mutant. This is mostly due to the game's world feeling dead. Sure, the game looks gorgeous most of the time, and there are some interesting places to see, but most of the missions boil down to clearing out base A, blowing up thing B or killing bad guy C. In most games, this repetitiveness would have been a far greater issue, but the game's entertaining combat does help alleviate this glaring issue a bit. It's a shame really, as driving around in the game's myriad of vehicles, and shooting other vehicles, can be enjoyable. It's just that there isn't that much to see. Yes, the game's map is scattered with points of interest and objectives but, except for letting you once again experience the games amazing combat, these don't amount to much.
Vehicle combat in Rage 2 plays our as one would expect.  You outfit your vehicle with various boosts and weapons, head out to the open roads and start shooting enemy vehicles and rob convoys. It's very reminiscent of Avalanche Studios' Mad Max game, in a good way. Controlling the various vehicles can be a bit hit or miss but, for the most part, it served as a welcome distraction when shooting bad guys with shotguns became a tad repetitive.
As mentioned, visually, Rage 2 looks stunning at times. This makes the fact that the environments seem so empty and devout of personality even worse. I constantly found myself wanting to find out more about this colourful neon world. The settlements you visit, while distinct in their designs, just don't have that much to do except buying more stuff to make your enemies explode. What adds to the frustration is that the game's main campaign ends a bit too quickly. I have nothing against short campaigns but in the case of Rage 2, it just feels rushed. It does not give you enough time to get invested in the game's world or narrative. Sure, the game doesn't end when you complete the main campaign but what is left is just more of the same.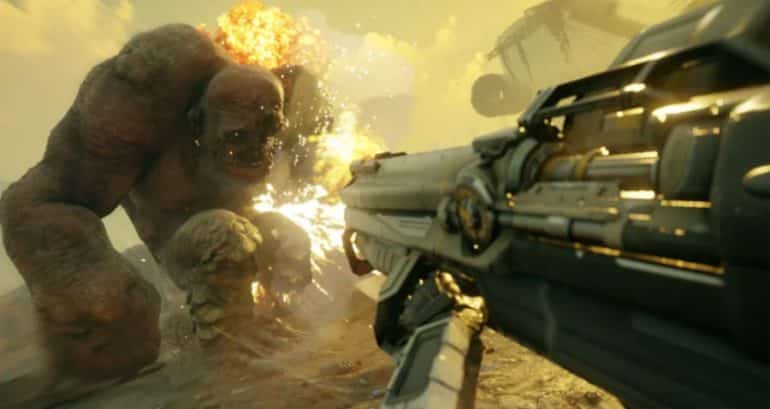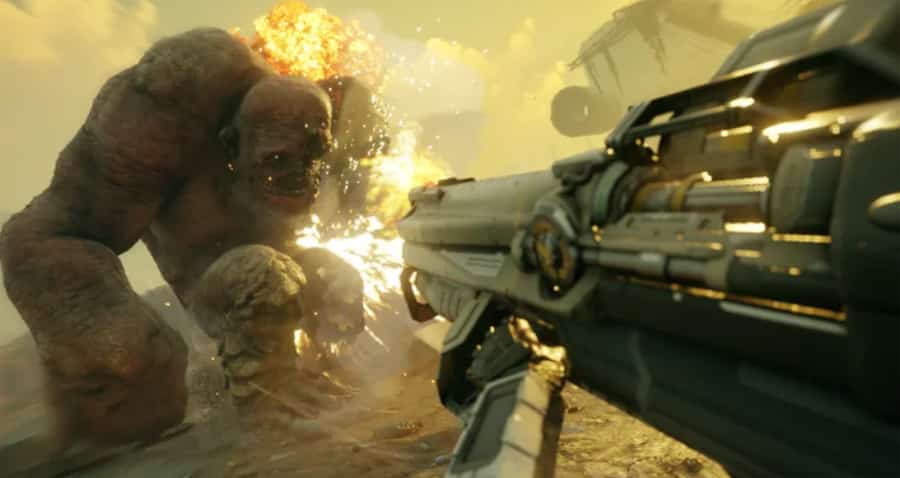 It might seem that I'm being tough on Rage 2 but it's only because there is so much potential in the game. The silky smooth and fast combat kept me entertained, and while the game's world is unique enough to set itself apart from other post-apocalyptic game worlds, it just feels empty, with objectives being repetitive and lacking any substance.
Don't get me wrong, if you're in the mood for mindless fast paced combat then Rage 2 scratches that itch. However, that doesn't change the fact that the game feels like a missed opportunity.
The Review
Rage 2
While Rage 2 does nail the moment-to-moment combat, the game does lack substance and variety. There's not enough to keep you playing after the short campaign ends.
PROS
The silky smooth combat
The explosions!
The weapons and abilities
CONS
World feels empty
Generic and repetitive objectives
Short main campaign
Review Breakdown
Storyline

0%

Gameplay

0%

Graphics

0%

Replay Value

0%

Sound and Music

0%