Making a fresh superhero comic nowadays feels self-defeatist. If the character isn't a part of Marvel or DC, it's largely forgotten, hence the reason that most creator-owned projects veer towards other genres. Yet, here's Kyle Higgins and Marcelo Costa's Radiant Black proving that I know absolutely nothing and there's still room for originality in the superhero genre.
The story follows Nathan Burnett, a would-be novelist who probably spends more time scrolling Twitter than writing (I feel attacked here). Anyway, his life takes an unexpected turn when he discovers a glowing light and receives a range of powers from a miniature black hole.
You see, the success of Radiant Black #1 is in its simplicity. It isn't trying to morph into an elaborate concoction of infinite tangents and setups for other series or events. No, it understands that the best superhero stories are the easiest that you can recall to your friends without thinking too hard about it. As illustrated above, Radiant Black's origin story is a simple premise that opens up infinite possibilities.
At the same time, Costa's art makes you fall in love with the medium all over again. From the vibrant colours to the sharp linework and sparse backgrounds, it's reminiscent of a Saturday morning cartoon. There's something comforting about this style and it grips you from the very first panel, in exactly the same way as Cory Walker's original approach on Invincible.
The book also wears its influences proudly on its sleeves. Higgins revealed to io9 that Radiant Black is also heavily influenced by his runs on Power Rangers and Ultraman.
"The background for Radiant Black—including a miniature black hole as a source of superpowers, how it works and where it comes from—was something I've been thinking about since I left Power Rangers," Higgins said.
The more I've gotten into tokusatsu over the years—with series like Kamen Rider, Ultraman, Super Sentai, etc.—and the more I've familiarised myself with their different storytelling conventions, scope, and themes, the more I've found myself thinking about how those elements cross over with what we—in America—traditionally think of as superheroes.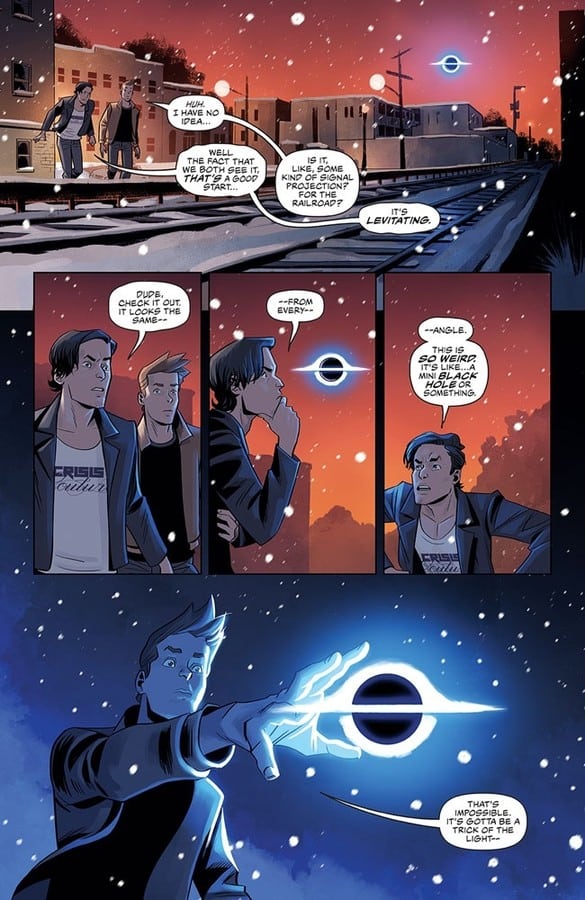 It isn't often that a brand-new superhero title captures the imagination like Radiant Black has. From the character's look and story, there's just something here. Something special. Sure, there are a lot of superhero properties in the world right now, and many are derivatives of each other. However, there's always room for a character that reminds us why we fell in love with the medium in the first place.