A few months ago, when the first trailers for Black Panther were released, we posted an article about the racist response to the Marvel film. Now, with the film's official release, it seems those same bitter fans have taken to social media to spread false claims that they were attacked at screenings of the film. The reports are all untrue. Nobody has been attacked at any of the theatres around the world.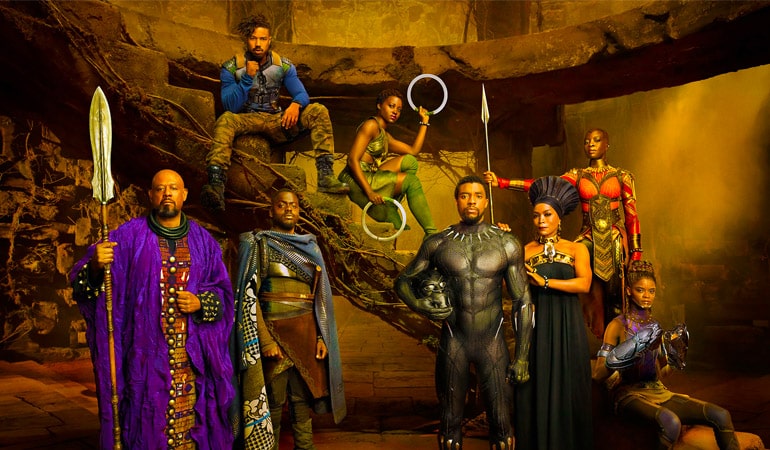 The first "black" blockbuster superhero film directed by a black director with a mostly black cast grossed a record-breaking $25.2m at the box office when it opened this week. However, it hasn't been all good news.
For Marvel, Black Panther was meant to be a milestone film that brings people together and celebrates a new type of hero – one that is especially proud of his Africaness. However, the film has quite a number of heated debates (even on our site) with regards to racism and prejudice.
Now, a few bitter social media users have started spreading images of woman and men brutally assaulted at screenings for the 18th Marvel film. Of course, a quick reverse search of the images will reveal that the claim is completely false. These assault images actually have nothing to do with the film.
In one of the images shared, someone posted a photograph of Rob Porter's ex-wife with a black eye: "Went to the #BlackPanther premier tonight and my wife was assaulted. Three black women approached us and one said 'This movie ain't for you white b****' and then attacked her. Security escorted us to the parking lot and we left. We just wanted to see a movie."
In another social media post, someone shared images of an abused woman and claimed to have been "brutally attack" [sic] by "black thugs" while attending, "because they said whites weren't allowed to watch the movie." This too is false.
Black Panther arrives in theatres this weekend. It has been praised for its representation of black people (African-Americans) as superheroes. Go see it. And don't believe the hate.