Since the new trailer for TMNT: Mutant Mayhem dropped, everyone has been talking about the redesign for April O'Neil, and there are a lot of mixed opinions. In case you haven't seen the trailer, April O'Neil has been redesigned as a Black woman, which has sparked a ton of criticism and support. So let's take a look at what everyone is saying, shall we?
RELATED: TMNT: Mutant Mayhem Proves the Ninja Turtles Need to Stay Animated
Complaints About The Skin Colour
It's nothing new at this point that changing the skin colour of a fictional character generates controversy online. The same thing happened when Disney revealed that the live-action Ariel would be black in The Little Mermaid. Drawing a similar theme with making redheads black, some commenters had quite a lot to say.
Some of them mentioned the "attack" on redheads and the latest habit of Hollywood making redheads black, saying that April O'Neil is the newest character to fall victim to the trend. Others said that while the movie looks like a lot of fun from what they've seen from the trailer, but wondering why Hollywood seems to hate redheaded characters. Some went as far as to call the producers dummies because of changing her race.
RELATED: TMNT: Shredder's Revenge 2 – What We Want to See in the Sequel
Complaints That Go Beyond Skin Colour
While the racial change was a big point of contention, some commenters were more upset that she was "made to look ugly" and is depicted as heavier than in previous versions of Teenage Mutant Ninja Turtles titles. While criticising all those with a problem with race difference, commenters simultaneously complained that April O'Neil had been made ugly on purpose and that that decision had nothing to do with her race.
Commenters were disappointed because she is usually beautiful and mentioned that the animators could have given the audience a cute April O'Neil while still reimagining her as a Black woman.
RELATED: A TMNT: The Last Ronin Movie Can Fix Other Ninja Turtles' Film Mistakes
Defending The Film and The New Design
Some fans are standing by the studio's decision to redesign April O'Neil and giving some really valid reasons as to why their creative choice is totally justified. One of the points made was that from her first introduction in the comics, April's race has always been more ambiguous and that it might have been an intentional action. If you do a little research, you will find that April O'Neil was modelled after one of the TMNT co-creators, Kevin Eastman's girlfriend at the time, who was mixed race.
Another great point is that this isn't the first time that April O'Neil has been depicted as black in an animated series. She has been portrayed as a black character in Nickelodeon's Rise of the Teenage Mutant Ninja Turtles too. Also, no one was using the "Hollywood hates redheads" argument when Megan Fox (a brunette, white woman) played her in the live-action Teenage Mutant Ninja Turtles (2014).
Many fans agree with the sentiment that any fictional character should be free to be adapted almost infinitely, as that is what makes the fictional characters we love immortal.
RELATED: TMNT Reboot Movie: Casting The New Live-Action Film
TMNT: Mutant Mayhem
This all-new CG-animated reboot of the beloved franchise will be hitting theatres on August 4th, 2023. If the TMNT: Mutant Mayhem trailer doesn't get you excited about the movie, the star-studded voice cast will. The movie stars voices like Ayo Eberiti as April O'Neil, Brady Noon as Raphael, Giancarlo Esposito as Baxter Stockman, Ice Cube as Superfly, Jackie Chan as Splinter, John Cena as Rocksteady, Micah Abbey as Donatello, Nicolas Cantu as Leonardo, Paul Rudd as Mondo Gecko, Seth Rogan as Bebop, and Shamon Brown Jr. as Michaelangelo.
My favourite comment on the situation is one by Paul Franzen (@PaulMFranzen), which highlights how out of hand this situation has become and reminds people to have fun with everything. "If April O'Neil isn't a fish person like she was in the original cartoon, it's ruining my childhood." You gotta love people who remind others to have fun.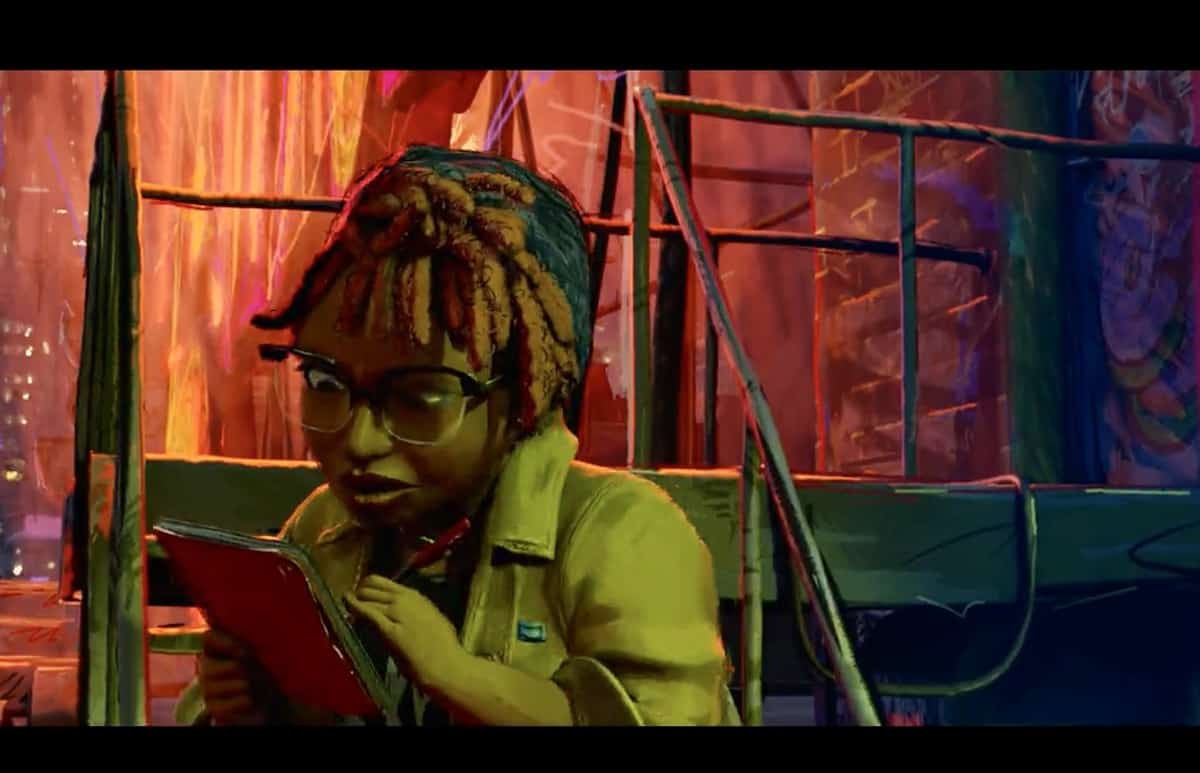 TL;DR
Some people are upset about the racial change of April O'Neil in the new TMNT: Mutant Mayhem movie.
Other people are upset that she has been made "uglier" because she is depicted as heavier than before.
Others just want people to let fictional characters be fictional and stop getting upset.
RELATED: The TMNT Crossover You Never Knew Existed
How do you feel about April O'Neil being a Black woman in TMNT: Mutant Mayhem?