What is Qwirkle, many may ask? Well, it is a tile-matching board game from designer Susan McKinley Ross.
Qwirkle has been around since 2006 and has graced many board game tables over the years. This is in part due to its easy-to-grasp yet strategic mechanics. You might be tempted to, at first glance, think of the game as an abstract version of Scrabble, but it is so much more.
What's in the box?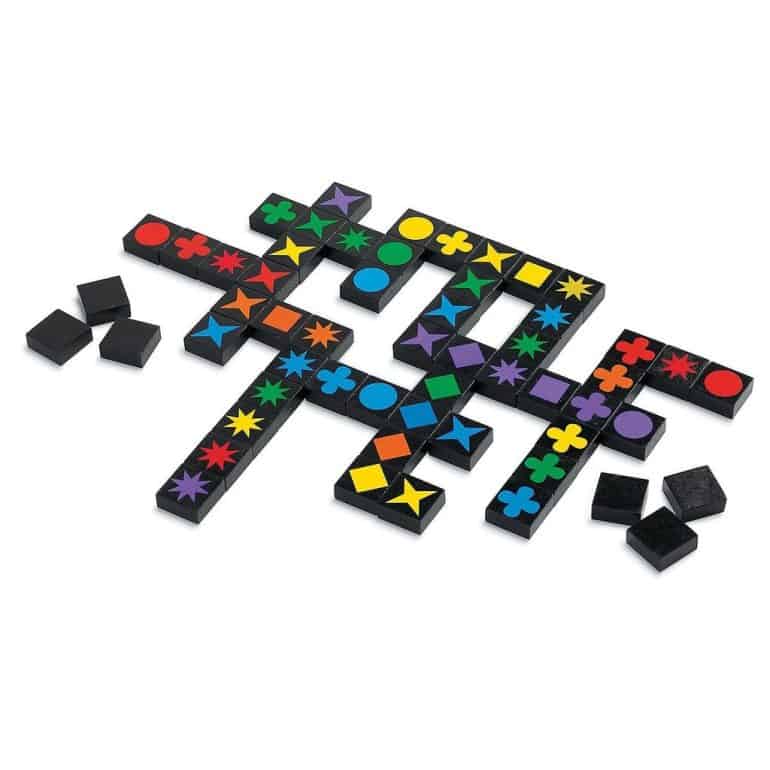 As far as components go, there isn't much to Qwirkle. You get 108 really high-quality wooden tiles, each adorned with a unique coloured shape, and a linen bag to put your tiles in. And that's about it.
Now, while the lack of components might deter some from giving it a go, it is actually one of the best aspects of the game. With the tiles snugly fitting into one bag, it means that you can basically take it anywhere with you. We've taken it to coffee shops, lunch and even to friends.

Although the components are few, they are very high quality. The tiles can take most of the punishment younger players can throw at them and, once again, makes them ideal for travelling around with.
How do you play it?
So, how does this strangely named game actually play? As mentioned, at its core it is a colour and shape matching game that takes inspiration from other games such as Scrabble.

A game of Qwirkle starts with players filling the linen bag with all the wooden tiles. Each player then draws six tiles from the bag. Players then take turns playing one or more tiles from their hand. Players can also discard tiles and draw new ones from the bag. The discarded tiles are then placed back into the bag.

So what do you do with your tiles?
Each tile has a coloured shape on them. Players have to match or connect either the shape or the colour to the ones that have already been played. Placing these tiles scores you points, the more you place on your turn the more points you score. For instance, if you want to match your purple and red circle tiles to the yellow one that has already been placed you will then score points for your two circle tiles plus the one that has already been placed. You can also match the colours. For example, a purple circle and a purple star.

This continues until all the tiles have been played. The player with the highest score wins the match.
What did we think of Qwirkle?
Qwirkle is a deceptive game. On the one hand, it has some really easy-to-grasp mechanics — which meant that our six-year-old could play along with us without too much trouble. On the other hand, the game has a surprising amount of strategy.
Unlike games such as Scrabble, it's not about the player with the biggest vocabulary but rather about the player who plans ahead. There are quite a few strategies to follow in the game. Do you save your tiles for that one big score or do you play them in hopes of curring of your opponents?
Speaking of opponents, Qwirkle also scales really well. Whether you are playing 2, 3 or 4 players each brings its own challenges. Playing in a smaller group allows you to plan better but in a bigger group, there can be more surprises which means that you have to continually think on your toes.

The fact that the board game is also very portable and rugged means that you can literally take it anywhere. In an era where larger less portable games reign king, it's great to have a game that you can take to a coffee shop and play.

Qwirkle is a fun, colourful and very entertaining game that your whole family can enjoy. It's the perfect game for those family vacations.
For more information on this and many other board games, visit solarpop.co.za.
The Review
Qwirkle
PROS
Easy to learn
A surprising amount of strategy is involved
It's portable
Rugged components
CONS
Some might not like the luck of the draw element
Review Breakdown
Gameplay

0%

Components

0%

Complexity vs Depth

0%

Theme

0%