This is the best game of football I've ever played. It's a glorious return to form for Konami's Pro Evolution Soccer and it might just put them in the lead this year.
[dropcap]S[/dropcap]occer is arguably the most popular sport in the world today. With millions of fans passionate and dedicated to a specific team, it's no wonder that fans feel so strongly about their gaming counterparts. For as long as I can remember, FIFA and PES have always gone head to head and divided fans. Some will swear by FIFA, but others will stand by Pro Evolution, no matter what. It's a bit like Marvel versus DC rivalry really. However, with each year and new improvements, one team makes the strides to be number one – sometimes it's PES, sometimes it's FIFA. Over the last few years FIFA has no doubt had the monopoly on the consoles. Ask anyone and they will tell you that FIFA is/was the best football game. However, PES 2017 might be the one to convince fans to change.
While Electronic Arts' FIFA might have reached full maturity, with only minor changes each year, PES continues to grow into a more challenging opponent. This year is no different. PES 2017 is a landmark achievement in the series, thanks mostly to the fine-tuned details and how well it actually captures an authentic match day experience. Look once and you'll swear that you're watching an actual football match – it's just that realistic.
I recall the first time I played Pro Evolution (back then it was called Winning Eleven). At the time, FIFA was the only and best soccer title for me. My friends would gather in droves to challenge one another – even those who were less sporty (like myself). Once we mastered FIFA, goals came easily. Run down the flank, cross over and shoot. It was a goal every single time. Then someone came along and suggested we try Winning Eleven. Winning Eleven? What kind of name is that? It can't be good, can it?
Needless to say, we tried it and within a few days it became our favourite soccer game. FIFA was out the door and Pro Evolution became the new hot thing. Goals were random. The AI was better. And we could mod the players and teams to look and play how we wanted. It was great. The only drawback was that it played a bit like an arcade game at times. If you timed it properly you could even score from the half way line. Given that real life is a bit unpredicatble, this isn't the worst thing.
Fast forward more than ten years and I find myself picking up the title once again and reliving all the fond memories I did as a kid. PES is just the best soccer game for me. Even after all these years of playing FIFA, PES just feels right.
Pro Evolution Soccer 2017 is a really great soccer simulation game. Unlike previous years, developers seemed to step away from the arcade style of the game, refocusing it to a "real life" experience. Everything about it is more realistic – the way the players move, the way the wind blows through their hair, the way they grapple for the ball, the way they pull each other down, the way they react to pain, the way the ball moves, the way the crowd reacts and even the way each player seems different to the other.
PES is once again powered by the groundbreaking Fox Engine which is used to run Konami's other flagship title, Metal Gear Solid. Straight off the bat, it's easy to notice a huge improvement in the graphics department with PES 2017. Not only are the players more detailed and more realistic, but I could argue that they are the best-looking 3D soccer player models to date. Look at Messi. Look at Ronaldo. Look at Neymar. They look exactly like their real-life counterparts.
The presentation has always been one of FIFA's stronger points, but PES 2017 has finally caught up. We no longer have the cheap looking menus and awful techno music. Instead, Konami has licensed songs from popular artists like Justin Bieber (hey, I didn't say it was perfect!) and polished their menus to look more classy. Many might argue that matches are won on the field, but presentation does play a key part in a good game and, thank goodness, we no longer have to look at crappy Powerpoint-looking menu animations.
What else has improved? I could probably make a really long list here, but instead, I'd like to highlight a few key elements. Firstly, play is a lot slower than last year's release (this is a positive). This is due to the fact that the defense system has improved. Making runs through the midfield is still possible, however, the AI has improved in leaps and bounds. It all feels a lot more natural and fluid. Defenders are able to read passes much better and goalkeepers are also better between the posts. They all deal with the defence more confidentally.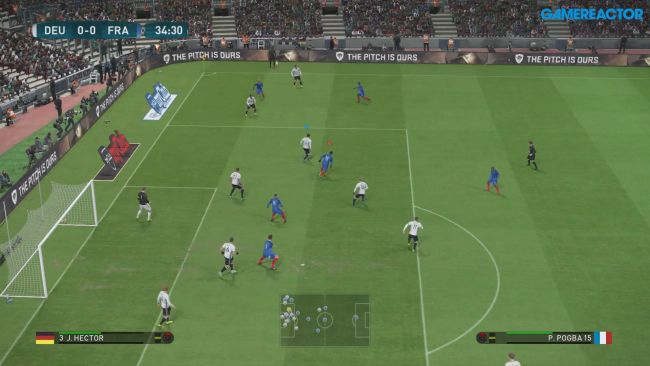 Unfortunately, Konami still doesn't have all the licenses for the leagues, so you're left with Man Red instead of Manchester United. That's a bit of a let down when you consider that you can't fully play as your favourite team.
Online it continues to suffer with similar issues to last year's entry. I found that controls lagged quite a bit and that makes it almost unplayable. That said, it does have it's ups and downs. On a good day you'll be able to play hassle free.
There will be some that would swear by FIFA's superiority simply because… well, it's FIFA! However, when the final whistle blows, PES 2017 doesn't leave you disappointed. Pay attention FIFA-heads, there might be a new king of the virtual pitch. The competition is fierce this year!
https://www.youtube.com/watch?v=Be7pMHXcxwQ