For the longest time, the Predator franchise has been stale — with filmmakers attempting to reboot and recapture the excitement of the first film. As the first full trailer for Prey shows, director Dan Trachtenberg (10 Cloverfield Lane) is willing to try something a little different with the upcoming Predator prequel movie.
The hunter becomes the hunted in the first in-depth look at the highly-anticipated Prey, a science fiction action Disney+ and Hulu movie releasing on August 5th. In the 18th century, a fearsome extraterrestrial life-form (the Predator) begins killing off a Comanche tribe. This bloodthirsty being continues to prey on the innocent until it finds itself face to face with Naru (Amber Midthunder), a young Comanche warrior with a set of unique skills.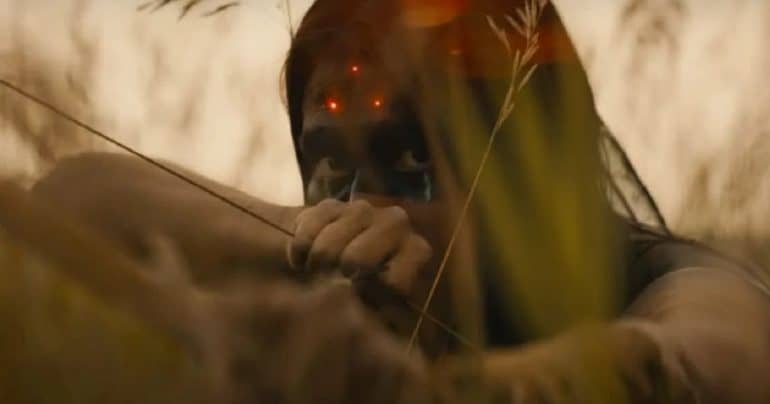 As the new Prey trailer shows, Trachtenberg has been smart enough to learn from the mistakes of previous films and kept the Predator mostly hidden. For the first time in a long time, this film looks like it's focused on being a gritty survival horror-like story rather than another mindless action flick.
Alongside Midthunder (known for her roles in The Ice Road, Legion and Only Mine), the cast for Prey also includes Dakota Beavers, Stormee Kipp, Michelle Thrush, Julian Black Antelope and Dane DiLiegro as the Predator.
Trachtenberg has also committed to portraying the Comanche nation as accurately as possible and brought on Native Comanche producer, Jhane Myers, to advise. Prey is also the first film ever made available in the Comanche language.
For the looks of things, everything is shaping up for the 5th (or 7th, if you count the Alien vs Predator movies) instalment in the franchise. Fans have been disappointed with the recent efforts, which include 2018's The Predator and 2010's Predators — both made by highly esteemed Hollywood directors. None of the recent films have been able to capture the magic of the original film starring Arnold Schwarzenegger, Carl Weathers, and Jesse Ventura.
Watch the trailer for Prey below.