This review is for the expansion to the video game Prey. You can read our original review for the game here
We all thought we were done with Prey, the RPG-FPS hybrid from 2017, but it has at least one more trick left up its sleeve, it seems. Suddenly announced at E3, and released in short order after that, Prey: Mooncrash is a substantial DLC add-on to the original game, but one that eschews many of the typical formats of a DLC expansion to give us something far more interesting. I may never forgive it for callously using the title of an old IP from 2006 while having no relation to that game, but I do somewhat forgive it after this. Just give us a decent sequel to Prey (2006) and we'll be even!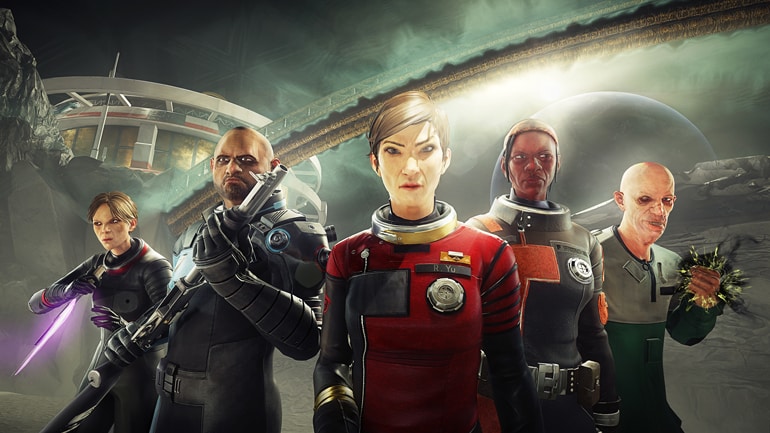 Prey (2017), for those unaware, was what some people refer to as a "451 game." It's a sort of subgenre of FPS games. It's something that evolved first with Deus Ex, System Shock and Thief, and then spread out to other companies who liked the idea, or who inherited those employees. Think Bioshock, Dishonoured, and this Prey release, and you might see what all of the distinctive features are.
It is nominally set after the main game, but really has nothing to do with it, and would make an excellent stand-alone game.
It's sometimes arguable whether a game fits into this genre, and some do only in part, but here are the basic elements of them: Firstly, that the game is set in a post-apocalyptic or generally terrible world where something has gone wrong. Secondly, that there are a large number of RPG elements and different approaches to objectives possible. There will be some sort of techno-magic power system, beyond simply your weapons. Player freedom is emphasised; you can go all out guns blazing, or sneaky and stealthily, and there is often a morality system payoff. Finally, exposition often happens through the discovery of artefacts or audio-logs of some kind.
Prey fell neatly into all of those categories. It had a solid story, and by the end of it, the M. Night Shyamalan style twist was revealed, and we all went home. Tacking on a DLC story chapter felt superfluous in the light of that, so a different approach was taken for Prey: Mooncrash. It is nominally set after the main game, but really has nothing to do with it, and would make an excellent stand-alone game.
Here's the premise in Prey: Mooncrash: you are essentially playing a game within a game – you are Peter, a hacker working for a generically evil mega-corp, and you are monitoring a secret moon-base. Some tragedy befell the moon-base, and to figure out what happened, Peter must run a successful simulation.
That is where you come in, and the DLC is about creating that successful simulation. You are placed in the moon-base and given access to five separate characters, who are archetypes of different builds from the main game. Some are better at techno-magic, and some are better with weapons, etc. You control them one at a time and try to get the one you are currently controlling out to a possible escape route. Once that is done, you switch over to another one of your remaining survivors, and try again, until eventually, all five have escaped the base.
…the DLC is about creating that successful simulation.
Sounds easy right? Here's where the fun (and by "fun", I mean "survival-horror") tenses up. Firstly, the environment is shared – what that means is, if you are playing as Character 1, and you merrily consume all the available health items because you're not very good at avoiding enemies, by the time Character 2 starts her run to safety, you will have no health items left for her because Character 1 was so incurably hungry. And don't get me started on how hard it'll be by the time you get to Character 5 and all the ammo and items have been used up. This extends as well to escape routes – there are five escape points, and each can only be used by one character. So, you cannot use that escape pod twice, for instance.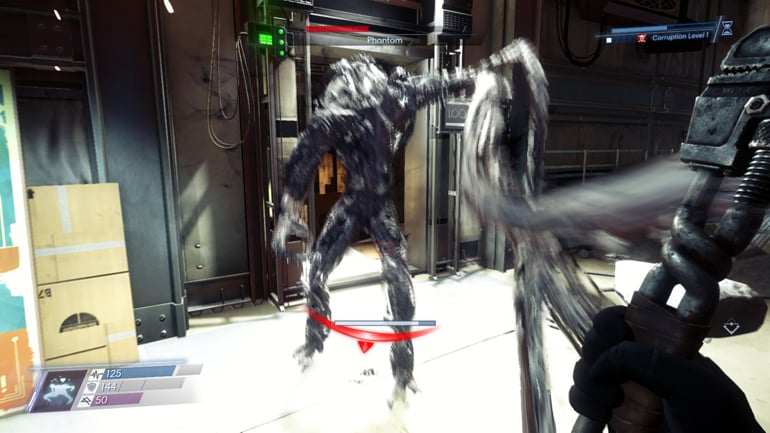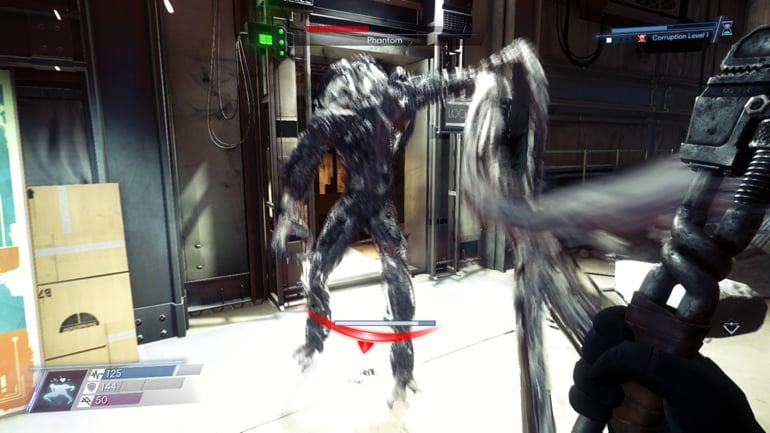 Next, all five characters must escape for you to win the game. If one dies en-route, here's what happens: the simulation resets, in a very rogue-like fashion. The entire map is randomised and redrawn, and all five characters must begin the trek again, without the benefit of knowing where to go. You get some upside in that, with enough points earned in one of your previous runs, you can cash in those points to bring across previously discovered or upgraded weapons and items. This does give you some sense of progression at least, and it stops the game feeling like banging your head against the wall, because even if you mess up, you don't quite lose everything, and it can be easier next time.
It becomes a test of learning the characters, learning the combat systems, learning about resource management.
The characters, such as they are, are not really fleshed out, aside from each having a personal quest you can attend to during the trip. But add in the new features, such as weapon degradation and specific body-part injuries, and what you have is one of the best survival-horror titles I've played in years, and the rogue-like element adds to that enormously, because you can never rely on your previous map-knowledge if you mess up. It becomes a test of learning the characters, learning the combat systems, learning about resource management.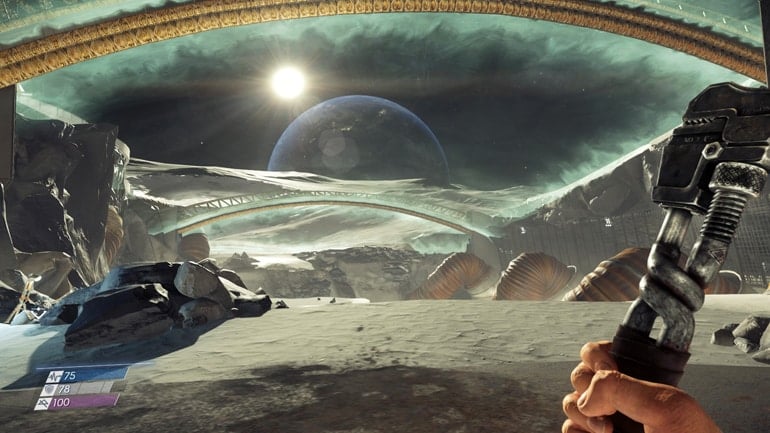 There's a lot to learn in Prey: Mooncrash, but it keeps you invested until you finally get that sweet success of leading all your five crew-mates to safety. Succeeding at that point gave me a much greater feeling of satisfaction than the feeling of "oh neat, the game is done," I get from so many other titles at this stage of my life. One of our criticisms about the original Prey release was that it seemed extremely difficult at times. That works better here, where incrementally surviving against a hostile world while trying to escape is more of the focus. I'm glad that Prey: Mooncrash came bundled with Prey for me, as I could use what I already knew about the game system there, but it really could stand alone on its own if it was sold as say a $15-$20 game.