Look, if you slap the Power Rangers name on anything, you'll have my attention. It might be a cheesy franchise, but it's tasty mozzarella in my eyes. When Mighty Morphin' Power Rangers debuted in South Africa in the '90s, I remember receiving a large figurine of Jason, the Red Ranger, for Christmas. Rather poetically, I have another Red Ranger for review just before this silly season.

Based on the 26th season of Power Rangers, subtitled Beast Morphers, these Rangers' outfits have a different appearance and attitude from the previous years—certainly a major departure from the time they looked like they wore table cloths. These new heroes also possess an energy source called Morph-X combined with animal DNA to give them special abilities.
In terms of powers, the Red Ranger is supposed to harbour the abilities of a cheetah and move super-fast. But if you expect this figurine to sprint around in your garden, you'll be disappointed. There are no clever gimmicks or wheels under the feet here, as this range prefers to keep it simple and let the children's imaginations take centre stage.

Inspired by the 12-inch toys of the past, the Red Ranger is a fully posable action figure with the basic points of articulation. You won't be able to bend the knees or elbows, but the figure moves around comfortably otherwise. The arms move up and down, as well as to the sides, allowing for a variety of action poses.
For a large figurine, the level of detail is impressive, as is the colour scheme. Impressively, it looks like its real-life counterpart while the paint doesn't chip off so easily. The helmet, in particular, is striking as it captures all the in-depth curvature and intricate features of the one featured in the TV show.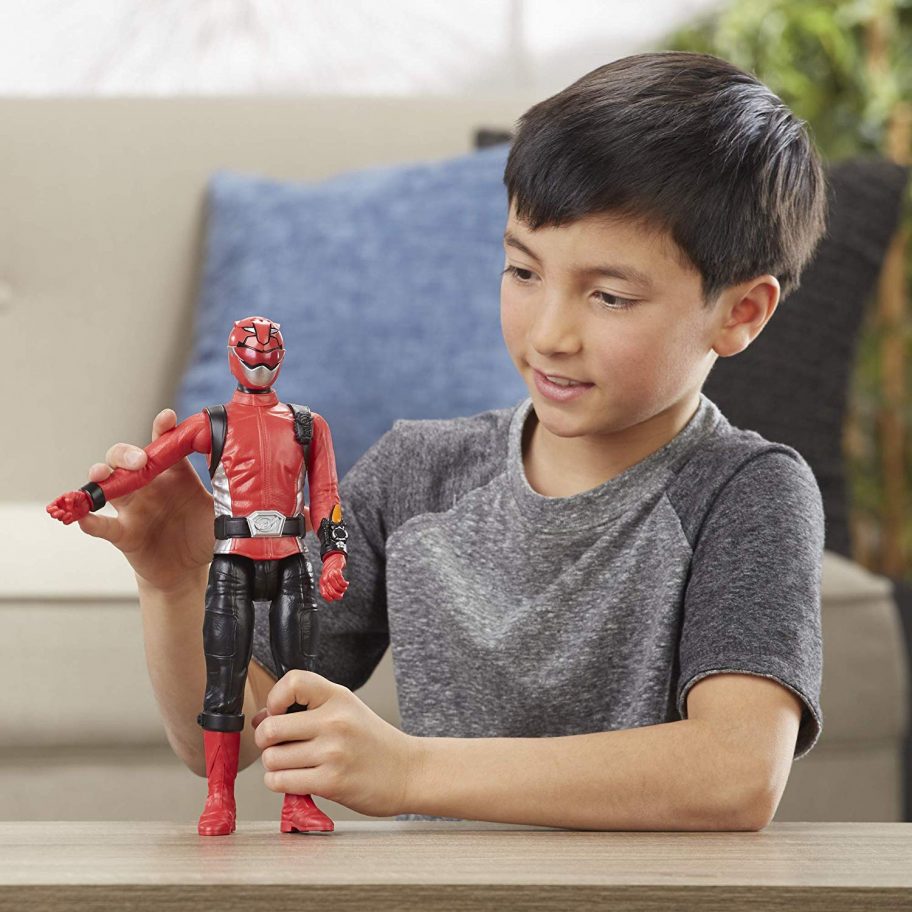 The figure also comes complete with its own sword, something that you'd expect from a Red Ranger in the first place. It's a nice accessory for the battle, but it isn't quite as accurate-looking as the figurine. Naturally, the fans will be happy that it's included; however, it isn't quite as inspiring.
Not only is it a sturdy and giant-size figurine to play with, but it'll also come across as imposing on a shelf, adding to its appeal and value. If you're a fan of the Power Rangers, you won't want to miss out on the Beast Morphers range. One figure on its own won't keep you occupied for too long, though, so you'll need to assemble an army of allies and enemies. You better start putting aside some cash to buy more than one of these toys this festive season.
The Review
Power Rangers Beast Morphers Red Ranger
Fans won't want to miss out on the Power Rangers Beast Morphers range.
PROS
New look
The helmet's detail
CONS
The accessory isn't as remarkable
Review Breakdown
Packaging

Durability

Paintwork

Detail

Features

Fun Factor