Pokémon Mystery Dungeon: Rescue Team DX is a middle-of-the-road dungeon crawler with a charming presentation, a faithful translation of many mainstream Pokémon staple mechanics, and a reasonable amount of content. However, it cannot mask its ageing foundation that might leave you asking for more.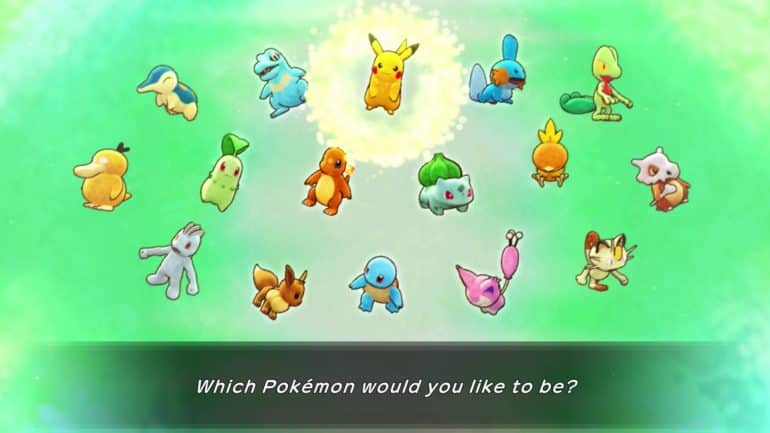 First and foremost, Mystery Dungeon DX is a remake of the original Pokémon Mystery Dungeon titles, Red Rescue Team and Blue Rescue Team, which released for the GBA and Nintendo DS in 2005. Doing away with the separation of Pokémon across versions, the most significant update has been to the graphics, which now sport a wonderful, watercolour, storybook style design. Other new features include an auto-mode (more on that later), auto-save, and Mega-evolutions.
The plot begins with you undergoing a playful personality quiz, after which you are told which one of 16 Pokémon your personality most resembles (mine was Mudkip, which I was fine with). If you are happy with your choice, you move onto selecting your partner Pokémon from the same pool of 16, and which must be a different type to yours. Then the game begins properly: you are a human, who has lost your memory, and been transported to the Pokémon world and turned into a Pokémon yourself. You are found by a friend, and together, the two of you decide to set up a Pokémon Rescue agency.
The world has been undergoing some massive environmental upheavals, and more and more Pokémon is finding themselves trapped or injured in dangerous locations. That's where your Rescue agency jumps in, travelling to those dungeons to rescue them. Along the way, you aim to solve the mystery of what happened to bring you there, and why you became a Pokémon. The plot is actually fine, with a few decent moments of character development, but there's just not much of it. The main plot is over within 8-10 hours, and while there is a sizeable post-game, where you can recruit any number of legendary Pokémon, there's very little story in those moments.
As for gameplay, you begin by obtaining missions from the hub world. Then, you enter into a selected dungeon with up to 3 Pokémon in your team. Dungeons are grid-based, and your team and enemies will move and act based on turns. The dungeons are procedurally generated, floor by floor. Your goal will be to make it to certain floors and then locate a specific Pokémon or a specific item. Occasionally you may need to face a boss. In battles with normal enemies, your Pokémon has four moves available, similar to the mainstream games, and the same type advantages apply. If you defeat an enemy, there is a chance that they may wish to join your team. If so, you can eventually have up to 8 Pokémon in one team in one dungeon. If those guest Pokémon are still alive at the end of the dungeon, and you have unlocked a camp that they can stay in, they will join your team permanently. If you wipe in a dungeon, you can either accept the loss, and lose items and money, or you can mount a rescue effort of your team with other Pokémon in your home base, or you can ask the Internet to help rescue your team. Evolution, a staple feature of Pokémon, is present, but only in the post-game.
The real problem with Mystery Dungeon DX is that this core loop is not sustainably fun. It becomes repetitive tedium of inventory management and the same looking rooms over and over. That's why there is the auto-mode. The auto-mode is toggled with the L button and makes your whole team run around the map for you, looking for the exit or goal, with you only needing to take action when battles happen. And, to be honest, if your game is so much better when you can push a button to make it play itself, that is an issue. Although I feel that the story was hard-done-by ending just when it was getting good, the truth is that this game would have become even more boring even with auto-mode if it lasted another 5 hours. It had well and truly worn out its welcome by the point I stopped playing, sometime in the legendary Pokémon hunt of the post-game.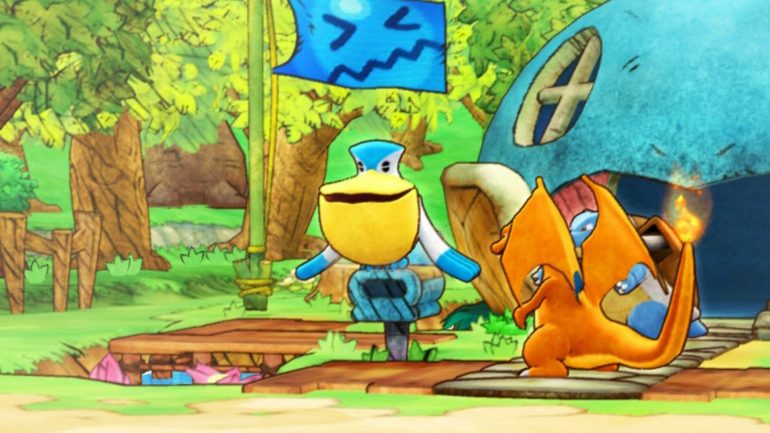 Pokémon Mystery Dungeon: Rescue Team DX is wonderfully nostalgic if you played the original, and it is a good remake in terms of quality. It is also fun in small doses, or as a minor distraction, as I approached it, playing it when the electricity was off. However, its core gameplay mechanics don't sustain it long enough to really reach any grand heights, despite the obvious charm of its characters and world. I wouldn't recommend paying full price for this title and would suggest that if you must have it, waiting for a good discount.