Prepare for battle with the ready-to-play Pokémon Trading Card Game Battle Academy!
Pokémon is a franchise that took the world by storm. Whether it's cartoons, toys, video games or even card games, the loveable creatures have permeated every corner of pop culture.
The Pokémon trading card game has always been something I've wanted to get into. However, from the outside, it's always seemed a bit intimidating. Pokémon Battle Academy is the best way to get into the Pokémon collectable card game as it slowly eases you into the various mechanics.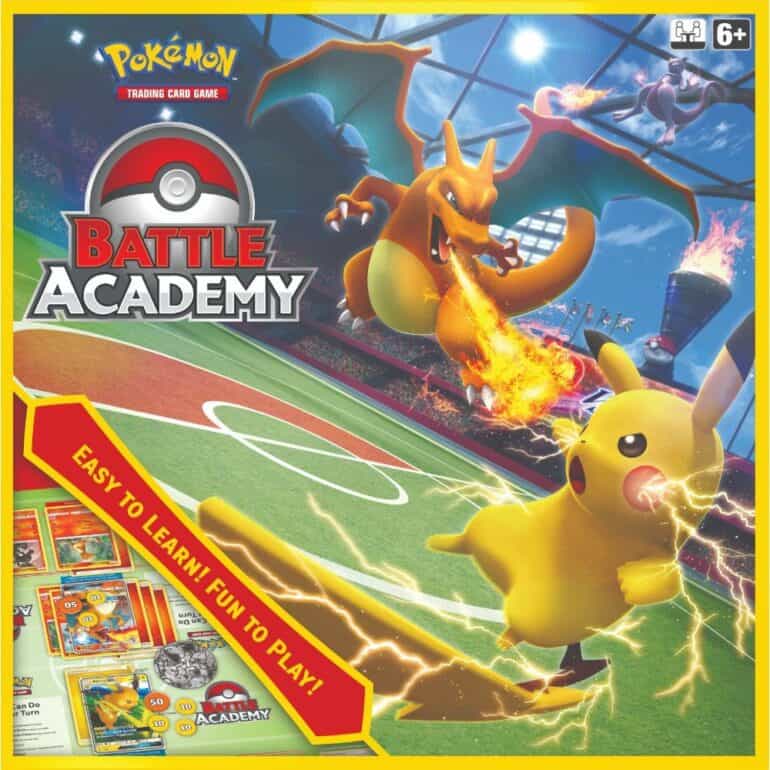 What's in the box?
First, and most importantly, Pokémon Battle Academy comes with an arena board that clearly sets out where each deck and card needs to be placed, as well as how each turn will play out. This is possibly the best part of the game as it helps new players quickly come to grips with the game's ruleset.
The board is nice and thick. Although the artwork on it might seem a bit sparse and bland at first, it is all about being easy to understand and keeping players focused on how to play the game.
Of course, the game comes with three Pokémon pre-made 60-card decks. The decks each feature, Pikachu, Charizard and Mewtwo respectively. The cards already come pre-shuffled and numbered from 1-60. More importantly, they all have the same great artwork we've come to expect from the Pokémon collectable card game.
During the first match of Pokémon Battle Academy, players will use the included manual, which will set out each turn in detail. Then there are the damage tokens and a plastic coin which comes in handy when having to decide who goes first.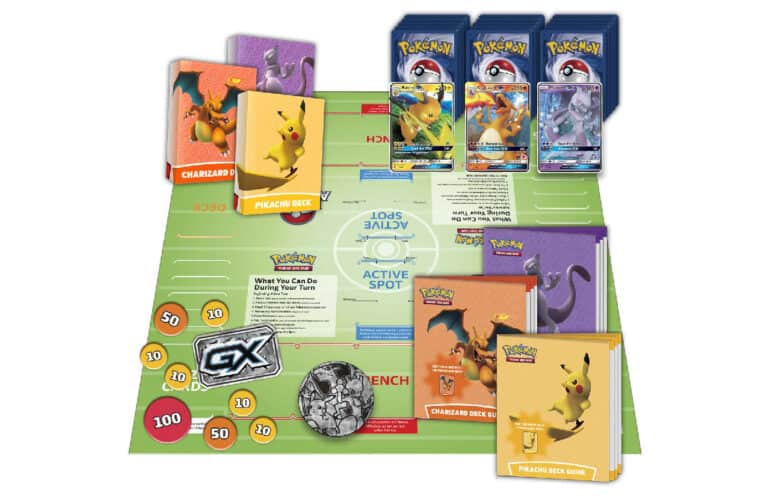 How do you play Pokémon Battle Academy?
A game of Pokémon Battle Academy starts with each player drawing a hand of seven cards from the top of their respective decks. They then draw additional four cards from their deck and put these aside face down.
These four cards form your pile of prize cards. Each time you knock out a Pokémon (when their health reached zero, because Pokémon don't die they pass out) you take one of your opponent's prize cards.
The player whose prize cards run out first loses. If a player has a Pokémon labelled "Basic", they place that Pokémon in the middle of the play area as this will be their active Pokémon.
On each turn, a player can do the following:
– Draw a card
– Put a Basic Pokémon on the bench
– Attache an energy card to a Pokémon
– Switch an active Pokémon with one on the bench
– Evolve a Pokémon into a more powerful one
– Play a Trainer card
– And lastly, attack your opponent Pokémon
Each Pokémon uses the attached energy to attack its opponent. The energy requirement for each attack is clearly shown on each Pokémon card.
It all sounds quite easy but, as you play more (and start adding in advanced cards), you'll soon realise that this Pokémon game has quite a bit of depth to it.
What did we think of the game?
I was pleasantly surprised by how clear and concise the guides were. From the start of playing our first Pokémon Battle, there wasn't a moment where we felt lost or had to bicker about how we perceived a rule that seemed vague. As a testament to how clearly everything is shown in both the guides and on the cards that come with Pokémon Battle Academy, my 10-year-old was able to quickly grasp the game's mechanics. I think we have a future Pokémon trainer on our hands.
The first few playthroughs did feel a bit basic and lacking strategy. However, as we started to play using the advanced guide book, more strategic avenues started to open. There are a few moments during play where luck is involved and the outcome is determined by the flip of a coin but even these don't detract from the fun we had.
As someone who grew up in the peak of Pokémon madness, it felt very nostalgic playing the game. There were even a few moments where I caught myself shouting "Pikachu, I choose you!" — when I was not singing the original shows theme song in my head.
If you are looking to get into the Pokémon trading card game or just looking to relive some nostalgia with your kids, then you should definitely give Pokémon Battle Academy a try.
For more information on Pokémon Battle Academy, visit solarpop.co.za. The game retails for around R700 locally.
The Review
Pokémon Battle Academy
Pokémon Battle Academy is, without a doubt, the best way to get you're familiar with the Pokémon Collectable Card Game
PROS
Best way to familiarize yourself with the Pokémon CCG
Easy to understand and get to grips with
Its Pokémon!
CONS
Might lead to a Pokémon Card Colleting addiction
Board art is a bit on the plain side
Review Breakdown
Gameplay

0%

Components

0%

Complexity vs. Depth

0%

Theme

0%