Sony's PlayStation 5 can do almost everything the PS4 can with only a handful of games and features being left behind, like 3D Blu-Ray. But there's no need to ditch your old console yet.
The PlayStation 5 Remote Play app, which quietly appeared on the PS4 system menu a few days ago, will allow users to remotely connect to a PS5 and control it over the internet. This means you can easily continue playing a PS5 game from another room of your house.
The news was unceremoniously revealed by Sony in the PS5: The Ultimate FAQ section of their website.
"We're updating PS4's Remote Play feature. Now, in addition to being able to access your PS4 from a PC or a mobile device, your PS4 can access other consoles via Remote Play too, right on your TV. This includes the ability to connect to your PS5 and stream a PS5 game to your PS4 so you can play it there."
The PS5 Remote Play app gives you the option to switch between 540p, 720p standard and 1080p streaming. To use Remote Play, you have to enable it on the PS5 you're connecting to first. To do that, on your PS5, go to Settings, System, Remote Play, and turn on Enable Remote Play.
Presumably, the app would also allow users to play PS5 games using a DualShock 4 controller – which is something the next-gen console does not allow. Currently, the PS5's DualSense controller does not work with PS4 either.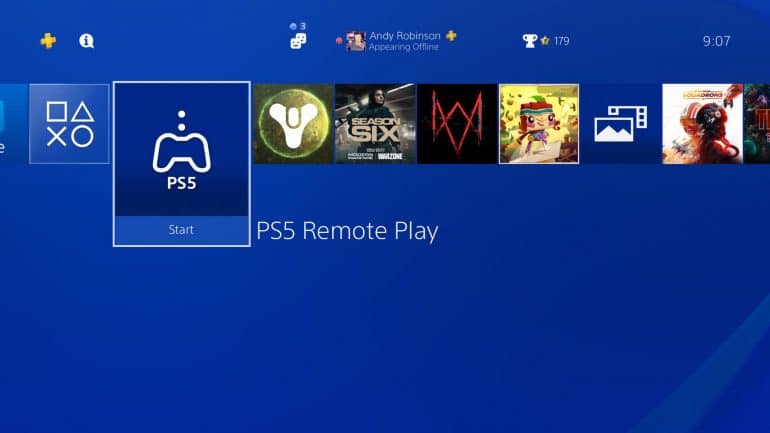 However, according to another blog post from Sony, the DualShock 4 will work with PS4 games on PS5 via backwards compatibility. Speciality peripherals, such as officially licensed racing wheels, arcade sticks, and flight sticks will work with PS5 games.
But you don't really need a PS4 to stream PlayStation 5 games to different rooms, since the Remote Play app is getting updated on other platforms as well.
The Windows version not only adds PS5 support at 1080p but also HDR. Sony's Remote Play apps for Android and iOS have also been updated for the PS5, and a Mac version is probably on the way too
Sources: VideoGamesChronicle and EuroGamer