PlayMonster's Snap Ships aim to give budding young engineers the opportunity to build their very own spacecrafts. This is basically everything a Star Trek or Star Wars fan like myself could ask for.
Each space ship is built by connecting various modular blocks and other pieces to form the final product. What broadens the appeal of Snap Ships is the fact that PlayMonster has created a system where you can mix and match these pieces to create your unique and custom designs.
In this review, I'll be taking a look at three of the sets in the range. The first two sets contain Komplex Faction ships (the bad guys) and the third contains one ship from each faction, The Komplex and The Forge.
The first set is the LOCUST K.L.A.W Stealth Craft. The second is the largest of the three sets; the SCORPION K.L.A.W Troop Dropper. Lastly, there is the playset that contains the FALX SC-41 Escort and the WASP K.L.A.W Heavy Fighter.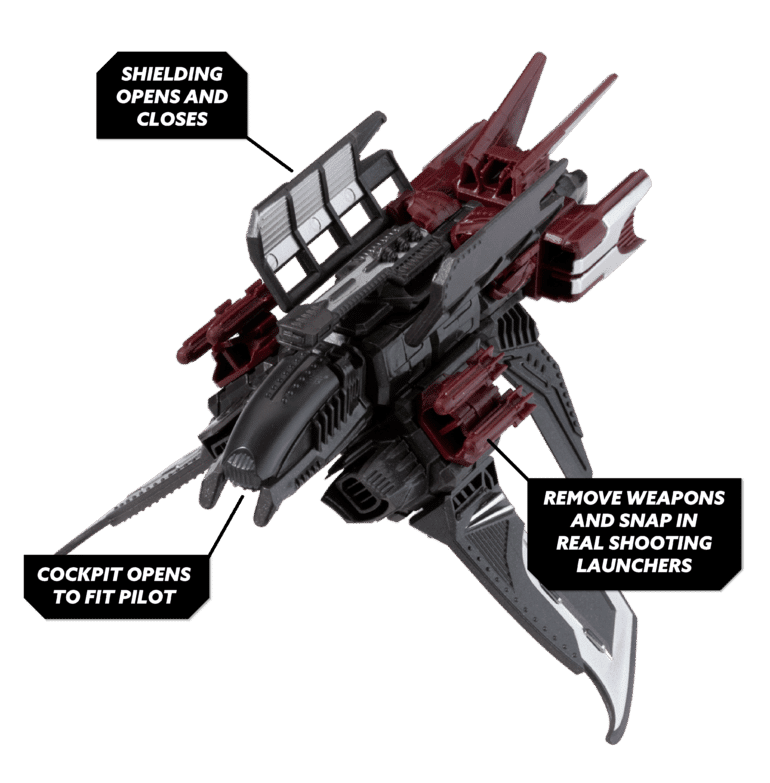 What's in the box?
Something that many toy companies have forgotten over the years is that kids (both young and old) love staring at boxes. I still have fond memories running up and down the toy aisle looking at all the various toy boxes and drooling over which toy I will spend my hard-earned pocket money on.
In the case of PlayMonster's Snap Ships, each box is made to draw the attention of science fiction fans like a moth to a flame. The boxes are adorned with all kinds of information regarding the factions and schematics for the ship set. You can immediately see what you are buying by just looking at the packaging. Plus, as an added bonus, it also serves as a stand for your completed ship.
Like any good toy should have, each Snap Ship has a unique feature.
In the case of the LOCUST K.L.A.W Stealth Craft, the WASP K.L.A.W Heavy Fighter and the FALX SC-41 Escort, all three have launchers that fire some sort of little plastic missile.
These sets also have three different options of ships you can build. Although these features are impressive, it's the SCORPION K.L.A.W Troop Dropper that had me the most excited. This ship features mini drop pods where you can place your troops.
Each ship also comes with a small crew member (or members) of their specific faction that fits snugly into the cockpit of the ship. It's impressive!
How do you play it?
In essence, the modular system boils down to slotting a peg into a hole. It's as simple as that.
This works great and allows mixing and matching of parts. Although each ship block/part is made of a solid moulded piece of plastic, there is quite a surprising amount of detail on these parts.
The three Komplex Faction ships are surprisingly sleek and a whole lot more threatening with their protruding spikes than The Forge Faction ship, which tends to be a tad more on the blocky side.
Each ship also has multiple models you can build. In fact, most of the ships have three versions each, with only the smaller LOCUST K.L.A.W Stealth Craft having two.
Being a modular system means that it is all about experimenting. My 10-year old and 6-year old quickly figured out how to build their own unique looking ships combing parts from all three sets. This meant that we ended up with a weird amalgamation of a ship that would scare the most seasoned fighter pilot.
I have to make special mention of the SCORPION K.L.A.W Troop Dropper's feature to launch little troop pods containing actual mini-figures. It's little details like these that have me excited to see what else will be added to the range.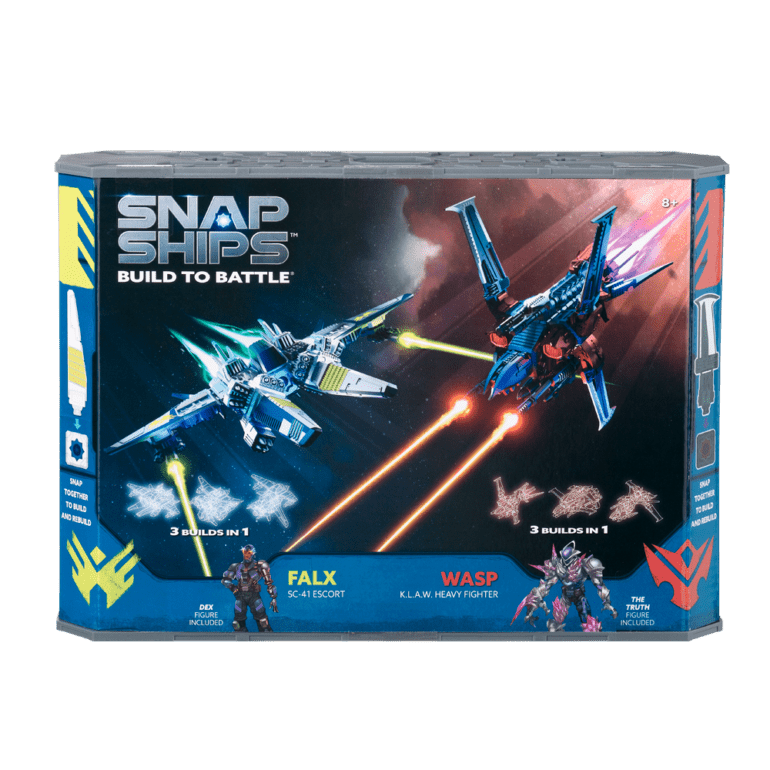 What did we think of PlayMonster Snap Ships?
Snap Ships are all about unlocking your imagination, whether you are a rookie or a seasoned fighter pilot (like myself). Although you can follow the instructions and easily build the ship on the box, there is a lot more fun to be had in building your own unique Frankenstein-esque ship.
This is a toy that is all about unlocking your creativity and thinking outside of the box. Want your starship to have 4 cockpits? You can do that. Want to have an exuberant amount of laser turrets mounted on your fighter? That's an option open to you. Nothing is out of limits and that's what makes PlayMonster Snap Ships such a great product.
In the end, I wasn't sure who enjoyed playing with the ships the most, me or my kids. What I do know is that we'll be adding to our ever-growing collection of ships in the future.
The PlayMonster Snap Ships range is available for purchase at Takealot.com, Toy Kingdom, Hamleys, CNA, Everyshop and Raru.co.za.
The Review
Snap Ships
Snap Ships are all about unleashing your imagination, building your own ships, battling it out with friends and just having fun.
PROS
Modular system works great
So much detail
Unique ships for each faction
CONS
Some of the connections can become loose over time
Review Breakdown
Packaging

0%

Durability

0%

Paintwork

0%

Detail

0%

Features

0%

Fun Factor

0%