Welcome to a time where what was once a bizarrely named new franchise is now a staple in the mobile and console gaming industry. Plants vs. Zombies: Battle for Neighborville falls into PvZ's Garden Warfare games, an online third-person cartoony shooter that sows the seeds for a delightful and adorable fight to the death. Read on to find out more about which parts of this wacky title bloom and which are potential thorns in any gamer's side.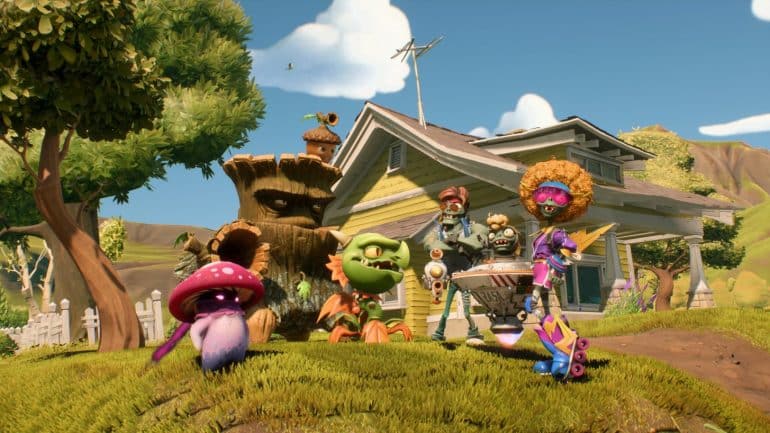 Neighbourville is a world pulled right out of a kid's happy dreams. Ice-cream hot air balloons fill the sky, the central battleground is essentially a carnival, complete with Ferris wheels, carousels and everything in-between! It's a utopia for innocent-looking bloodthirsty plants to rage war against derpy zombies that invade in search of some tasty brains. From the get-go, you'll experience how adorable the plant characters are as they happily babble on in a weird plant language despite their sadistic nature. It's this juxtaposition that elevates Plants vs. Zombies: Battle for Neighborville's character with effortless charisma and charm.
If you, like me, have never played any of the previous titles, then you may begin the game feeling a little frustrated. At first, Plants vs. Zombies: Battle for Neighborville felt offputting solely by its sheer size and number of things to understand. There's a tutorial that explains a few elements to you but most players new to the franchise will probably still feel lost once that's done. It's not super clear where to go first or what to do, you simply have to run around and figure that out for yourself by talking to NPC's and jumping into random game modes.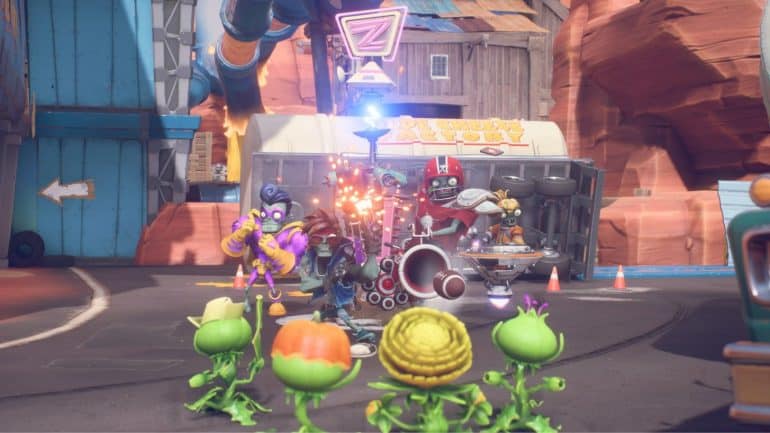 Though it may take some time to get a solid grasp of the overall mechanics early on, it slowly but surely comes into focus if you stick with it. Once things get going, you'll be introduced to a roster of both plants and zombies, of which you can play either. These characters are separated across three classes: attack, defence and support. Upgrade characters as you play and unlock different buffs and abilities that can be equipped. A welcomed feature is the ability to have three separate builds per character, allowing players to have their favourite pre-loads on hand before jumping into a game.
The characters themselves all feel unique, from the Gatling gun-like Pea Shooter to a melee ninja assassin mushroom that Naruto runs into action and even a loveable zombie with a super-hero complex whose cape flaps in the wind as he runs with arms outstretched. Levelling up these characters not only opens the door for new abilities and strengths but additionally unlocks new aesthetics in the form of skins that don't come as a set but rather separate, encouraging players to mix and match until you unlock the matching pieces. I can imagine this being appreciated by some and annoying to others. Personally, I just see this as a clever way to keep players grinding.
As an online shooter, it's unsurprising that PvP modes are its main strength, with the 4v4 battle dome being a personal favourite. The gameplay features insinuate that team-composition and effective strategy are what's needed to win games but it never really felt that way. It always just became mindless chaos in all directions, making it hard to even determine the role of character balance, though still admittedly fun. PvE modes are equally wild at first but after more than a few fetch quests, boss fights and horde clearances,  it soon becomes pretty repetitive. A big positive is that it seems like the central hub is always packed with eager players so finding a game shouldn't take too long. How this changes in future, is all dependant on how fresh Plants vs. Zombies: Battle for Neighborville can keep its content.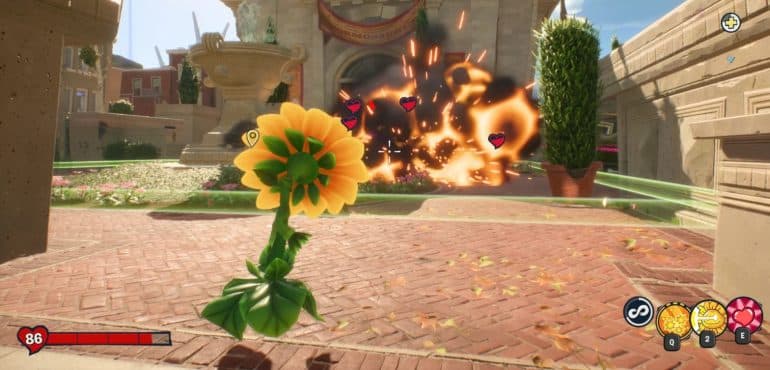 In-between games, enjoy emoting adorably, skirmishing in the general area, unlocking goodies, or rocking target practice. Despite this game being cartoony, the textures, vivid colours and lighting on both characters and the world are all gorgeous, from the rippling water effects to the life-bustling carnival rides, Plants vs. Zombies: Battle for Neighborville has taken the time to build a world as pretty as it is functional. Now, this is going to sound a little hypocritical but even though the Garden Warefare series has a reasonably strong following, it never felt special or that it truly stood out.
Despite the quirky characters, impressive graphics and satisfactory gameplay, I can't escape the feeling that it's just a spin on countless similar titles and it started to get a little boring after about a week of playing. That being said, the corny jokes, style and overall look and feel make it clear that this game is aimed at kids more than adults. Perhaps this is another reason it started to feel stale early on. To be fair, this is subjective and depends on your preference of genre. The one piece of advice I would give anyone looking to buy this game is to at least get one friend to buy it too. Mindless chaotic fun is always better with your favourite company beside you in battle.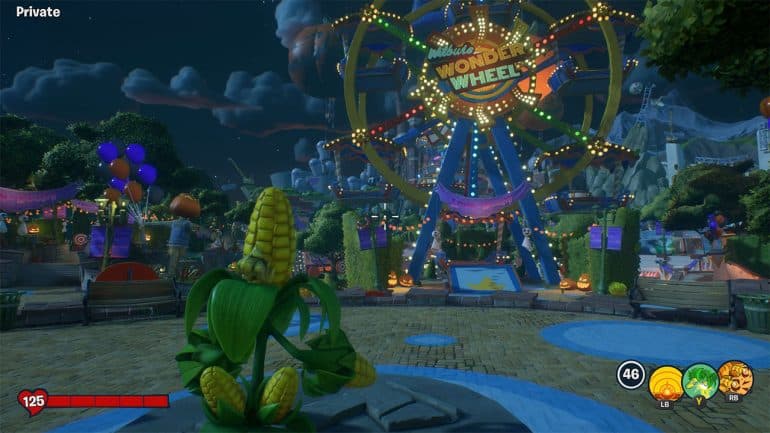 In the end, developer PopCap games clearly put in effort into building a reasonably solid game, but is that enough to satiate an audience of gamers that have come to expect something different in the ever-competitive world of online multiplayer video-games? If mindless fun with friends is what you're after or you've enjoyed previous titles in this series, then Plants vs. Zombies: Battle for Neighborville is probably for you. If you're anything like me and some of the above points put you off, then feel free to prune this one from your wishlist.
The Review
Plants vs. Zombies: Battle for Neighborville
Plants vs. Zombies: Battle for Neighborville is mindless fun that will keep you and your friends entertained for a good few hours before it's repetitiveness sets in.
PROS
Charming as heck
Solid Graphics
Mindless fun with friends
CONS
PvE gets repetitive
Can feel stale pretty quickly
Overwhelming at first
Review Breakdown
Storyline

0%

Gameplay

0%

Graphics

0%

Replay Value

0%

Sound and Music

0%