Proving there is still some hope left in 2020, Hulu will be reviving Animaniacs in November. Along with Yakko, Wakko and Dot, everyone's favourite mousey pair, Pinky and the Brain, will return.
The thing is, those genetically enhanced laboratory mice actually deserve a continuation of their own show, instead of playing second fiddle to the Warner brothers and Warner sister. That's not to say Hulu won't consider it at some point, but it's something that needs to be accelerated rather than delayed.
Let's be frank here, how many epic lines can you remember from Animaniacs compared to Pinky and the Brain? Every single episode of the latter is memorable, and you can cite numerous scenes that made you laugh out loud.
While the format was largely predictable and involved Brain making a plan to take over the world and Pinky inadvertently (or advertently) messing things up, there was something comfortable about its delivery and approach. You knew exactly what you were getting and you kept coming back for more. Like a slapstick comedy that never ran out of jokes.
In fact, executive producer of Pinky and the Brain and iconic filmmaker, Steven Spielberg, was madly in love with the characters and even kept figurines on his desk, as revealed by Maurice LaMarche, the voice of Brain.
"Jean McCurdy told this story about having had a meeting with Steven and there was a small lull in the conversation," LaMarche told Uproxx. "He just picked up the Pinky and the Brain figures and kinda sang the theme song for a few seconds, dancing them around on his desk, stopped, looked at Jean and said, 'I just love these guys.' It was a surreal thing, imagining our greatest modern film director singing, 'We're Pinky and the Brain, we're Pinky and the Brain…' But apparently he did. He loved Pinky and the Brain."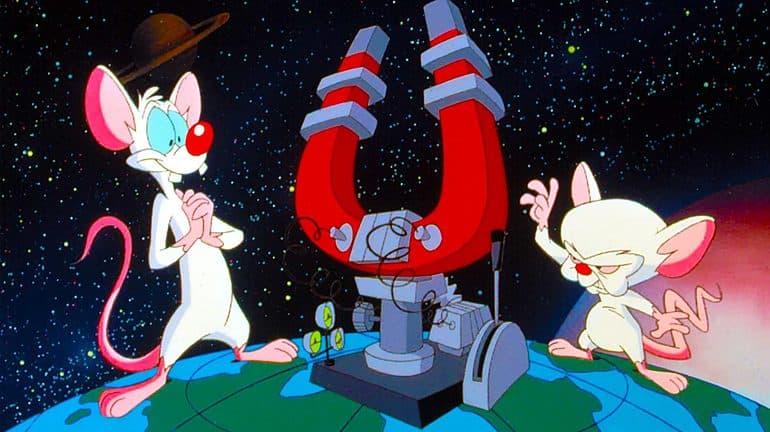 And that's the power of the characters. You still remember the theme song and Pinky's weird noises such as "narf" and "egad" after all this time. No matter how many years have passed, the characters and their quirks are ingrained in your brain—pardon the pun—and that's something that most shows can only dream of.
For now, fans will have to make do with Pinky and the Brain on Animaniacs. Chances are if there's enough of a noise and their popularity spikes again that Hulu will option a series for our favourite mice. Honestly, it's the least they deserve. Not many characters have left a mark on popular culture quite like they did.
Tell us, do you think Pinky and the Brain are more important than the Animaniacs? Let us know in the comments section!