The Pathfinder #1 adventure opens with three warriors, each with their own set of special skills, fighting a group of Goblins. After reading the Goblins spin-off it would seem that these violent battles go hand-in-hand with the Pathfinder franchise. After slaying this group of little greenies, they discover some strange markings on the bodies of the rather different goblins. The group decides to take the Goblins for examination and this gets the succinct story moving.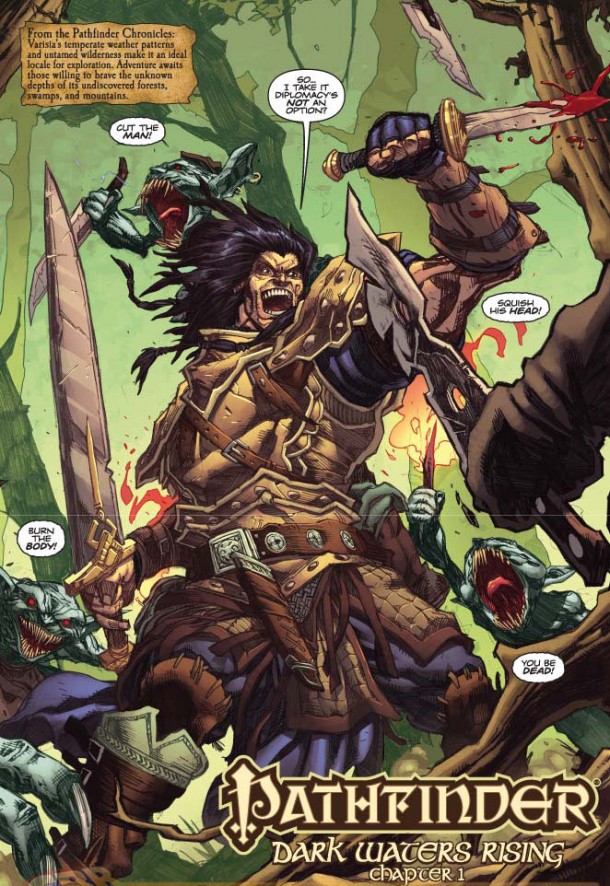 Firstly, this book is filled with characters, definitely building the type of cast you would expect to be available in a RPG style game. They all make it seem like at one point or another each will receive the origin story treatment. For now, thanks to great writing, the reader is able to learn about each character as their actions and dialogue give us a glimpse of the personalities that each protagonist brings to the comic. One would expect to read a tale of epic adventure filled with serious situations and warrior characters that are unable to smile. Instead, the comic seems to be well-balanced. There are moments that have subtle humour, yet they manage to not steal away from the action that is occurring. The writing is great and takes you on a journey into the realm of fantasy and presents you with what to expect of that genre… and more.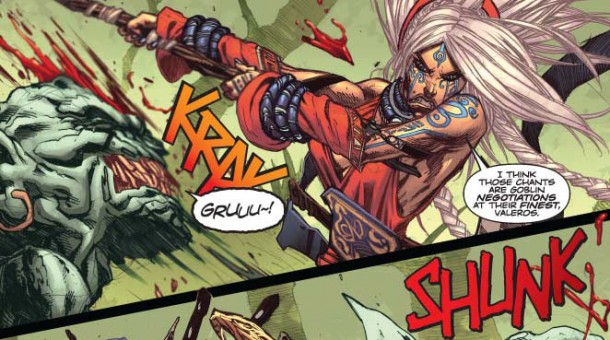 The amount of artistic detail in this issue is staggering. The pencilling in each panel is quite apparent. For most of the book things feel great, lush and adventurous. Characters are presented well. With a big cast you would expect there to maybe be less character detail in an attempt to cut corners but this is not the case. Each character is presented in full detail and they bear complex and highly detailed weapons and accessories. Whilst the majority if it is very good, at times things become difficult to follow. The colouring in this issue is not as consistent as it could be, mainly because many panels have a brown background. All these different brown shades steal from the art a little, making some scenes feel older than it should.
With no prior knowledge of the franchise, it is safe to say that this comic is still a great read. It is a great debut issue that really welcomes the reader to a new world with very believable characters (which is ironic for a fantasy title). Zub offers us some great writing that proves that the team dynamic is something to look forward to in the issues to follow.
---
---