Danish jewellery company Pandora has had some exciting exclusive collaborations in the past. The most recent being the Harry Potter and Disney collections, which proved to be a huge hit amongst fans of the franchises.
Following this success, Pandora has created an amazing capsule collection of Star Wars–inspired jewellery. Working closely with Lucasfilm to ensure the detail of each piece, the team created a collection of bracelets, charms, and a collector's item featuring beloved Star Wars characters and symbols.
Debuting on 1 October 2020, the iconic out of this world collab allows fans to show off their fandom in style.
"We're honoured to bring Star Wars to life through jewellery," says Stephen Fairchild, Pandora's Chief Creative Officer. "The Star Wars galaxy is one of extraordinary imagination, richly-detailed characters and creatures, and incredible adventures – a perfect fit for Pandora. There's nothing we love more than helping our fans tap into their favourite stories and worlds, so we can't wait to see how they'll express their passion through these artfully stylish accessories."
While there is still some secrecy about the range, we do have the following teaser below: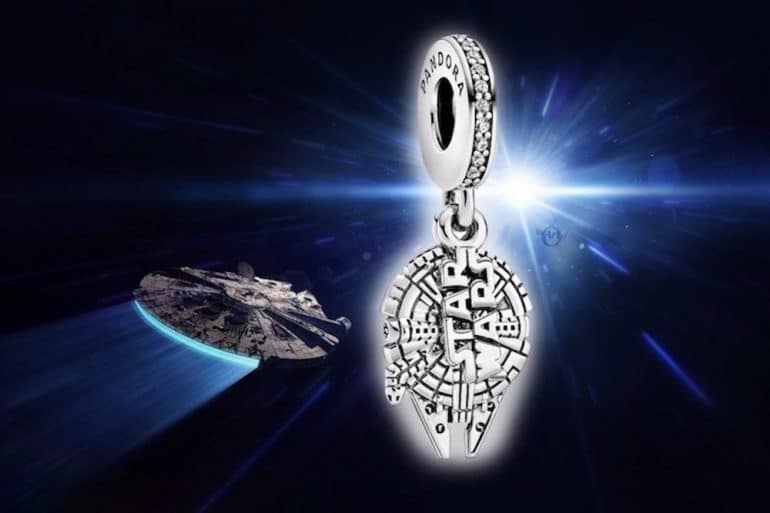 As you can see, this Millennium Falcon charm is incredibly detailed, showing some of the main details of Hans Solo's famous ship. There is also a second piece attached to the charm in the shape of a Star Wars logo.
The force is strong with this one. This seems like the perfect gift to celebrate the love for a galaxy far, far away. And, hopefully, we'll get a Baby Yoda piece too.
The Star Wars x Pandora collection will be in Pandora stores worldwide and on pandora.net from 1 October 2020.