The robots (Jaegers) and monsters (Kaiju) get bigger and better in the latest trailer for the Pacific Rim: Uprising, the sequel to Guillermo Del Toro's 2013 sci-fi action film, Pacific Rim. They're cancelling the apocalypse, again.
Trailers for big-budget Hollywood blockbusters tend to get better with each new release. The second trailer for Pacific Rim: Uprising is no exception. While the first trailer might have hinted and teased the big action sequences, the second trailer is out to convince fans that the franchise is in good hands and that you can expect a lot of robot/monster fighting action come release day. It is action-packed, in your face, and features a number of larger-than-life VFX moments that are sure to thrill fans.
Like his father, Stacker Pentecost, Jake Pentecost gives a moving and inspirational speech to a group of young fighters before they head out to war:
"We were born into a world at war — between the monsters that destroyed our cities, and the monsters we created to stop them. We thought we had sacrificed enough. But the war we though we finished is just beginning, and the only thing standing in front of the apocalypse is us. But it doesn't matter where you came from, who believed in you and who didn't. This is our time, this is our chance to make a difference. Now let's get it done."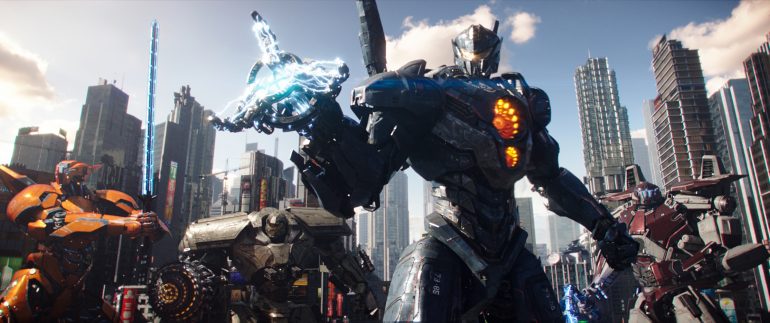 Pacific Rim: Uprising is directed by former Daredevil showrunner Steven S. DeKnight. The film also has cast members Charlie Day, Burn Gorman, and Rinko Kikuchi reprising their original roles.
John Boyega stars as the rebellious Jake Pentecost, a once-promising Jaeger pilot whose legendary father gave his life to secure humanity's victory against the monstrous "Kaiju." Jake has since abandoned his training only to become caught up in a criminal underworld. But when an even more unstoppable threat is unleashed to tear through our cities and bring the world to its knees, he is given one last chance to live up to his father's legacy by his estranged sister, Mako Mori (Rinko Kikuchi)—who is leading a brave new generation of pilots that have grown up in the shadow of war. As they seek justice for the fallen, their only hope is to unite together in a global uprising against the forces of extinction.
Pacific Rim: Uprising is set to arrive in theaters on March 23.