Outriders, a cooperative role-playing third-person game, is the end result of taking a looter shooter, mixing it with a cover-based shooter and adding a dash of RPG.
Initially, this strange convergence of genres flew a bit under the radar but recently it has received quite a bit of coverage, thanks in part to its fast-paced combat and over-the-top weapons and gear.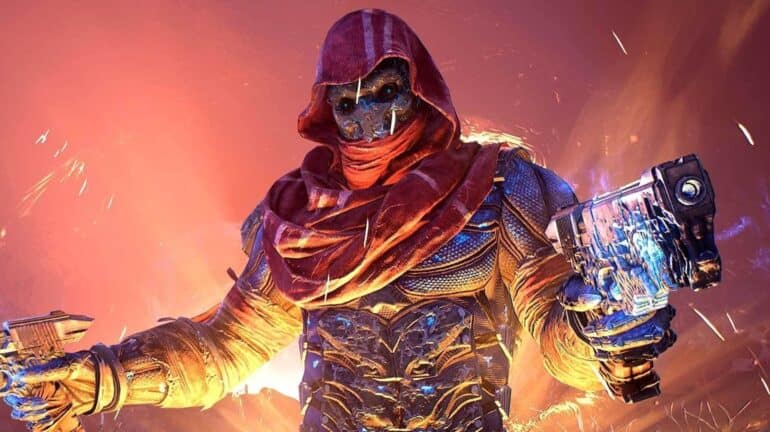 What is Outriders about?
After being recruited as part of humanity's last hope in their efforts to find a new planet to colonise (after Earth basically blew up), you and your team end up on a lush planet called Enoch.
While exploring a strange signal, you soon discover that the planet isn't very welcoming towards its new guests and, after all hell breaks loose, you soon find yourself put into cryo-sleep due to an injury you sustained.
Fast forward quite a few years later, your character is awoken and thrusted into conflict once again. Humanity is still stuck on Enoch and, due to the planet's deadly storms, things aren't going well for the last vestiges of humanity. Factions are fighting for control of the last resources as the storms prevent them from exploring the planet any further. Those who aren't killed by the strange storm find themselves changed into Altered, humans with super-human abilities.
It turns out that you are one of these Altered and, using your newfound abilities, it's up to you to find the origin of the mysterious signal and unlock the secrets of the planet.
In Outriders, you are humanity's last hope.
The power is yours
As an Altered, you can choose between one of four classes in Outriders, each with its own unique abilities:
The Devastator – The game's tank class. This class is all about causing devastation on the battlefield using earth-shattering abilities.
Thew Trickster – Moving around the battlefield quickly is this class' speciality. Charging in, dealing out damage and getting out is what the Trickster is best at.
The Pyromancer – As the name suggests, this class is all about setting things alight, including your enemies.
The Technomancer – This is the game's long-range specialist and is able to summon turrets to aid them in battle.
Each of the classes in Outriders have unique skill trees and abilities to unlock.
These abilities can also be changed on the fly, which comes in very handy as players are only allowed to equip three at a time. Being able to mix and match as you play allows players to tailor their abilities to suit each unique situation on the battlefield and also experiment with combining different abilities.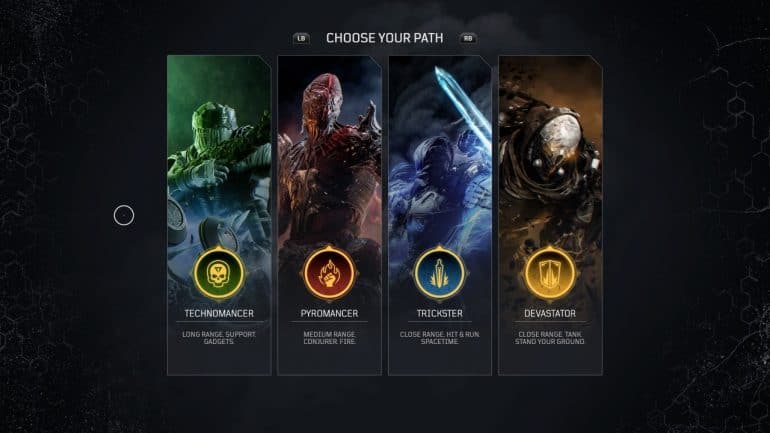 Cover is for cowards
Looking at Outriders in action, you might be excused for thinking that it is just another cover-based shooter (albeit one with cool looking powers). This, however, can't be further from the truth as ducking behind cover or just standing still can cause your health to drop substantially as you face a hail of grenades and gunfire.
Outriders is all about moving, moving and moving.
I soon realised that the cover strewn across each arena wasn't for the player but rather the slew of enemies you'll be facing. Initially, this can take some getting used to as most of us have been conditioned to duck behind anything that looks remotely like cover.
Another aspect of combat that forces you to be aggressive is the fact that healing takes work. See, in Outriders, the only way to heal is to attack enemies, which in turn recovers your health.
Overall, combat feels fast-paced, fluid and chaotic as the only respite you are likely to get is once all your enemies are dead.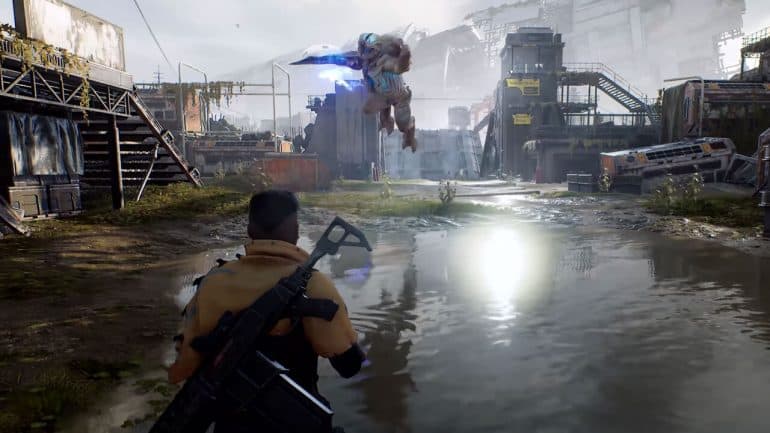 Go here, go there
The fast pace in Outriders also forms the level design, which is mostly linear and continually beckoning you to head to the next encounter.
In essence, it is combat arenas connected by corridors.
There is a bit of exploration, which might net you some resources for upgrading your gear, but it mostly boils down to moving forward and lingering as little as possible.
Perhaps that's the reason why the layout of the arenas/combat areas feels uninspired. The Arena design boils down to an open space littered with some cover.
While most of your time will be spent playing the main mission in Outriders, the game does offer quite a few side missions to complete. Most of these can be replayed in order to grind for more loot.
Side missions were surprisingly interesting and revealed quite a bit about the world and lore.
Outriders also introduces World Tiers — these are difficulty levels you unlock through playing the game.
Finding a specific boss fight too difficult? Maybe try a lower World Tier.
Looking for more rare equipment? Then playing on a higher World Tier will increase your chances of getting some epic loot.
It's an interesting mechanic and one that will help keep players returning to see if they can beat missions and side missions on higher difficulties.
Weird environments and strange weapons in Outriders
Visually, Outriders can at times look gorgeous — this is especially true for the game's environments. Facial animations, however, can be hit and miss.
For the most part, the world of Outriders is visually distinct, with each area having its own unique flavour. I did find the world to be a tad devout of life while exploring, however.
The towns, on the other hand, were more alive — not GTA levels of alive but there were more NPCs going about their daily lives than one would have expected.
What drew many players to Outriders in the first place is the design of the games epic weapons and armours.
Some of the weapons you'll see in the game look suitably outlandish, filled with bony protrusions and emitting all kinds of energy. The same goes for the armour sets. I faced each combat challenge in hope of uncovering even more of these strange but powerful weapons and armours. This is, undoubtedly, one of Outriders's strongest points.
While the Square Enix title is great fun when playing solo, which I did for the most part, it's when you are joined by three friends that the funs level increases exponentially.
It is also worth mentioning that Outriders did have a rocky start with many players experiencing disconnects. This rarely happened to me, but it did at times seem that the game might have needed a month or two more just to sort out some of the issues. At least for the single-player mode, it would've made more sense if it could be played in offline mode.
Other than a few niggling issues, Outlanders does what it sets out to do. It offers some over-the-top, mindless shooter action for you and a few friends. If People Can Fly continues to support it with new content, the game has the potential to be around for a very long time.
Hopefully, Outriders will keep evolving and growing.
The Review
Outriders
Outriders is loads of fun, thanks to the game's character powers and unique weapons. Unfortunately, a few issues keep it from reaching its full potential.
PROS
Visually unique weapons & armour
Blowing enemies up with your powers
Great graphics
CONS
Uninspiring level design
Always online (even in single player)
Review Breakdown
Gameplay

0%

Graphics

0%

Replay Value

0%

Sound and Music

0%

Story

0%