To be honest, Codemasters' Onrush is not really a racing game. It's a vehicular combat game. And while, for most people, that sounds like the same thing, the two, honestly, couldn't be more different.
Being a child of the '80s, I have an almost genetic affinity to arcade games. There is a purity to it. A reminder of simpler times, where the value of 20c was completely in your hands. Like any form of gambling, the house always wins, but if you could stay alive even for a minute longer everytime you played, you were getting a better return on your investment.
Jump ahead to the early 2000's, where the gaming landscape, in South Africa anyway, was dominated by the all-conquering PS2 and arcade games where being ditched for more elaborate 3D quest-driven games, like the revolutionary Harry Potter. Not that arcade games weren't there anymore, they just weren't what they used to be.
I played Crazy Taxi to the point that I still know every single word to The Offspring soundtrack used so brilliantly and games like SSX Tricky had me so hooked I actually questioned my wife on whether she was really going into labour with our first born.
In my defence, we had already taken her to the hospital earlier in the day and her doctor told us that it would still be a while before the baby comes so she should go home and stay comfortable. It was just after midnight and I was getting gold medals on every single course when her panicked voice came from the bathroom telling me it was time. Just a word of advice, if your wife ever does that, the absolute incorrect response is "Just a minute, I'm almost done…"
Jump forward to today and there is not much out there that can deliver a similar arcade experience, in my opinion. I don't think that a return to the traditional arcade game would work in this day and age and I think the legends at Codemasters feel the same.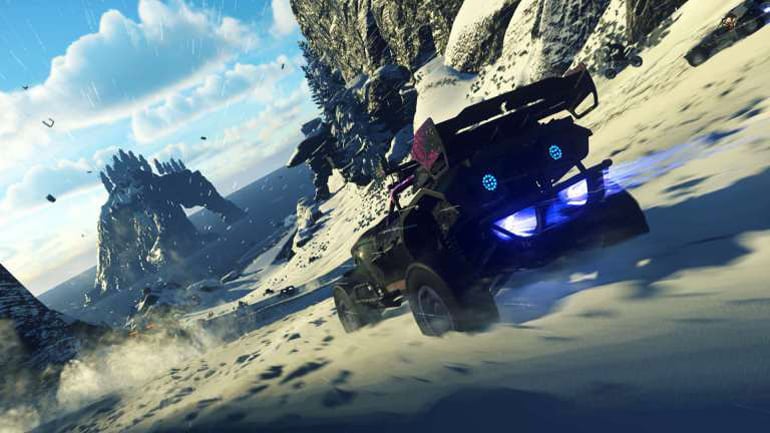 So what they have done is turn the entire genre on its head. So much so that at first I was eating dirt and respawning with monotonous regularity as I tried to apply decades of acquired knowledge. The bottom line is, Onrush is not a racing game. It's also not a platformer or an RPG… The closest I can peg it is Overwatch meets Battleground on NOS!
It's a battle royale on wheels and the objective, for the most part, is not to cross any kind of finish line but to use strategy and teamwork to bring as much pain to your opponent team as possible. Its a bit like playing stingers at primary school, except the tennis ball is wet and the target is your opponent's crotch.
There are a bunch of playing modes to satisfy just about every playing preference. Matches is a more traditional slalom run through checkpoints which give you additional time while smashing, crunching, burning and landing on your opponents. The idea is to gather enough time to keep your clock from running down first. Simple. Except that every vehicle has it's own strengths and weaknesses. Combine this with the actual strategies being applied by your opposing team and you have what boils down to a sweaty hand on the tail of a tiger that wants to tear your heart out.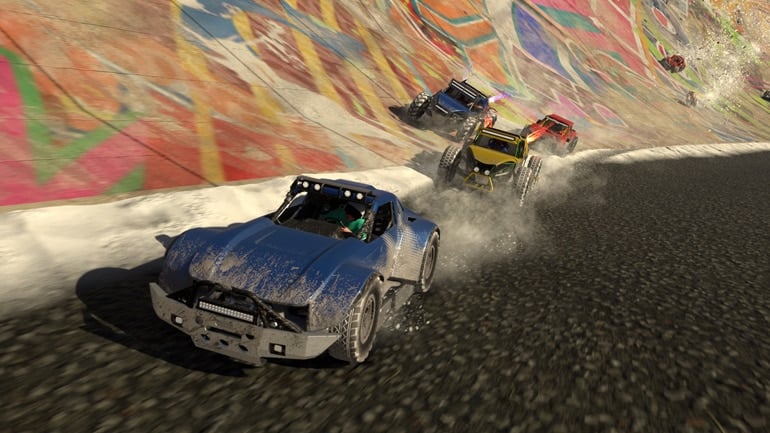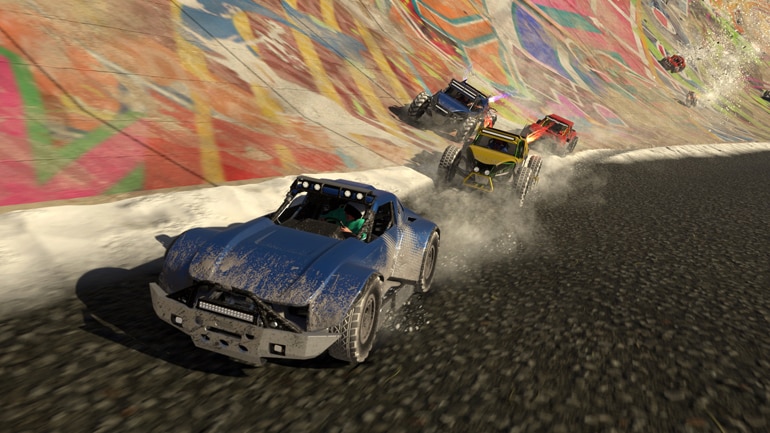 The variety of bonuses and weaknesses for every vehicle means that, even though you can play this game solo, the real thrill is putting together a team that has the most strengths and the least weaknesses. It's a bit like a rugby team where combining the big behemoth 4×4 with massive shield damage and a few buggies with fire out the exhaust and a bike or 2 with a powerful shockwave function when it lands that saps enemy boost which they have accumulated and leaves them ready to be turned into mincemeat.
So I guess this is closer in spirit to Rocket League, where over time teams will invent amazing intricate "plays" and I would not be surprised if it becomes a very popular eSport.
I have one or two gripes, but they are not bugs, just subjective dislikes. I feel that, initially, Onrush is too forgiving and has a "participation medal" feel. The drone vehicles that appear on track and get wrecked at the slightest tap so you can accumulate boost feels a bit artificial.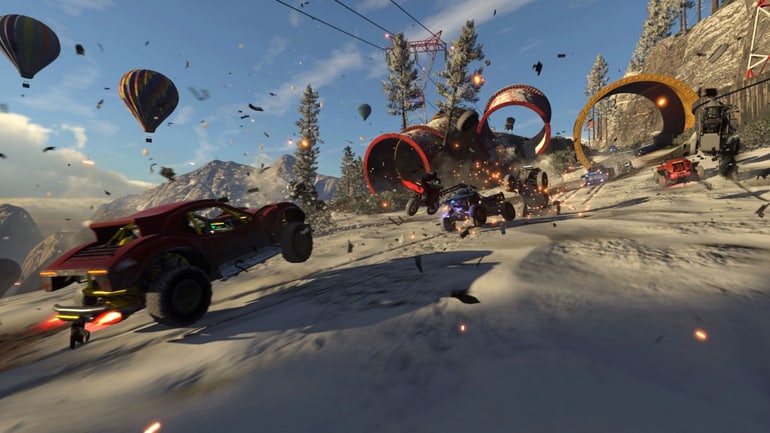 So we have something here that is for the most part completely original, in the sense that the sum of all its parts equals something original. Onrush has eSports potential, a stonking soundtrack, massive social gaming appeal and fantastic graphics and gameplay.
Codemasters has created something pretty special with Onrush and, as the community grows, the game will become an institution. I'm sure.
Onrush is a great game and I'm going to go try to understand it a little better and, if my wife goes into labour today, thank goodness we have Uber.