Going back just a few years ago, the market was flooded with affordable, if not cheap, wireless headphones. At the time, however, many of these were fairly low quality, at times doing just about enough to even be considered an audio device. These days, however, while the market is still quite saturated, there are more and more decent quality wireless headphones coming through the ranks, still offering great value. OneOdio is one of these brands, for which I recently received the OneOdio A70 Wireless Headphones for review.
There is no local presence for the brand in South Africa. However, that's the beauty of modern eCommerce, with their international website recognising the region and adjusting prices accordingly. This, of course, means that shipping to SA is also available across their wide range of headphones. The Hong Kong-based manufacturer has slowly started developing a reputation for crafting great devices for audiophiles. We explore one of the more popular headsets from the extensive line-up.
OneOdio A70 Wireless Headphones Build and Design
As with many other midrange headsets, the OneOdio A70 Wireless Headphones has a mostly plastic build. It's fairly robust as well, which will serve you well long term. Although, the outside might be plastic, there are still elements of metal on the internals to keep things more stable. You can visually see this when extending the headband and on some of the joints.
The unit is also very flexible. There are three points of articulation on each earcup, along with the extension of the headband, which, in turn, also has quite a level of flex. This makes it quite comfortable to use, as you're able to adjust it to fit your head and different ways of usage as well.
The earcups and the headband feature faux leather with cushioning, allowing for comforts on touchpoints. There is a slight slant on its shape, which means you'll need to use the right and left-hand sides correctly for best wear.
One of the noticeable additions to the OneOdio A70 Wireless Headphones is its use of both 3.5mm and 1/4″ auxiliary ports, for both types of audio cables. This is quite useful, as you're able to operate the device with various different sources, making it quite flexible. You can move from the office to the DJ booth, while also then operating from your smartphone, all from a single device.
The left-hand side earcup houses the microUSB port for charging, with the right-hand side featuring a trio of buttons. This includes the power button, as well as the volume rocker buttons on either side. These buttons also serve dual purposes, including stop/play, skip forward and back, respectively.
Overall, the design is solid. It's not the most sleek-looking unit around but focuses on function and form over pleasing aesthetics.
Setup and Features
As with most wireless units, setup is quite straightforward. The OneOdio A70 Wireless Headphones connects via Bluetooth your laptop or smartphone with ease. When powering on the unit, simply press and hold the power button and it will enter into sync mode. Here you'll be able to find the unit on the source and pair.
As mentioned previously, you'll also have the two wired approaches with the two types of cables. This, however, is much easier to use. Just plug in and you're basically done.
There are various options to setup other features and adjust the equaliser, but you won't have any support from the propriety software. The unit has its default settings and require adjustment from the source to enable additional sound settings you require. This option makes it compatible with more devices as a result.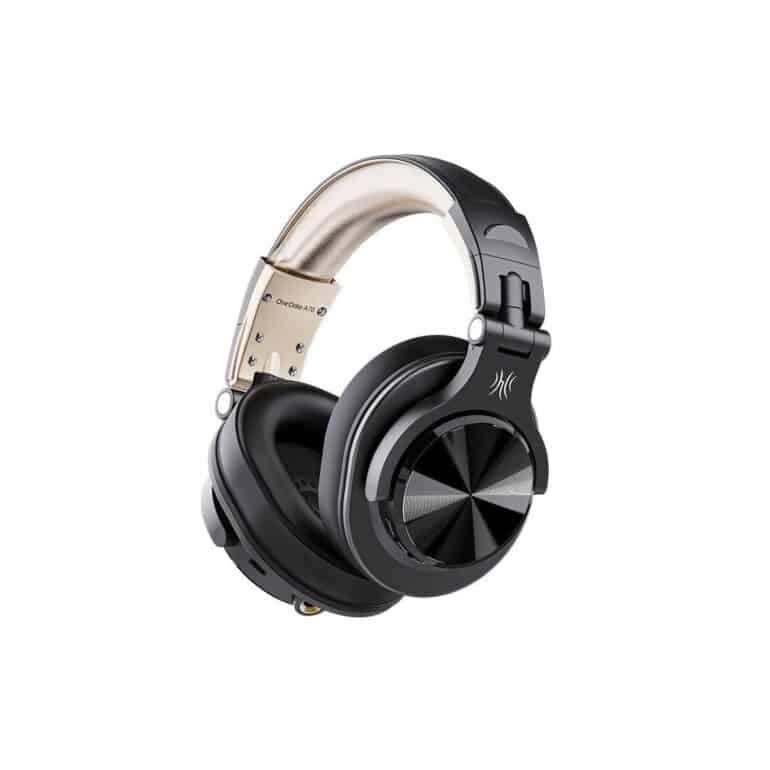 Specifications
Although the unit has a default setup with no software features to add, there are some notable features to mention. For starters, thanks to its wireless support, it has a rechargeable battery. It has a projected audio playback of 72 hours thanks to the 650mAh battery. That's quite a significant amount.
The other standard features include:
Drivers: 40mm
Impedance: 32Ohms
Sensitivity: 110dB
Frequency: 2400Mhz – 2480Mhz
Response: 20Hz – 20KHz
Bluetooth 5.2
Performance and Audio Quality
When it comes to audio quality, it does a reasonably good job. Mind you, you'll need to spend a bit of time with the equaliser to get the audio improved before you continue to use the OneOdio A70 Wireless Headphones long term. That's due to the audio range. The unit is setup, by default, with very high highs and lows. The mids are quite flat, so there's quite a bit of audio missing out the box.
Thankfully, it's not all that hard to fix when you have a reasonably modern source. And you can do this via the settings from your smartphone or laptop without needing any third-party software or the likes. On the audio range, the bass can be very overpowering. Unless you're fine wanting distortion-level lows and sharp highs (essentially vocals and bass), it's inevitable that you'll make some adjustments.
It also lacks any ANC features that many other modern, midrange headphones offer. And with the soft approach of the headband for comfort, it doesn't leave much in the way of passive noise isolation either. This means that you're going to be picking up all that unwanted background noise.
Conclusion
At the end of the day, the OneOdio A70 Wireless Headphones is a very good mid-range pair of headphones. It doesn't have the best audio range out the box but, with some tinkering, it can be improved quite substantially. The quality of the audio is quite good overall and doesn't easily distort at higher volumes. While the bass may be overpowering at the start, it is good to know that it can be ramped up when needed. Oftentimes, by comparison, the lows are quite weak on many other wireless headsets.
The OneOdio A70 Wireless Headphones retails for R1,099 as its base price. However, there are many deals throughout the year where you'll often find the unit available below the R800 mark. This is available on both the OneOdio website, as well as their official Amazon store page. At this price, the headset is very affordable.
The Review
OneOdio A70 Wireless Headphones
The OneOdio A70 Wireless Headphones is a very good audio device. While it may not have the best out the box experience, it can be configured to your style with some tinkering. It is priced really competitively, and while it doesn't have a local distributor, its international website supports South African pricing and delivery.
PROS
Comfortable and robust design
Affordable
Very long battery life
Wired and wireless approach
3.5mm and 1/4" cable support
CONS
Not the best default audio configuration
Overpowering bass
No ANC or passive isolation
Review Breakdown
Ease of Learning

0%

Ease of Use

0%

Design

0%

Performance

0%

Enjoyment

0%

Value for Money

0%