As we start to see the gradual re-opening of outdoor events in some parts of the world after months and months of lockdown, fans of sport are finally getting to see their favourite teams, clubs, and national squads in action. For a lot of us, though, loud stadiums are probably something we won't be experiencing for a long time to come. Of all the sporting events we can talk about, I doubt many would argue that the pinnacle is the Olympic games. If you happen to love the Olympics, rejoice! Sega has released Olympic Games Tokyo 2020 and it may be just what the doctor ordered.
Olympic Games Tokyo 2020 – The Official Video Game is a fun, arcade-style sports game that brings home the spectacle of the greatest sporting event on earth into the family living room. Featuring 18 unique Olympic events, a robust Avatar Creator with over 50 costumes to choose from, authentic recreations of official venues, and online multiplayer supporting up to 8 players, Olympic Games Tokyo 2020 offers aspiring Olympians of all ages the opportunity to live out their Olympic dreams.
I had the opportunity to play the game with my two young daughters over the past weekend and I have to say it was quite a treat. In fact, it was a pretty epic experience – wholesome to the nth degree. As we set up the game, I got to explain to my girls what the Olympics are and how every athlete dreams of the day they can stand on that podium and wave to the world as they hold up that sweet, sweet gold medal. Dad talk done, it was time to play the game.
When you first launch Olympic Games Tokyo 2020, you are greeted with some inspiring theme music. You then have the opportunity to build your avatar – your athlete who will compete in all disciplines. For my kids and I, the avatar-building was fun, in and of itself. It's pretty detailed so, if you're quite picky about how your athlete looks, be prepared to spend quite a while here before you even start playing. You do get a quick edit build option though. We didn't go for that one, but I assume it cuts down the time considerably. To make it all personal and fun, you can also dress your athlete in your pick of a number of wild and whacky costumes and looks. Heck, you can even choose your voice. You know, for those moments where you have to yell out "yeah!" or let out a disappointed "ah" when you lose. Nice attention to detail there.
Coming to the gameplay itself, that too is heaps of fun. If you want to get acquainted with each discipline before you go into the qualifying rounds, there is a practice option. Even here, my girls were already getting super competitive and even emotional. I lost count of the number of times I had to say "Girls, it's just a game." But then, if you really think about it, who even says that to a gamer… or an Olympian?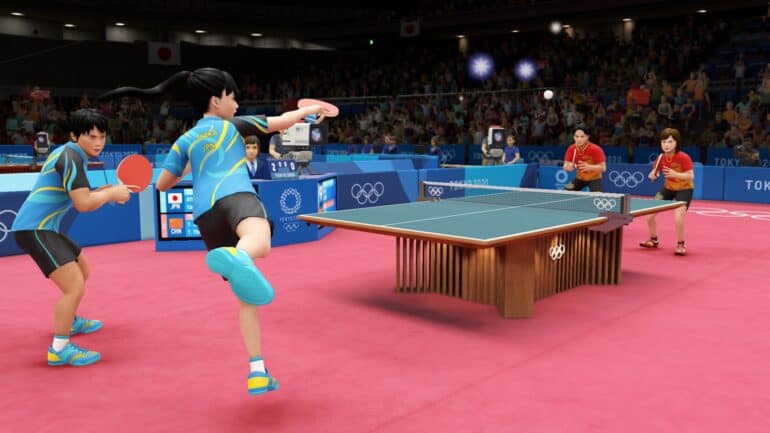 We tried our hand at the 110m hurdles, the 100m sprint, boxing, judo, basketball (those are either some ginormous basketballs or some teeny people), 100m freestyle, and sport climbing, which we enjoyed. There are many more sporting disciplines we didn't get to, including soccer, BMX, baseball, and table tennis.
Something very important to note about Olympic Games Tokyo 2020 is that, because there are so many disciplines to choose from, no fan of a specific sport, say tennis, should walk into this game expecting a super polished tennis experience. You won't get that. It's casual, and that's fine for what this game is – something for everyone.
All in all, this game lives up to the hype and really is great for some family fun. Even the solitary gamer will enjoy it. Because of the sheer number of sporting disciplines there are and the many rounds there are to be played in each, this is a title that will keep you busy for quite a long time.
SEGA's Olympic Games Tokyo 2020 is available to play on Nintendo Switch™, PlayStation®4, Xbox One, Steam and Stadia. The game is also fully playable on PlayStation®5 and Xbox Series X|S.
The Review
Olympic Games Tokyo 2020
Olympic Games Tokyo 2020 really is great family fun. More importantly, it has something for everyone.
Review Breakdown
Gameplay

0%

Graphics

0%

Replay Value

0%

Sound and Music

0%