It is generally assumed that computer games have a certain lifespan, as the world moves on with games that are more in tune with new technologies, preferences, and cultures. But even so, there are games that linger on and take advantage of a loyal fan base. No, we are not talking about the Pong generation of games, which is confined to the history museum. But a surprising number of twentieth-century games have survived a lot longer than you might expect.
Those who are more serious about gaming may choose to create a game website for a variety of purposes. This could be for creating and sharing gaming content, starting a gaming clan, or sharing tips and tricks with other like-minded gamers.
Starcraft
Starcraft is a sci-fi RTS (Real-Time Strategy) game from Blizzard Entertainment, which is now known as Blizzard Activision. It was first released in 1998 and is still played competitively in Korea, two decades on. Newer and with improved visual appeal, 2010 brought us Starcraft II, though claims have been made that the original is still more popular.
In the last few years, there have been some patches, bug fixes, and network improvements. It has excellent single-player content, though the multi-player components are more widely popular. There are a few lasting challenges for competitive players who are more accustomed to more up-to-date options, but it remains a fun game to play.
NetHack
It may have been graphically simple, but in terms of mechanics, it is sophisticated. NetHack was introduced to the world in 1987 and was a derivation of Hack from 1984, which itself was based on Rogue of 1980. It takes a more thoughtful approach to combat games, requiring careful decision making.
The last update to the game was in April 2018, though it is unlikely to be the last. While NetHack is very detailed and not too welcoming for the beginner, it has a loyal following that will keep the game coming back. Also, random generation means that it doesn't require updates to stay interesting and enjoyable.
UnReal World
Since its release in 1992, UnReal World has been continually updated and transitioned from DOS (Disk Operating System) to Windows. It has more recently been made available on the Steam distribution service. It is an RPG (Role Playing Game) set in Iron Age Finland where players do all they can to survive. This can include hunting, fishing, cooking, and trading. Unexpected events, such as storms, can affect characters, and even lead to death. The game originally incorporated creatures of fantasy, but has become more focussed on history.
Ultima Online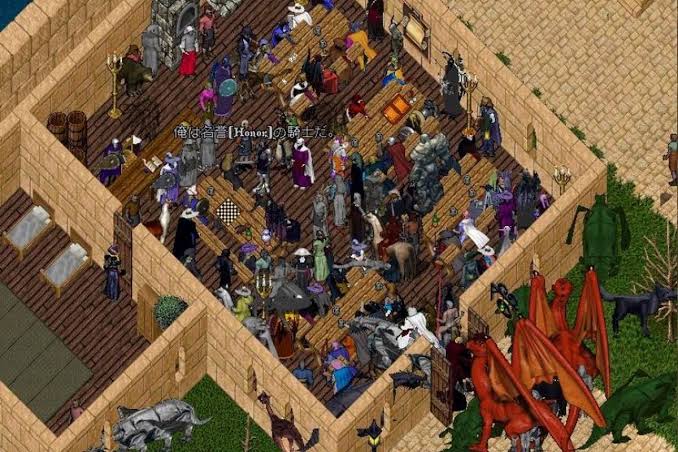 An RPG and MMO (Massively Multiplayer Online) game that dates back to 1997, Ultima Online drew in a record number of players in its first year. It was an evolution of the earlier Ultima games that were first released in 1981. The online version has an advanced player-versus-player combat system and complex graphics that were popular in the time of release.
Ultima Online still receives regular content updates, and it has had eight extension packs and a booster pack. It is a technical game, currently with 45 skills, and a range and barbarity that is less common to MMORPGs.
Genesis
As its website points out, Genesis comes from a time The Berlin Wall was being taken down: 1989. It was made by a team from a Swedish University and grew from a fledgling landmass into a virtual universe with fantasy realms. Genesis is a MUD (Multi-User Dimension) reminiscent of Dungeons and Dragons.
The game has been regularly updated since its release and is even attracting new players. It is an excellent choice for a text adventure, and it is easy to get started with. It has an in-game tutorial, a guide to explain basic commands, it can be run in your browser, and there is also a Chrome extension.
Kingdom of Drakkar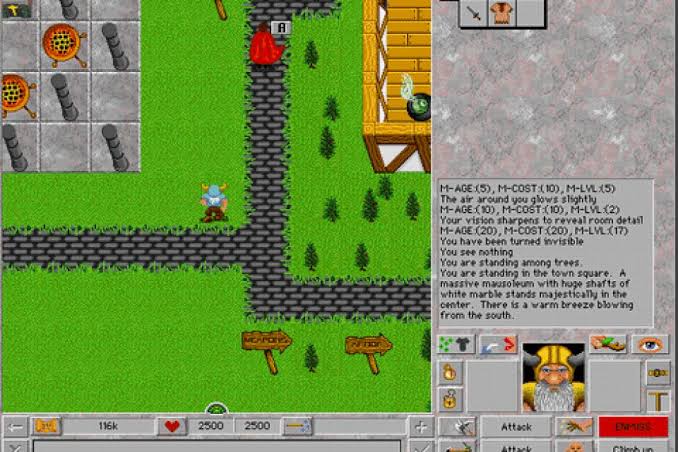 Also starting out as a text adventure, Kingdom of Drakkar was released in 1989 as a derivation of the 1984 MUD Realm. Since the early days, it has evolved into a graphical RPG and is operated by Drakkarzone. Kingdom of Drakkar is still worked on by its original creator, Brad Lineberger.
In the Kingdom of Drakkar, players battle in Aleria, Cobrahn, Nork, and the Nameless Lands. They choose a gender, race, and class, each with their own advantages. They also choose a character that can be barbarian, fighter, healer, martialist, mentalist, or thief.
Utopia
Utopia is an MMO fantasy strategy game that was released in 1999. It is text-based and is free to play. The game takes place in multiplayer matches that are called Ages, over periods of 10 to 12 weeks in real-time. The object is for players to build and manage a kingdom, run farms, train military and vote for monarchs in neighboring kingdoms. Players also wage war with other kingdoms, and the largest kingdom eventually wins to restart the game.
Utopia has a community of over three thousand players and is currently in its eightieth age. The game is still undergoing regular updates.
Sometimes, new and fresh games that can resonate with the new generations are just what the doctor ordered. But when some well-designed RPGs and MUDs may have their origins in the recent text-based years, there is often no need to start from scratch. The retrograde has a certain appeal, and in many cases, a strong and dedicated following.