Tales of worlds on the brink of destruction have been ingrained in most RPGs since way back. There's always another world-destroying threat or maniacal dictator to fight. You know, ones who want nothing more than to rule the world (cue evil laugh). It's refreshing then that Octopath Traveller forgoes these grand sweeping narratives for more focused self-contained ones.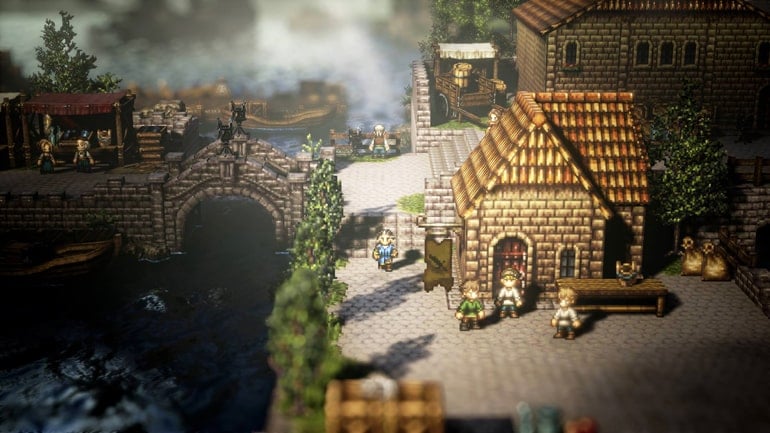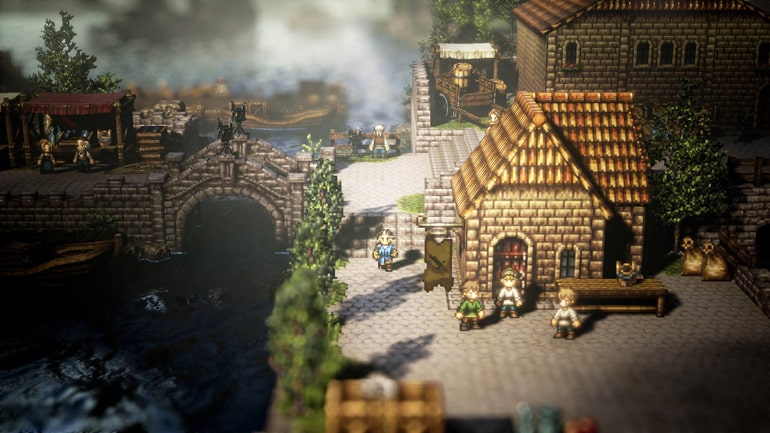 Your journey in Octopath Traveller sees you selecting one of eight characters scattered across different regions of the world (with each varying in difficulty).
After selecting your main hero, you are taken through a short tutorial, which not only guides you through the character's basic abilities but also delves into the character's background and, basically, sets up their main quest. From there, you'll be travelling across the world recruiting the remaining 7 heroes, each with their own unique personal stories, which serve as the games main chapters, completing more quests and, of course, defeating various enemies.
While at first the games smaller scale and the more focused narrative does, in theory, sound like a refreshing new take, it quickly became apparent that there were some gaping holes in its execution. You'd expect a party of heroes each with distinct personalities to at least acknowledge each other or at the least have intertwined stories yet, except for the rare cases where banter does take place between your characters, they rarely interact and their stories never truly interweave as one would expect. These are just a group of strangers who fights monsters on occasions and who only acknowledges each other when there is a need to.
It's a bit disappointing that Octopath Traveller's narrative, which shows so much promise in the beginning, falls flat as you progress. Now, if you are willing to push past the heavy exposition and lacklustre story, you'll discover a game that not only looks fantastic but has an innovative and challenging combat system.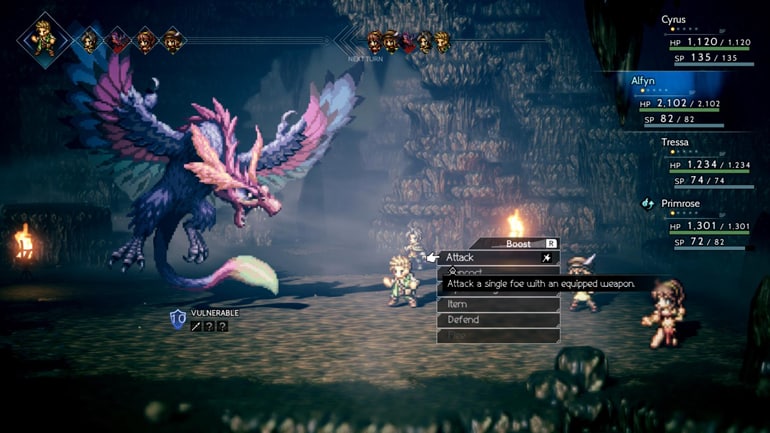 As a band of unruly heroes, naturally, you'll be facing off against hordes of enemies as you slowly grind to that elusive next level. Luckily, Octopath Traveller's combat system manages to keep feeling fresh even after playing for dozens of hours.
Combat plays out as one would expect from a retro-style RPG: you get a turn, the enemy gets a turn, and so on and so on. There is a bit more to the system than just hitting your foe until he is eventually defeated.
Each enemy has an armour rating, your job is to break through their armour so that your heroes can inflict massive amounts of damage. In order to break their armour, you will have to figure out the specific enemies' weaknesses. This does take some trial and error but once you've figured it out you'll be breaking down their armour in no time.
The combat system also gives you access to Boost Points. These points accumulate with each round and can be used, as the name suggests, to boost your hero's attack. By breaking an emeries armour and then boosting your hero's attacks using the Break Points, it's possible to inflict massive amounts of damage at once.
It becomes a bit of a balancing act figuring out when and how much of your Break Points to spend during your turn, and this adds another strategic layer to the game's combat.
Combat, for the most part, is actually surprisingly challenging, especially when it comes to some of the boss fights, which tend to mix things up such as removing your ability to use certain commands. Boss battles force you to think on your toes as most of them last surprisingly long.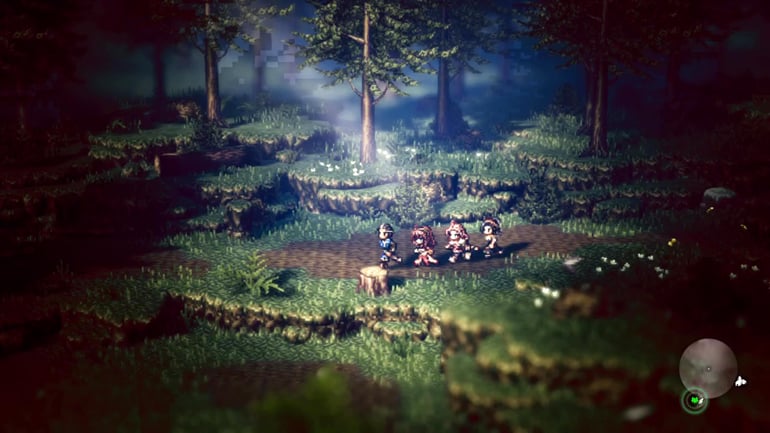 As you explore the world, you'll discover and unlock additional jobs to the base ones your characters have. This means that you'll now be able to have a mage that can heal or a warrior that can steal stuff. These secondary jobs not only help keep combat fresh but also comes in handy when facing off against particularly tough bosses.
In-between combat and exploring, you'll come across various towns, each filled with NPC's waiting for you to help them complete quests. Completing quests not only nets you some experience points to help you level up your heroes but also reveals more about each of the NPC you come across.
Although each character brings a different set of skills to combat, they also have unique skills which can be used out of combat. For instance, one hero can steal from unsuspecting victims and another can challenge NPC's to a duel. Most of these abilities do come in handy as they can be used to help complete side quests.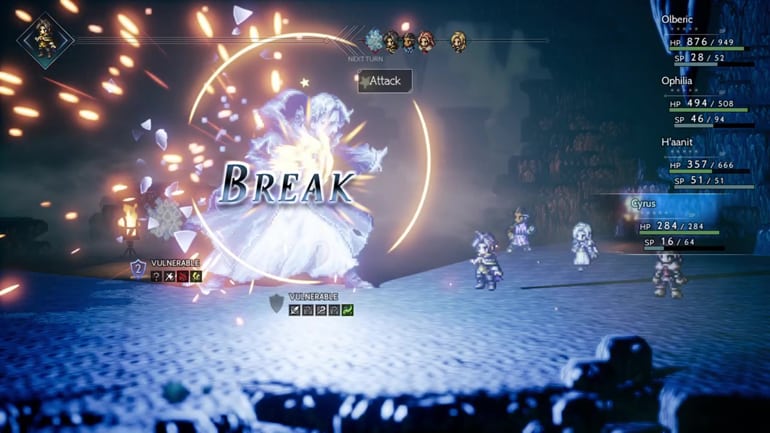 Now, of course, I can't talk about Octopath Traveller and not mention its art style. These days retro pixel art RPG's tend to be a dime a dozen. It is sometimes difficult telling one apart from the other. What makes Octopath Traveller's visual style so unique is that it mixes 2D pixel art with depth of field and high definition effects, which gives it an almost diorama-like feel. Just when I thought I'd gotten used to the game's visual style I'd find something that would make me pause and stare at the screen. It truly is a beautiful game.
I also loved the way your enemies were portrayed as massively detailed sprites, which made them seem somehow even more intimidating.
Much like it's stunning visual style, Octopath Traveller has an enchanting soundtrack that had me mesmerised from the moment the first notes played. The orchestral performances add a welcome sense of grandeur to the game and, for the first time in recent memory, I found myself just stopping and listening to a game's music.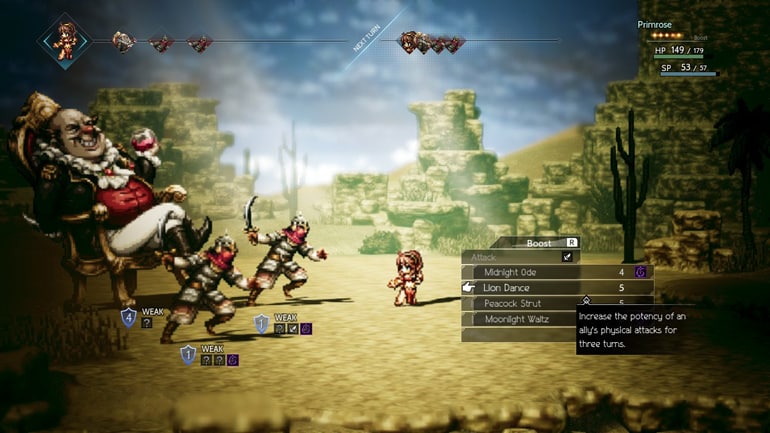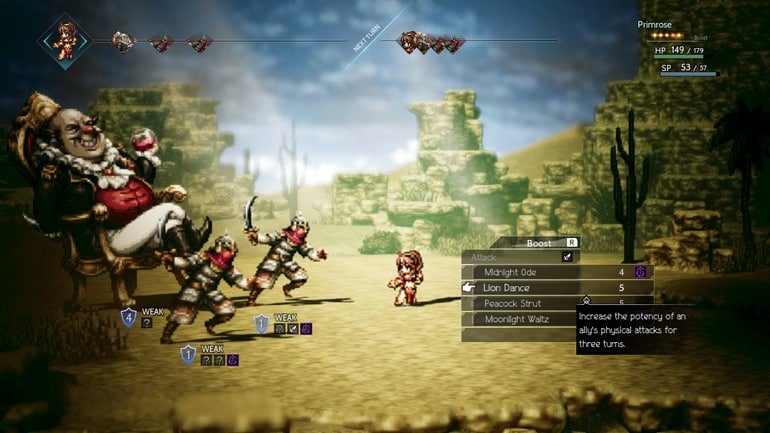 Octopath Traveller serves as a love letter to the RPGs and JRPGs that came before. And while it might have disappointed when it comes to its narrative, thanks to a stunning visual art style, enchanting music and a refreshing combat system the game manages to elevate itself above many of its peers.