An action movie with Cadillacs and Dinosaurs? Where do we sign up?
Quick question: what's cooler than dinosaurs? Nothing, right? Well, what's the second coolest thing after dinosaurs? Fast cars. If you got both of these questions right, then 1993's Cadillacs and Dinosaurs is just the thing for you. When most people looked into skateboarding and pizza-eating ninja reptiles for inspiration on what's cool and what's not, Cadillacs and Dinosaurs spoke to a new generation of young Jurassic Park fans in terms that they could understand – which included featuring cool dinosaurs and fancy sports cars.
The History
Released the same year as the first Jurassic Park film, Cadillacs and Dinosaurs is a somewhat obscure animated TV show that ran for just one season between 1993 and 1994. Gamers might be more acquainted with the Capcom arcade game by the same name, a title that was created to promote the show. Screenwriter Steven E. de Souza, who bought the rights to produce both the show and the video game, was betting that Cadillacs and Dinosaurs would become the next TMNT, but it sadly faded away quietly, only to be remembered by those who were amazed by the sheer amount of rad 90s energy that emanated from the show.
It's safe to say that Jurassic Park and Cadillacs and Dinosaurs have a lot more in common than just the dinosaurs. The source material for Cadillacs and Dinosaurs – Marck Schultz's Xenozoic Tales – actually predates the original Michael Crichton Jurassic Park novel by four years.
Fast forward a couple of decades later, and we got what the marketing is calling the "epic conclusion of the Jurassic Era." Jurassic World Dominion promises to be the final chapter in the long-running series. This would certainly leave a dino-shaped hole in the heart of many fans, seeing as dinosaur flicks just aren't as popular as before.
From Comic Book to Game & Cartoon to Live-Action Film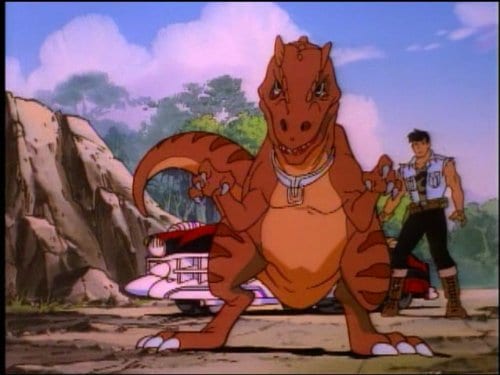 This is where Cadillacs and Dinosaurs comes back into the picture. Now that the most emblematic saga of dinosaur movies ever conceived, it would be the perfect chance to re-introduce audiences to the exciting world of Cadillacs and Dinosaurs. Many of the stories published in Xenozoic Tales could still be considered amazing by today's standards, so it's not like the producers would have to invest too much time coming up with a plot for their live-action adaptation.
In addition to that, Capcom has been on a roll lately, bringing some of its most iconic franchises back to modern times with a fresh coat of paint. One of their upcoming releases, Exoprimal, involves a dinosaur invasion in the future. In the event that a new Cadillacs and Dinosaurs movie gets made, they could once again ally with Capcom to release a game similar to their 1993 arcade title, once again reigniting the chances of it becoming a proper franchise.
The fact that we somehow got three Jurassic Park films, followed by another Jurassic World trilogy is a testament to the enduring popularity of dinosaurs in movies. Add to that the powerful elements of environmentalism and socio-political issues that can be found in Cadillacs and Dinosaurs, and you've got yourself the perfect recipe for a blockbuster movie series.
Cadillacs and Dinosaurs, as well as the Xenozoic Tales that inspired them, remains a niche series any way you look at it. However, this makes the prospect of making a Cadillacs and Dinosaurs movie all the more exciting. It would be a throwback to a more adventurous era of filmmaking – one where the summer blockbusters didn't feature superpowered individuals, but impressive creatures from the Jurassic era. Only this time, the dinos come with Cadillacs.
Tell us, do you want a Cadillacs and Dinosaurs movie?
Cadillacs and Dinosaurs feature image by Jeffach.