Now that's comedy. You know it's a problem when a show that's meant to be taken terribly seriously has you laughing out loud at how bad it is. That's the situation I found myself in while watching the final episode of the Watchmen TV show. On the plus side, it certainly brightened my day because I needed a good laugh; on the negative side, is this really what Watchmen has become? A sad parody of itself?
Seeing Ozymandias's rather predictable "escape" from his vacation on Europa was decent enough, even though it made some aspects of his self-banishment even more unlikely. But then the comedy kicked in as a brief flashback showing the origin of Lady Trieu was, presumably unintentionally, hilarious. Was the smartest man in the world really so dumb that he needed cue cards to make a speech – which also meant leaving an obvious trail of evidence that ultimately came back to bite him? Did he always use the same password for all his computers?
That's not the Adrian Veidt I remember, so I'm guessing they must have meant it as a joke. Then, amazingly, it got worse.
There was the obvious Ozymandias statue reveal, which I'm guessing everyone saw coming before Lady Trieu fell into that tired old cliché of being a villain gloating by explaining their plan to someone they captured. Who wrote this episode, Doctor Evil? That formula then continued, because apparently if you want to become Doctor Manhattan then you've got to do a striptease while explaining your entire plan to everyone – including, yes, a captured enemy too. Seriously. Also, this guy clearly doesn't understand how Doctor Manhattan's "power" works at all.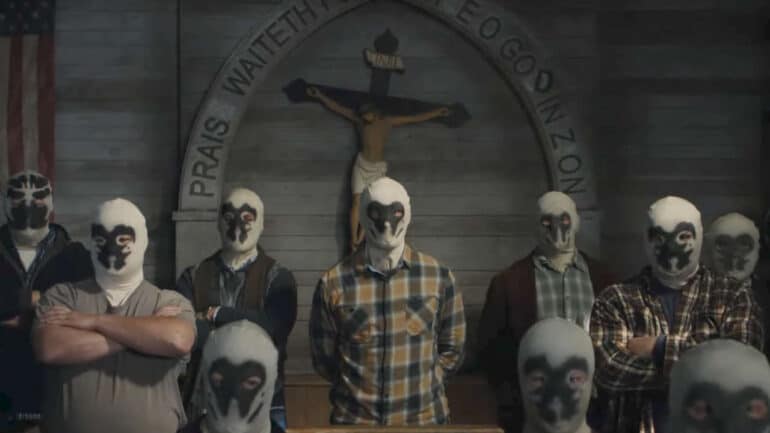 Then Lady Trieu interrupted the Jockey model's transformation to – you guessed it – make another speech of her own to the new people she's captured.
Like everyone in this, Watchmen definitely talks too much. And to have so many Doctor Evil wannabes spew out laughable exposition exposed yet another failing of the storytelling. For a show which has tried so hard to honour the original comics, it should have paid attention to Ozymandias's chiding that only bad comic book villains make speeches before they've actually won. What a bunch of dopes.
Oh, and then came the big boss battle, in which our main hero Angela Abar/Sister Night did… nothing. In fact, not only did she do nothing while the love of her life was being destroyed, but she stood around looking like she would have been baffled by a four-piece jigsaw. What happened to the strong woman of action, the ass-kicker who could take down a room of white supremacists with ease? Don't tell me it was because she was emotionally compromised, still groggy from the shock waves and because she had no gun; we've seen her overcome worse. Instead, she did nothing, staying in a place like she truly was drawn in a comic book panel.
Throw in some more "smart" wordplay again (you can practically hear easily-impressed Reddit users pointing out that DR M is being left on the theatre sign… didya see that?! Like it's saying Doctor Manhattan! Like Abar is A Bar! It's so smart, right?!), the ponderous metaphor and use of the egg again as if the clumsy bootstrap-paradox-for-beginners last time wasn't bad enough, and cap it off with the even more obvious use of I Am The Walrus just to add a dismal punchline to this bad joke of an episode.
Honestly, I haven't laughed so hard in ages. It's the funniest, dumbest thing since Veidt went with Plan B instead of Plan A, and when did Watchmen get this bad?
The thing is, against my own better judgment I've watched this series and up until now, I haven't minded it. In fact, at times I've actually been impressed with it, even if I haven't necessarily wanted it. I know it's impressed others, and I've heard some people overstate the importance of this show. While I think that's giving it far too much credit, I can see their point; meanwhile, others have said that it's satisfied their need for "quirky" TV… but then many of them also completely skipped out on watching Legion, so go figure. Still, I've watched watchmen and it's been… fine.
Well, except for this last episode, really.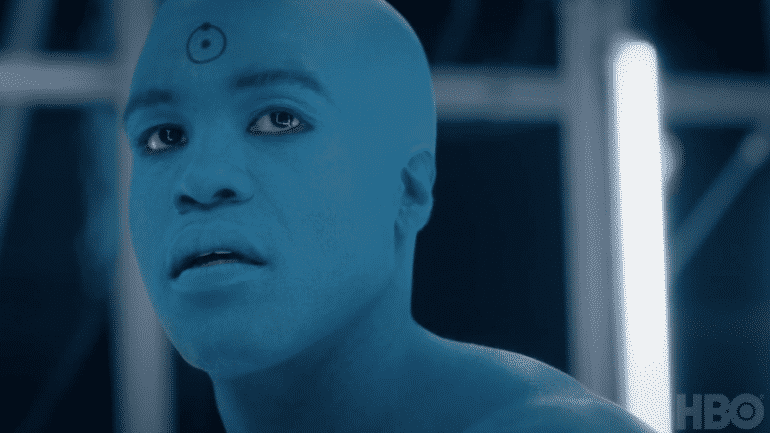 In one of several displays of self-awareness, there's a moment in Watchmen's finale when Ozymandias prepares to leave Europa and is confronted by his own personally-created faux-nemesis. The Game Warden, a pathetic creation if ever there was one, asks his master if he did the job well and was worthy. Ozymandias bluntly tells him no. "But," he admits, "you put on a hell of a show."
That's been the case with this latest cash-in on the once-great legacy of Watchmen, the comic book series that changed comics as we know them. It's a moment that reeks of meta-textual commentary about its own role in comparison to the source material from which it stemmed.
Yes, the show received some early acclaim from some who have genuinely enjoyed it (and who will now defend it), and there's nothing wrong with that. At times the show has displayed originality, and several key aspects of the storyline are an important reflection of the times we live in even if they're about as subtle as a brick. It's bent some of the source material's concepts in new ways while not directly contradicting the original's story, and it's been smart enough to understand things like Rorschach having not really been the kind of costumed hero people should be necessarily look up to. Visually the show has been impressive, some of the new characters have been fascinating to watch, and the music has been inspired.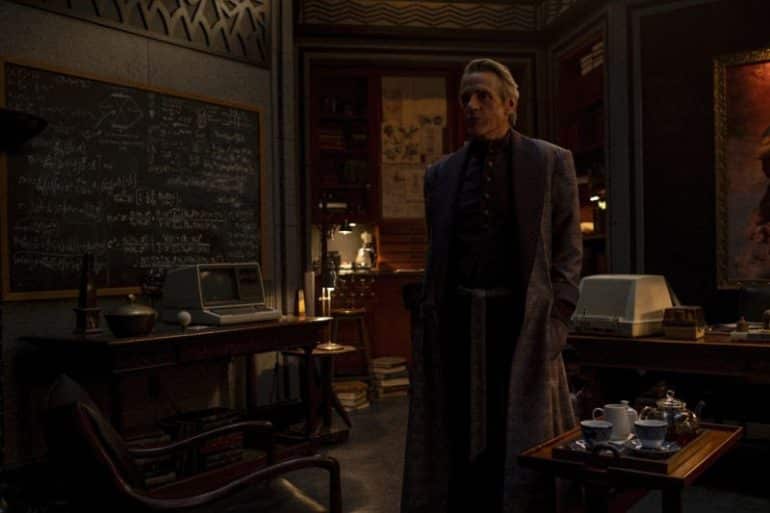 All of which means that yes, it's been a hell of a show. But… has it been worthy? No.
While it's usually unfair to judge this show on any merits other than its own, it's so inextricably linked to the comics as a continuation that it's inevitable. For that to happen, a true appreciation of the comics is needed, and coming into this with only a vague sense of what Watchmen is from scanning the comic pages, or even watching the film (ugh!), only gives a surface impression as to what this should be.
While nobody was expecting the writing here to match up to Alan Moore's intricate storytelling prowess, in this case, the longer the story went the more flaws were exposed with it. While flashback episodes covering individual origins made for compelling viewing, the big picture fell apart and characters suffered from some of the clunkiest dialogue and plotting seen since Lost's later seasons. Ultimately, Watchmen became a show that had nothing to say. But then, the warning signs were there right from the start.
While the initial framework of Sister Night investigating the death of Judd Crawford worked as a hook in a similar fashion to Rorschach investigating the death of Edward Blake, both the characters and mystery of the TV show were far less interesting and relevant than in the original. The conclusion to this plotting made little difference by the season's end, while other new interesting characters appeared just to keep viewers' interest… and then drifted out of the story despite their apparent importance. And old characters were brought back, tough as nails, only to fall victim to shock-value moments and clichés.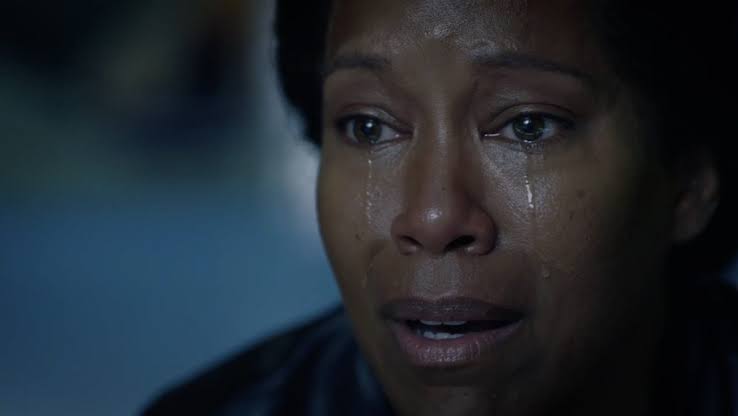 Sub-plots came and went without a trace (remember Lube Guy, anyone?), the ham-fisted one-dimensional villains existed more as padding, and the writing tried to outsmart the audience. Ultimately it became like the Architect scene from the Matrix films, so busy patting itself on the back for being clever so early on that it only outsmarted itself. All the plot holes were papered over, either ignored or deflected with technobabble and pseudoscience, while viewers were meant to be gasping in awe.
In the end, after it all fell apart, all I could do was laugh. This, apparently, is TV's contribution to Watchmen's long and illustrious history. It was a hell of a show at times, full of fascinating moments, but it simply wasn't worthy. Following up source material that was so smart it transcended comic books, it finally became a TV show that sunk to the level of being a bad comic book.
Now that's comedy. It's a level of irony that the Comedian himself would have both approved of… and felt disgusted at.
Did We Really Need A Watchmen TV Series?
A few years ago, word has spread like wildfire that director Zack Snyder met with HBO executives in a bid to create a Watchmen television show. Then there were reports that Damon Lindelof, who is known for his work on Lost, was developing an R-rated Watchmen TV series for HBO. On August 17, it was announced that HBO had given the production a series order for a first season set to premiere in 2019 and we got a smaller teaser to go along with the news.
But, in all honesty, did we really need a Watchmen TV series?
"There is an inverse relationship between imagination and money…" – Alan Moore
It's questionable whether it would be based on the original award-winning Watchmen comic book series (which Snyder already turned into a movie) or on the prequel series Before Watchmen. Regardless, it's a topic that divides the fans.
Snyder's track record with DC has been solid but mostly uninspiring, yet his movie adaptation of Watchmen in 2009 did look good – although purists will point to the plot being cut down and the changes which were made. In his defence, Snyder admitted that the film would have been made regardless and, as a fan of the original story, he tried to save it from being made worse. If Snyder were given a second shot he could still make it work, but how different could it be? Unless that is if he's planning on adapting the prequel comics or wants to approach the whole thing with new ideas.
Likewise, DC has enjoyed some success over the last several years with its TV shows and the adult-oriented HBO would be a good platform for such a dark series. Since Watchmen is a stand-alone product, it wouldn't need to overlap with any of the other shows and the vision of it could be more focused. It wasn't a typical comic book series, to begin with, and HBO isn't a typical TV channel.
It all sounds like a good idea.
However, the debate over how Watchmen should be handled has been an issue with fans over the years – as well as with its original writer, Alan Moore. Notoriously negative about publisher DC Comics as well as refusing to have anything to do with Hollywood adaptations of his work, Moore has gone on record in the past about spitting venom on the film… and presumably the same applies for a TV show of it. From the man who has said that he despises the comic industry but will always love the comic medium, there's almost no chance at all of his approval ever being given to any adaptation or spin-off.
Then there's the critical success of the original Watchmen, which went on to be taught in universities and is the only comic book to make it onto Time's 100 Best Novels list – alongside classics like To Kill A Mockingbird, Animal Farm and The Great Gatsby. Simply put, Watchmen is the comic book that proved comic books weren't just for kids. It's something the fans have been proud of. The irony is that a Watchmen TV show may increase interest in the original series for some but it simultaneously dilutes what that series was for others.
It could be argued that Watchmen is just a comic book so why not treat it as such? It isn't a graphic novel in the strict sense of the term, it was a comic book series that has since been collected as a trade paperback. It's no different from Green Arrow, Green Lantern, Superman's Pal Jimmy Olsen or even Sugar and Spike: it's just another property DC owns, and they can choose to exploit it however they wish.
In recent years, Watchmen has become a cash cow, with everything from video games and statues to bobblehead toys and a prequel series (not forgetting DC's new Doomsday Clock comic book series). It's a product now, as well as being a great work of literature, and could just as easily be turned into Rorschach underwear and Doctor Manhattan juice-boxes. The merchandise hasn't destroyed Watchmen's credibility, just cheapened it somewhat, and a TV show won't ruin it but it can never be as good as the original.
Watchmen may have been a comic book series, but that doesn't mean it should necessarily be treated like all the others. While there's no doubt that the platform would be right, and Snyder did a far better job with the film than many imagined possible, the question fans have to ask is if it's a good idea or a bad one.
Unfortunately, for an entertainment industry that has proven itself almost bankrupt of originality lately and is looking for the next hit show, the answer to that question may not even matter.
Is the Watchmen TV Series Doomed to Controversy Like Joker?
It's a time. Really, it is. While there's a call for more originality in entertainment, it's generally frowned upon when it doesn't fall into a predefined box. Todd Phillips' Joker proved that the real clowns are the ones behind their keywords as silly controversies dominated the film's discourse. Similarly, the imminent release of HBO's Watchmen could follow a similar route.
After all, the Watchmen TV show is a new story in the depressing world created by Alan Moore and Dave Gibbons. Even though the comic series is widely regarded as one of the best of all time, Watchmen's dark and gritty tone is seen as a no-no in the current superhero climate. Right now, everyone wants warm and fuzzy, and jokes about America's butt.
A property like Watchmen is far from those things. The comics tackled real-life issues and presented a sardonic commentary about the comic book industry at the time. While Moore has insisted that it was never meant to inspire a new movement, that's what happens when art makes an impact. And who wouldn't like a little variety in their life? There's space for bright and hopeful as much as there is for grim and realistic. It's like food; you'll get sick of eating the same pizza every day.
Well, any hopes that the Watchmen TV show would follow a different path to the comics and Zack Snyder's 2009 feature film were all but squashed by showrunner Damon Lindelof in a recent interview with Entertainment Weekly.
"We're living in a world where fossil fuels have been eliminated as a power source. All the cars are zero emissions and run on electricity or fuel cells—largely thanks to the innovations of Dr Manhattan decades earlier. There's also this legislation that's passed, Victims of Racial Violence Legislation, which is a form of reparations that are colloquially known as "Redford-ations". It's a lifetime tax exemption for victims of, and the direct descendants of, designated areas of racial injustice throughout America's history, the most important of which, as it relates to our show, is the Tulsa massacre of 1921," he said.
"That legislation had a ripple effect into another piece of legalization, DoPA, the Defense of Police Act, which allows police to hide their face behind masks because they were being targeted by terrorist organisations for protecting the victims of the initial act."
The trailers have displayed an intriguing alternative world, but they also demonstrated a lot of potential violence—something that HBO as a network has never shied away from. With politically charged topics, probable violence and an element of the fanbase that only reads headlines, there's a strong possibility that there could be a storm brewing on the horizon. Lest we forget, Moore's disciples are also raging that this show got made without his blessing, so there's that group to contend with as well.
It's impossible to tell what the future holds. Though, judging by Watchmen's reception at New York Comic Con, the overall response seems to be positive. In the age of the internet, you can never be sure. Someone might wring their hands over something completely stupid and it'll escalate because no one bothers with cold, hard facts nowadays.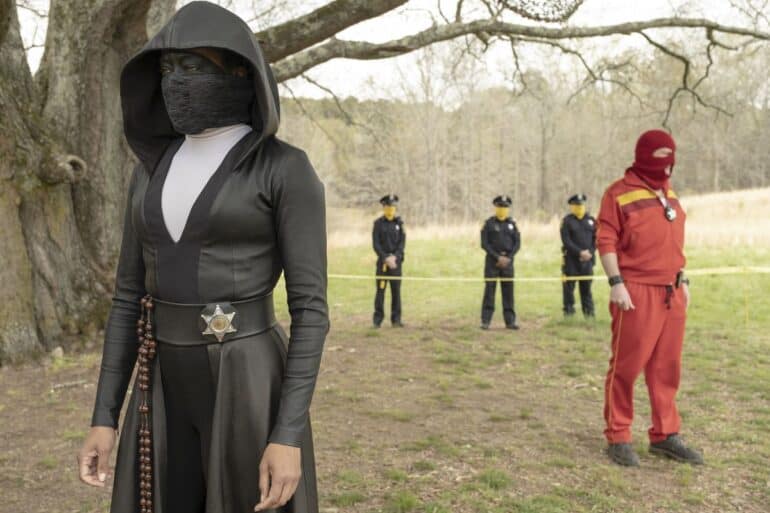 Damon Lindelof's Watchmen Show Has Something Very Important To Say
Right from the get-go, in the very first opening moments of the very first episode, Watchmen, HBO's latest binge-worthy TV show based on the popular Alan Moore and Dave Gibbons comic book series, has something important to say. Its brutal depiction of the infamous Tulsa race riot, where white residents attacked black residents and businesses of the Greenwood District on May 31 and June 1, 1921, sets the tone for the series. This isn't your conventional superhero story. While there might be guys in capes and tights heroing about, the focus is instead on the current political climate and the ugly history of American racism.
Anyone who has read the original Watchmen comic book series created in 1986, or seen Zack Snyder's 2009 movie adaptation, will know that the franchise is set in a cold, gritty and depressing world where history has taken the turn for the worse. That's still the case with Damon Lindelof's intriguing new series, which takes place 34 years after the comic ends and follows on from some of the events cemented in the previous adaptations.
Here the legacies of the previous heroes, like Doctor Manhattan, Silk Spectre, Rorschach, and the Comedian, continue to inspire and shape the world all the years later. Robert Redford has been the President of the United States for the last 28 years and, in that time, he has blocked the internet and stopped all major technological advancements, including the invention of the smartphone, and allowed the descendants of racially-driven subjugation to live tax-free. At the same time, Rorschach has somehow inspired a white supremacy group, not unlike the Klu Klux Klan, who call themselves The Seventh Cavalry.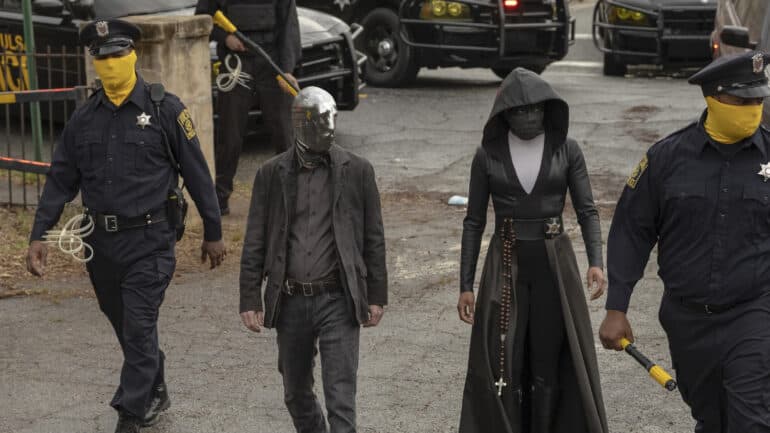 The fantastical story closely follows Regina King as Detective Angela Abar, the nun-costumed Sister Night, a supposedly retired undercover black police officer who survived an attack by the supremacist group as she investigates the murder of her police captain, Chief Judd Crawford (Don Johnson). Aside from that, we also get a look at the life of Ozymandias (Jeremy Irons) and Silk Spectre (Jean Smart) post the events of the film and comic book. Ozymandias seems incredibly bored living a life of luxury and Silk Spectre has made her living capturing caped vigilantes.
While there might already seem like there's a lot going on, the Watchmen TV show has even more subplots that touch on politically charged topics like justice, truth, slavery, terrorism, dictatorship, police violence, adoption, and public safety, among others. It's a show filled to the brim with lessons, ideas and oddities, like squids periodically falling from the sky, that keep you entertained and transfixed on the both beautiful and utterly devastating universe. It's not for the faint of heart. If you're not a fan of DC's dark side, then this isn't necessarily going to change that.
That said, you'll be hardpressed to find a better superhero TV show airing right now. The Watchmen TV show has it all – big action set pieces, heart-wrenching moments, complex heroes and villains, incredible performances, clever writing and storytelling that feels like it is purposely building towards an end goal. At the core of the series, Lindelof explores different beliefs and ideas, both right and wrong, and how those faiths, creeds and lies are spread. Unlike CW's offerings or even Netflix's Marvel selection, this is a show that works hard to pose those difficult and provocative questions to viewers. Expect to be challenged.
Tell us, did you enjoy HBO's Watchmen TV series?