Wow. It's been a banner year for Watchmen, the comic book series that began in 1986. Doctor Manhattan once said that nothing ever ends, even though Watchmen ended as a series in 1987. But he was right, of course, and, in this case, the damn thing just kept getting reprinted. In recent memory, we've now had a prequel series, a movie, a computer game, an inevitable line of toys and statues, yet another reprint (lenticular covers a go-go!), a TV show… and a sequel, Doomsday Clock.
Like the Watchmen TV show, Doomsday Clock seemed like a herculean undertaking at the beginning, because of the hallowed ground on which Watchmen exists; after all, Watchmen is THE comic book that changed the history of comic books. While there were already comics out there which were smart and not exactly "for kids", Watchmen was the one that broke through – becoming the only comic amongst Time's prestigious list of top 100 novels of all time. Not only was it brilliant, but it gained critical respect. It became revered and transcended the medium itself. It changed the industry.
So, yeah, the thought of treating it like just any old comic and milking it like a cash cow was, of course, a risky prospect.
Ironically, Doomsday Clock was predicted to some extent back in 1986 by Watchmen artist Dave Gibbons. At the time, Gibbons described the possibility of having Rorschach crossing over with Batman as "horrendous" but, while DC could legally do it, he also had enough faith in them to not do anything awful like that. Because, after all, who would be foolish enough to treat Watchmen in such a way?
To the credit of writer Geoff Johns and, in particular, artist Gary Frank, Doomsday Clock deserves some serious praise. The writing is, for the most part, solid. At times, it's truly exceptional. The plot itself, while obvious, is also a fantastic concept that takes advantage of the groundwork laid both in Watchmen and the DCU in general and ties them together smartly. As for the art, it's been stunning and an absolute delight to enjoy. The final issue is a triumphant ending, easily one of the best comic books in recent memory.
It's just a shame that the series itself wasn't particularly amazing, even if individual issues were. It may have utilised some of the Watchmen characters and scenarios in creative ways, added a little to it, and allowed for the DCU to have a desperately-needed reboot, but…
Well, as a sequel to Watchmen it simply wasn't worthy.
While a huge amount of work went into trying to replicate Alan Moore's intricate writing and plotting early on, within just a few short issues that limited the standard of imitation noticeably dropped further. Concepts that could have been executed on a far grander scale never came to pass. Some threads of potential storylines never played out, being left dangling (presumably laying the groundwork for a sequel to the sequel), while others were resolved with little impact and less development. The conclusion of the story was incredibly satisfactory to the DCU but at the expense of Watchmen itself.
The publishing delays didn't help either, lending Doomsday Clock the air of a troubled, possibly even doomed, project. With some of the delays came apologies and promises that this would all be sorted out, only for further delays to follow. It was laughable, except readers weren't laughing at all. By the end, the publishing schedule looked like DC was just picking random dates out of a hat. In a time when society moves so fast that pop culture is disposable and attention spans are limited, following a comic with a scattershot release schedule – and remembering the finer story details of an issue published several months earlier – is a problem.
Now it's done, all those issues will be collected and the trade paperback will start doing the rounds, allowing people to see it in a far better light; but for those who have followed it all along, it's been a frustrating journey. But the publishing had nothing to do with the bigger story problems or the fact that Doomsday Clock even exists at all. Deep down, at the heart of the matter, it's all about that.
For all the great work that went into Doomsday Clock, like the Watchmen TV show it simply wasn't worthy. Nothing is… and that isn't a slur on either project. Because Watchmen has already earned its status and reputation, nothing can live up to its legacy – whether that's actually true or is just in the minds of its fans (although it's definitely more the former).
It's perhaps rather telling the way these sequels have been described. Doomsday Clock has been repeatedly called an "unauthorised" sequel, while the TV show was described by creator Damon Lindelof as a "remix". None of the creators involved in either has wanted to screw around with Watchmen or see any harm come to it. They've been allowed to play in that sacred Watchmen toybox, but they've been respectful enough to try and not break those toys. Even using the term "sequel" appears to be somewhat distasteful to them, for fear that they might negatively impact the original source material and cheapen it.
Unfortunately, that cheapening happened years ago anyway, and by forces far bigger than those creators. The sad fact is that Watchmen has become a cash cow at all, that its monumental achievement at the time of its release has been gradually eroded over time as it's been repeatedly exploited for status and cash. These sequels, whether they be unauthorised or remixes, can only hope to do as little damage as possible to it, please new fans, and not annoy those fans of the original Watchmen comics.
Ironically, at the end of Doomsday Clock, Doctor Manhattan tells us that he was wrong and that things do end. Except, presumably, for Watchmen. That's just going to keep chugging on like the comic industry cash cow it was never intended to be. But things do end, according to him. It's a clumsy, clunky parallel to Watchmen's final moments, contradicting just about everything that's been established and that readers know to be true. Chalk it up to another weak moment in Doomsday Clock's uneven writing.
But… maybe he's right. Maybe things do end. After all, Doomsday Clock did, even with all those publishing delays.
And sadly, maybe what made Watchmen so special all along has ended too. Although it would be a shame if it has.
Doomsday Clock: The Watchmen Sequel That's Excellent But Hurt Itself
When Doomsday Clock was announced, you could feel Alan Moore's eyes roll to the back of his head. The legendary comic book writer has never been a fan of corporations messing with his creations, even less so when it becomes the "official" sequel to his, colourist John Higgins and artist Dave Gibbons' seminal series Watchmen.
While Moore hasn't officially commented on Doomsday Clock, Gibbons told Bleeding Cool: "Well, I won't be reading it! You're lucky. I usually say 'no comment' to these questions." He added, "I wasn't told anything at all—I know just as much as anybody else… I suppose I'm quite okay with it—it's just another day at the office."
Judging by his comments, it's obvious that Gibbons isn't a fan of the idea. Honestly, you can't blame him for feeling the way he is, since it does sound like an unpleasant situation to experience.
Still, the fact that writer Geoff Johns, colourist Brad Anderson and artist Gary Frank were tackling this series should've piqued more than a few curious minds. While Johns is fully aware of the potential backlash of taking on such an ambitious project, he told Nerdist it had to be done. "You just do the best work you can do. I work with the best people I know in comics," he said. "And we've got a story we believe in, and we tell it. We could shy away from it and not do it. But we believe in it."
The biggest hook for Doomsday Clock was how it promised to showcase how Dr Manhattan influenced the DC Universe and the Watchmen's place in it. Additionally, there's a potential Superman and Dr Manhattan clash on the horizon, which is something that readers have dreamed about for decades.
The series started off with a bang as Johns and his team not only captured the essence of Watchmen but also succeeded in tying it into the larger universe. Magic happened on the pages as the build-up to epic revelations reached boiling point and the hype took over the title.
Unfortunately, with Johns' sizable role in all things DC, it resulted in issues being delayed while annoying fans with the unreliable release schedules. While the miniseries should've wrapped up its twelfth and final issue by now, issue #11 is only being released in August 2019.
Whatever hype Doomsday Clock had faded with each delay. Issue #10 should've had the comics industry shouting from the rafters about how it changes the whole outlook of the DC Universe, yet no one seemed to care. A seismic event turned into a footnote and "by the way" article on most sites, as the title's lack of momentum impacted its relevance in popular culture.
While it's too early to tell if Doomsday Clock will become an instant classic, it's looking unlikely. Things could change once it's collected in a hardcover or trade paperback, but no one trusts the release dates for the issues. It's a shame, really, since it's a story that deserved a lot more and could've been a major talking point amongst comic book fans right now.
Doomsday Clock #1 Review – It's Okay!
The year is 1992, and the United States of America – as with the rest of the world – is in turmoil.
Just seven years before, the world was on the verge of peace. The self-proclaimed "World's smartest man" Adrian Veidt – formerly known as the costumed hero Ozymandias – had fooled the world and prevented World War III. However, his scheme fell apart when the truth came out. However, with the world once more on the brink of annihilation, there's one last chance for salvation: The god-like being known as Doctor Manhattan.
The plan to locate the missing Doctor Manhattan rests on Rorschach, who has to rescue Marionette from jail. However, she refuses to do anything unless she's joined by her husband, Mime. They have no idea of the roles they're about to play… and nor does Clark Kent, experiencing a nightmare for the very first time…
Well, this is awkward.
I must have rewritten this review half-dozen times, because it's practically impossible to discuss it without constantly comparing it to Watchmen. Because, let's be honest, without Watchmen this wouldn't exist. Watchmen is a legendary piece of work, so much so that anything less than brilliance here will basically look like DC is pissing on its legacy yet again. Talking about this issue objectively is difficult at best. Still, here goes…
Doomsday Clock #1 is okay. It isn't really bad, but it isn't really that good either, and it certainly didn't grab my attention enough to make me want to read more. But really, it also could have been a whole lot worse so I'm thankful.
Firstly, let's get the easy part out of the way: Gary Frank's artwork. It's really good, and I'd even go as far as to say that it's some of his best ever. This issue needed a great artist, because… well, does anybody remember how bad The Kingdom looked in comparison to Kingdom Come? Exactly. Thankfully, Gary Frank is up for the task. His lines may not be as clean as those from Dave Gibbons, and there may not be as much detail, but the art is still more than good enough to do this issue justice.
Really what this boils down to though is the story overall, and more specifically the writing. Right from the cover, there are missteps all over the place. It's clear that the intention here is to make this as much like Watchmen as possible in terms of panel layout, plot, tone and dialogue… but it isn't, and it's strikingly obvious. However, either by happy accident or intentional intelligence from Geoff Johns, there's something else going on in Doomsday Clock #1 which makes all these problems work to some extent.
It's something akin to what Johns seemed to do at times with Infinite Crisis, as if he's coding this story with his own personal message of sympathy and understanding to the more hardcore long-time DC fans who have soured to DC's editorial decisions over the past decade or two.
In Doomsday Clock #1, Rorschach doesn't sound the same or act the same because it isn't the same Rorschach fans know from Watchmen. His narrative is a pale imitation of the original's, but then so is the character. He's a knock-off and sounds like one. Ozymandias may actually be the same character, but he appears to be suffering from a brain tumour so he sounds different. The world of Watchmen may be recognizable, but time has moved on so it's different. These may all be excuses for what seems like poor writing (or, more simply, poor writing itself). Or it may actually be Johns saying to readers that he knows that he – like this Rorschach – isn't as good as the original, but it's his job and he's got a good idea so he's trying his best and please be patient with him.
Or maybe it really is just a happy accident, and I'm reading too much into it. This would be incredibly ironic, since the original Watchmen worked on plenty of different levels too and can be analyzed forever by readers (which is what makes it such a brilliant piece of work).
As for the kind of story Johns gives us in Doomsday Clock #1, I hate to say it but after such a long wait since Rebirth it's pretty disappointing. Marionette and Mime (basically Punch and Jewelee) are fascinating and fun, although the grim comedy they offer feels a little out of place. This is more of a set-up issue, and while the pacing is fine it spends a bit too much time just trying to convince the reader that they're witnessing something special, rather than actually being something special. There still seems to be no actual hook for the readers, because there's no reason to care if this Watchmen world lives or dies.
However, this is the first issue so it's hard to predict what the future holds for this series. For anybody calling this series a future classic, or for anybody writing it off completely as a pathetic quick cash-grab from DC, they're all idiots. We'll only know those things at the end of this. All anybody can say for now is what they thought of Doomsday Clock #1.
And what I'm saying, again, is that Doomsday Clock #1 is okay. Take from that what you will.
Doomsday Clock #2 Review – A Solid Issue Of Two Halves
Doomsday Clock #2 is an issue of two halves.
The first half is rather formulaic, containing a little backstory regarding newcomers Marionette and Mime, as well as the sort of last-second-escape/characters-entering-a-new-world thing that most comic book readers and TV/movie viewers have probably seen countless times. In that regard, it isn't exactly breaking new ground, and you'd be forgiven for finding it a bit of a cliché. However, it's well presented, and the Mime and Marionette part, in particular, is superb. So basically, it's a cliché but it's done really, really well.
The other half is more original, as we're thrown in the deep end regarding the current state of corporate and political chaos in this version of the DCU. If someone's coming into this with no knowledge of DC's history (past and present) then the big picture may look blurred right from the start. The pressure of Bruce Wayne's latest predicament weighs heavily, while Lex Luthor… well, he's Lex Luthor. It's fresh, intriguing… and sadly feels rather boring.
In Doomsday Clock #2, the world is on the brink of nuclear destruction.
Ozymandias, the world's smartest man, desperately races against time to modify Archie the Owlship enough so that it can breach the fabric of reality. His plan is to transport himself and his team – the new Rorschach, Mime and Marionette – to an alternate Earth, one which appears to have been created by Doctor Manhattan. Already in an uneasy alliance, their task upon arrival is made even more difficult when they discover what this new Earth is like.
While it resembles their own in some ways, in others it's completely different… and it's being torn apart by a new wave of public distrust against the metahuman community. While Rorschach is tasked with contacting Bruce Wayne, Ozymandias is determined to meet with Lex Luthor. But what each of them finds is the last thing they were expecting, while Mime and Marionette are already making plans of their own…
So, what do you get when it's all put together? Well, it's an uneven and slow-moving issue full of fascinating ideas, creative concepts, pretentious imagery, and mostly predictable storytelling. Yet the positives outweigh the negatives overall, which makes it impressive in spite of itself. The writing from Geoff Johns, while not always working, still makes enough of an impact to be successful and he's playing the larger plot points close to his chest, revealing very little.
It's a tricky game to play since at least the original Watchmen series had the murder mystery conspiracy and fascinating characters to keep the audience's attention until the full scope of the plot became apparent. This issue (and the series so far) doesn't, and at times it almost resembles the half-assed 1999 series The Kingdom. So far it's keeping itself on track though, and still raises enough curiosity to keep readers' attention.
The real highlight of Doomsday Clock #2, however, has to be Gary Frank's art. This issue looks better than just about anything else on the shelves today, offering crisp, clearly defined visuals as good as the works of Jim Aparo, Neal Adams and Dave Gibbons. While the first issue of the series may not have quite cracked that level, this one certainly does and Frank deserves maximum credit.
Doomsday Clock #2 won't be for everybody and, on the whole, it does have some flaws, but it's a solid issue that just about manages to live up to the hype and reader expectations… although it's still got a long way to go.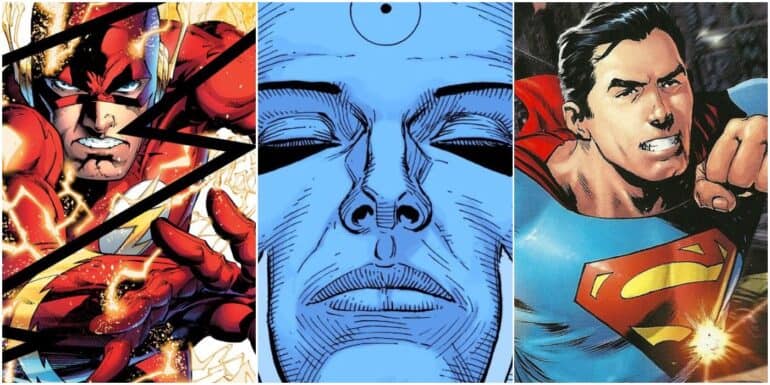 Doomsday Clock #3 Review – Clunky And Unimpressive
After two promising issues, Doomsday Clock takes its first real steps into the mainstream DC Universe… and falls down almost instantly. There's still hope for this storyline, but Geoff Johns really needs to do a whole lot better.
While the art is still a treat, the pacing seems off and the panels don't flow as smoothly as they should, especially in scene transitions. However, it's hard to lay blame on Gary Frank, who's been doing a stunning job so far. Instead, the problems have to be attributed to Geoff Johns' script, which is clunky, unimpressive and appears devoid of any sense of purpose. While it's almost a certainty that the Doomsday Clock series is building to something big on the horizon, it doesn't feel that way in this issue.
In Metropolis, Adrian Veidt – the smartest man of his own world also known as Ozymandias – battles against The Comedian, despite having apparently killed him years before. However, this time their fight is more equal, with The Comedian having the element of surprise on his side. Meanwhile, in Gotham, the new Rorschach persuades Batman to read the journal of Walter Kovacs, which details the conspiracy of events that led to the original Rorschach's death.
As more details emerge regarding The Comedian's arrival in this new world of superpowered beings, society, in general, is becoming increasingly fearful of metahumans and a new superpowered arms race is on the rise. While Batman agrees to help Rorschach in tracking down Doctor Manhattan, Mime and Marionette stumble upon one of the Joker's lairs and leave a path of death in their wake. But can Batman be trusted, and what of the ageing Johnny Thunder, who tragically waits for his family's return?
Rather than laying more foundations in deliberately-paced plotting that sucks readers in, instead, it drags from one boring scene to the next. Doomsday Clock #3 tries throwing in unconvincing set-pieces, alternate narrative arcs, a fight scene, and even a few light moments of comedy… but ultimately none of them has any real punch behind them. They're distractions, and while they may still entertain some readers they don't make for a great issue. The fight between Ozymandias and The Comedian is too slow, weighed down by a sense of ironic self-importance that isn't deserved. A glimpse into the new Rorschach's origin is meant to be terrifying, tragic and impressive, but instead feels underwhelming.
Once again, a highlight has to be Mime and Marionette's scene. However, this series is becoming over-reliant on them carrying the story, and even the concept of them crossing paths in some way with the Joker is almost painfully predictable. Hopefully, there will be something more creative on the cards in future issues.
As stated back in the review of the first issue, it's simultaneously unfair and yet also completely justified to compare this to the original Watchmen. It isn't Watchmen and never will be, and should be judged on its own merits; Yet by those same standards, if it's going to model itself on Watchmen and trade on the goodwill of its long-suffering fans, then it needs to do it justice and prepare to be measured by that yardstick. As its own independent creation, this issue is sadly lacklustre, and by Watchmen standards it falls short even further. It isn't even at the same level as Robinson and Smith's highly underrated The Golden Age, and that's a bad sign.
It's impossible to truly recommend Doomsday Clock #3 as it stands, and only in time will anybody be able to tell if this is the moment where this whole series succeeds or fails.
Doomsday Clock #4 Review – Mediocrity Imitating Greatness
Fine. I didn't want it to be this way, but since Doomsday Clock is so insistent on mimicking the original Watchmen story, then it's forcing my hand to draw comparisons.
Reggie Long – the second Rorschach – is forced to adjust to his new surroundings after having been institutionalized by Batman. Within Arkham Asylum's cold walls, surrounded by Gotham's most insane criminals, he reflects on his own troubled past and the events which led him to don Rorschach's mask. As a survivor of Ozymandias's plan to save the world, his mind was left shattered and he spent time in an asylum on his Earth. Yet a chance meeting with former Minutemen member Byron Lewis helped Reggie to piece together the fragments of his own life… in turn, creating a new persona.
As events unravelled on his world and Ozymandias's role in the New York incident came under increasing scrutiny, Reggie gained a new purpose. But what lead him to his current situation, and can he escape Arkham to find the missing Doctor Manhattan?
Imitation, as the saying goes these days, is the sincerest form of flattery. However, the full quote is "Imitation is the sincerest form of flattery that mediocrity can pay to greatness." It's sadly fitting that this quote can be applied to the second Rorschach character, the nature of his "origin" story, and this issue in general. Whether it's intentional or not depends on how seriously the reader is taking Geoff Johns's work here, and on whether Johns is trying to recreate Alan Moore and Dave Gibbons's style on the original Watchmen while taking it forward… or whether he's simply insulting it.
While Doomsday Clock #4 is a perfectly serviceable origin story in its own right, it's also bland, predictable and mostly boring. There's little tension and almost every supposed revelation and reveal falls flat. Since Rorschach II hasn't proven to be an interesting character so far, there's little reason to care about his ordeals. While other elements of the story do work, especially the bittersweet tale of Byron Lewis, on the whole, the issue seems much like the second Rorschach himself: a cheap knock-off.
Also, it's too unfocused for its own good. The scene transitions are abrupt and ragged, but then maybe that's the point since poor Reggie's mind is so fractured. If so then it's a risky but poor writing decision, and if not then that makes it even worse. It's possible that there's some clumsy meta-textual joke on the duality that's saying this issue is meant to be an intentionally mediocre version of the original Rorschach's origin… but it's unlikely.
The only real saving grace is Gary Frank's impressive artwork but, unfortunately, Doomsday Clock #4 is average at best. At a stage where readers should be left wanting more, it has the opposite effect and makes you question why you're bothering with it at all. It's been nearly two years since Doctor Manhattan was first teased in Rebirth but, at this stage, it's hard to even care anymore if he ever shows up. An issue like this doesn't help matters, nor does it inspire confidence in how this storyline is going.
Doomsday Clock #4 isn't greatness. It's mediocrity imitating greatness.
Doomsday Clock #5 Review – More Good Than Bad
This opinion may surprise a lot of people, but Doomsday Clock #5 isn't bad.
That's by no means an endorsement, and there are still serious flaws with the story itself, but from a writing standpoint, this issue did a decent job of encompassing the world it's taking place in. More impressively, it had just enough dramatic moments to please even the most jaded long-term comic book readers out there. Plus there's the artwork, which still remains the best feature of this series. This time around, Gary Frank's art is absolutely superb and this is easily the best work he's done so far.
There are still drawbacks in Doomsday Clock #5, of course.
After his brutal fight against the Comedian, Adrian Veidt – Ozymandias – recovers in hospital under police custody. Yet for the alleged smartest man of his own world, escape is easy and he soon returns to the hidden Owlship. However, a meeting with Batman soon becomes hostile as they discuss the fate of both their worlds and the escalating public distrust of metahumans.
Meanwhile, as Lois Lane continues to try and piece together the mystery of the Supermen Theory, Lex Luthor appears to have some of the answers and Johnny Thunder begins a quest of his own. And while Rorschach and Saturn Girl make plans, Mime and Marionette seek out the Joker in the most extreme fashion possible…
As stated, the story itself seems more forced than flowing and there's almost no sense of subtlety to it. Likewise, many of the characters come across more as one-dimensional versions of how they should be. While in the case of Batman that can arguably be a good thing, it's still enough to possibly leave some readers dissatisfied.
Then there's the mystery itself. At this point, it's hard to care about Doctor Manhattan's disappearance and presumed role in the tale and it's looking almost like a McGuffin. Presumably, it isn't, but that's how it seems. The concepts of public distrust and, in particular, the Supermen Theory are solid and the latter is an intriguing idea, but they're displayed in such a heavy-handed nature that it becomes counter-productive.
But enough of the complaints. It's fair to say that there's a little more good than bad going on here, even if Doomsday Clock #5 is an unsatisfying and uneven read. For all the superhero, supervillain and vigilante activity, and for all the end-of-the-world angst, the three best moments in this issue are those which are the most human.
The first goes to Lois Lane and Perry White, debating the altering of a headline; the second goes to Firestorm and his hilarious comments – and it's also about damn time that somebody realized the similar nature of himself, Captain Atom and Doctor Manhattan; the third, and most important, being the tragic tale of Johnny Thunder. Like with JSA: The Golden Age, and throughout his entire history in comic books, his importance both in DC lore and in this story is overlooked.
As the old saying goes, people who like this sort of thing will find this the sort of thing they like, and people who don't simply won't. This series still has a long way to go before it convinces the readers, but at least Doomsday Clock #5 holds some promise that it still can.
Doomsday Clock #6 Review – Terrible, And Such Small Portions Too?
You know that joke about the two old ladies griping about their dinner in a restaurant? One complains that the meat there is terrible, nothing but bone and gristle… and the other points out yes, and such small portions too. The point is that even if you don't like something, you still might want more anyway. That's basically the same problem with Doomsday Clock #6.
Not that it's terrible. In fact, if it were any other comic then it would be easy to praise the slow, well-crafted origin story on display. It's Bonnie and Clyde or Mickey and Mallory… or, to be fair, Punch and Jewelee. As a reader, you can't help but like this pair. Their story doesn't answer enough questions and it's a bit of a cliché, but it's still a really solid piece of work. As for the art, it remains the highlight of the book.
However, this isn't any other comic.
This is the sixth issue of Doomsday Clock, and fans have been waiting patiently for two months to get some story progression. Is it worth that wait? Not really.
Is it worth that wait? Not really.
Marionette, Mime and Batman have seemingly been captured by the Joker, and are taken to a meeting of costumed supervillains. While debate rages between the villains about how to keep themselves safe in an increasingly unsafe world, the Joker's arrival derails the Riddler's plans. Little do they realise that they have been followed by someone who shouldn't even be in their reality, or of the bloody events that he will bring.
Meanwhile, Marionette and Mime's personal history is explored. From their first childhood meeting to their current relationship, they seem inseparable. But will the Joker help or hinder them in their pursuit to find their missing child, and will their recklessness lead the Comedian back to Ozymandias?
The plot in Doomsday Clock #6 is looking increasingly unfocused, and while the origin of Marionette and Mime is a decent one it's also frustrating. Readers can like this pair, but they draw attention away from the big picture instead of contributing to it. Should we be concerned that the Joker has possibly captured Batman? Apparently not, given the lack of importance given to it. The same can be said for the Supermen Theory going on in the background, and it's hard to care about the fate of a world when they don't show much of that world anyway.
And whatever happened to the Man Of Tomorrow and Doctor Manhattan?
Of course, a large part of the problem also has to be blamed on the shipping schedule, which is robbing the series of any potential momentum it could build up. The only hope is that when this story wraps up… in another year or so… a trade collection might make it a more satisfying reading experience. Odds are, it possibly will be. But, at this stage, there seems to be little point to invest in this series, either financially or emotionally.
Basically, Doomsday Clock #6 is a great issue of what's becoming a highly disappointing series.
Doomsday Clock #7 Review – A Whole Lot Of Nothing Going On
So, they finally did it. After keeping the audience waiting for so long, Doctor Manhattan has finally shown up in Doomsday Clock #7. Honestly, it wasn't worth the wait.
That isn't to say that he's not still impressive and downright scary at times, or that his power has diminished in any way. He's back to his usual routine, teleporting around and seeing the events of time itself in a skipping narrative. He's also changed though, and it's pointed out that he's tinkered around with events in history as he's shaped the world to his will, using the DCU like a petrie dish, while his normally imperceptible facial expressions are now easier to read.
Ozymandias, reunited with Rorschach II, continues his quest to find Doctor Manhattan – along with Saturn Girl and Johnny Thunder. Is their presence nothing more than coincidence, or is there a deeper reason for their paths to cross? While the second Rorschach may be sceptical, Ozymandias becomes increasingly convinced that higher forces are at work guiding them. Meanwhile, Marionette and Mime have joined forces with the Joker and begin torturing The Comedian for information. But with all eyes focused on The Comedian, what has become of Batman?
With the world on the verge of war as the Supermen Theory takes hold, the stakes have never been higher. But will the appearance of Doctor Manhattan make a difference? Can he truly save both worlds… or is he trying to destroy them himself?
Sadly, Doctor Manhattan's big reveal – in the nude, naturally – is turned into a joke from the Joker that seems incredibly poorly timed, given the dark knight's own recent nudity scandal (a move many are calling a cheap publicity stunt to boost sales). Worse, one of Doctor Manhattan's most interesting attributes – that of being powerless in the grand scheme of things, despite his apparent omnipotence – appears to have been forgotten.
Beyond that, this issue's real problem is that there's a whole lot of nothing going on. Or rather, so much happens that everything gets in the way of itself and it becomes a chaotic mess. In what way? Well…
Ozymandias, supposedly the smartest man of his world, locates Doctor Manhattan seemingly by a strategy of planning and dumb luck… yet fails to see any big picture; Batman once again becomes little more than a periphery character in his own investigation; Doctor Manhattan cryptically rambles on about several subjects like an unfocused Bond villain; meanwhile, there are some twists that should surprise nobody at all. It's sloppy work.
There is plenty of action, intrigue and "shocking revelations", yet strangely it all feels flat and like it's just going through the motions. There's no emotional core for readers to latch on to, making it hard to remember or care about… well, whatever this story was meant to be about in the first place. Instead, we get the image of a sexually excited Joker grabbing his flamethrower between his legs, gushing forth a jet of burning napalm as he does a pelvic thrust. Thanks for that, DC. I'll have nightmares for a year.
Again, it has to be said that this is only a single part of the big story and maybe, in the long run, it'll come across better. The art is still top-notch, and Geoff Johns does a mostly fair job of copying Alan Moore's writing style while still bringing his own unique contributions to the story. For those who have been enjoying this series so far, there's a lot here that's good, or at least interesting. In fact, on a second read, this issue is better than it first appears.
Yet it's still unimpressive and feels cluttered. After such a slow build-up to this stage, this issue throws everything at the reader at once in a jumbled, clumsy attempt at moving things forward. With each disappointing instalment, Doomsday Clock is looking average at best and a dud at worst.
Doomsday Clock #8 Review – A Moment Of Greatness
As Ozymandias continues his quest, global hostilities continue to escalate due to the Supermen Theory causing international distrust. Firestorm, one of the metahuman heroes who has been singled out as possibly being created by the US government as a weapon of mass destruction, finally snaps. In a move that will inevitably be seen as an act of war, he flies to Moscow and engages in a fight with Russia's own metahumans. After being injured, a panic-stricken Firestorm unleashes the full force of his powers on innocent bystanders before disappearing.
Superman, determined to avoid World War III, seeks out Firestorm in an attempt to understand what has happened and why. Meanwhile, Lois Lane receives information on a team of superheroes active during the Second World War – a team that, to her knowledge, never existed. But with nuclear war about to break out, can Superman – or anyone – uncover the truth behind the events that are happening?
There was a time when everything Geoff Johns worked on turned into comic book (an onscreen) gold. Lately, however, his Midas touch hasn't been constant. However, with Doomsday Clock #8 it's clear that when it comes to creating massive moments – both with action and emotion – he's still one of the most talented writers out there.
As a mostly self-contained issue, Doomsday Clock #8 is one of the best displays of his work. His knowledge of the characters and understanding of their psychology shines through as his real gift, while he ratchets up the tension of the story skillfully. Under Johns' writing, Superman shines as the ultimate good guy, a well-intentioned peacemaker struggling to do his best in a world of political posturing that's on the verge of war. Meanwhile, the plight of Firestorm – one of DC's lesser-appreciated characters – is almost heartbreaking and leads to one of the best cliffhangers in modern comics… as well as teasing readers' understanding of the DC Universe as it is today.
What's unfortunate is that this is still only a part of the entire series, so once again it can't strictly be judged on its own merits. Without knowing the end, it's impossible to say what its true value is to the story. In terms of how Doomsday Clock #8 relates to the series so far though – a series that has mostly ignored Superman and only skirted around the issues of the Supermen Theory and Firestorm – it feels slightly out of place and disjointed. It's a jarring shift in the narrative to suddenly throw these elements into the spotlight given the build-up of the series. In a similar style, the moments with Ozymandias fall flat as he postures without purpose.
Again, it's possible that the long wait for this issue hasn't helped matters at all. It's hard to keep the finer details of the series fresh and the pace constant when there are over two months between issues. It's also hard to keep the readers' excitement up when new issues are few and far between, and it'll be interesting to read this series again in its entirety once it's complete – to see how it flows (or doesn't) without the delays.
Still, the fallout from this issue has the potential to be a game-changer and so it's definitely worth a look. As its own work, it's incredibly strong, and even the scenes of the hustling and bustling Daily Planet offices are lively. Lois Lane's moments, in particular, are a joy to behold and should provide optimism for many fans clamouring for the return of the Golden Age heroes.
As usual, Gary Frank's artwork is stunning, although for once he's slightly off his best form, with some panels failing to flow and some characters being awkwardly framed. But even despite those problems, Doomsday Clock #8 still looks incredible and is a treat for the eyes.
Standing on its own merits, or had it been a part of another story, it would have been impressive regardless. Whether it has the same impact on this series will only be known in time, but for now, Doomsday Clock #8 is the best of the series yet.
Doomsday Clock #9 Review – A Manhattan Project With Mixed Results
It is March 6th 2019, and I am finally reviewing Doomsday Clock #9.
It is an overdue comic book in a series that has suffered from many delays. So far, the series has looked fantastic even if the storytelling has mostly failed to deliver. However, I've still been intrigued enough to want to read more. After waiting for so long, I should be happy.
Instead, I'm disappointed.
After the recent incident in Moscow that left Superman injured, Doctor Manhattan struggles to see the timeline of events in the past, present and future. Meanwhile, an army of superheroes race to Mars to confront him – either to gain answers or to battle against him. But as the heroes gather, Batman – a world away from them – believes that they're being played and that there's more going on than they understand. While he races against time to send them a warning message, the rest of the world makes it clear that they no longer want metahumans to exist amongst them.
With a war looming on Mars, can the combined might of the superheroes possibly defeat a being who may have shaped their world's entire existence? And with events spiralling out of control, the motives of old enemies and trusted friends come in to question. Who can the heroes trust anymore, and can the damage to their world possibly be undone?
Despite my complaints about all the delays, I know that what really matters at the end of the day is whether it's good. And to be fair, it is good. It's an old-fashioned slice of Crisis-level "event" hullabaloo as all the heroes gather and combine their forces for an onslaught against the most impotent all-powerful being in comic book history. Seeing all those various characters gathered together, so many fan-favourites, it's a fantastic sight to see. It also helps that there's some fun banter being uttered, while the confrontation is amped up by Batman struggling to warn the heroes in a ticking clock scenario. Meanwhile, it's all intercut with some plot-building work going on with Lex Luthor and Lois Lane, along with Firestorm.
So why the disappointment?
One of the problems with Doomsday Clock #9 is that it's painfully predictable. The whole battle, while an impressive sight, is exactly that and nothing more. It's a visual spectacle that achieves very little. Readers have seen it countless times before, and even if the execution of it is good it's also mostly just eye candy. Glorious, spectacular… eye candy. Guy Gardner takes a moment to compare Doctor Manhattan to all the overpowered villains they've fought over the years – a wonderful moment of reference that will have readers edgy because they know Doctor Manhattan is a whole lot more than that. But even if this is meant to be a contrast while paying homage, Manhattan is reduced to being exactly like them and the writing doesn't allow this issue to be anything more.
The real intrigue here is what's happening on a character level, some of it away from the fight. Sadly, there simply isn't enough of it. Again the writing lets the story down, as the plot-building is presented in a humdrum fashion. There are clues to be explored and characters to be focused on to expand the big picture but, instead, readers get a fight scene. It was inevitable that the sort of confrontation presented in Doomsday Clock #9 had to occur, but it's unfortunate that it had to happen now and in this fashion. The pacing feels completely off, and maybe when this series is finished and collected in a trade it'll read differently – the delays in the release schedule certainly haven't helped it – but as it stands here it's missing the mark.
As stated, there really is a lot to recommend about this. Gary Frank's art is stunning, the fight is impressive, the array of heroes covers all the bases, and this is just what many fans will have been waiting for. Some of the reveals and references make for curious reading, and the characters are handled with real skill. If anything, Doomsday Clock #9 is bound to please a majority of readers. But if you're hoping for a groundbreaking issue that moves the plot forward, you may be disappointed.
Doomsday Clock #10 Review – This One's For The Fans
Doctor Manhattan waits for Superman.
Having defeated the combined forces of the world's superheroes effortlessly, all he can do now is… wait. But why is Superman so important to him? As Doctor Manhattan bides his time, he reflects on the events that brought him to this universe and the significance of all he has witnessed. Seeing worlds live and worlds die over the years, crisis after crisis, and the impact that it has all had on the universe, he believes that he has learned the truth of it all: that the history of the universe depends on Superman.
But has he seen too much, and do his conclusions validate his own actions? And has he also learned the deeper truth about himself?
Doomsday Clock #10 has finally arrived, and it's got something massively important to say: Superman is the absolute foundation of all superhero comic books.
Got that? Good. Because that's exactly the point that this issue makes. Repeatedly. And as much as that fact may seem obvious, it's not a bad thing to be reminded of that fact.
Yes, if you've been a regular comic book reader for longer than five minutes then you'll probably be aware of Superman's importance already – and how every DC reboot has to begin with the Man of Steel. But let's pretend you didn't know, or lived your whole life under a rock and never read a comic book in your life before Doomsday Clock… well, if that's the case then you'd be as mystified as Doctor Manhattan is upon entering the main DC Universe.
This primary focus of Doomsday Clock #10 is how Doctor Manhattan came to understand the DCU and what makes it tick since he first arrived there. Given that he's Doctor Manhattan, his abilities have allowed him to see a far bigger picture – one that's a parallel to comic book readers themselves. Seeing the past, present and future of the primary DCU in its entirety means that he also bears witness to all the reboots over the years, which are elegantly displayed throughout the issue with brief glimpses of each.
The significance of this and what it all means will probably vary depending on each reader's own knowledge of DC over the years. For those who are casual fans, it may mean little; for veterans who have witnessed everything from the Golden Age and the first Crisis to Hypertime and the New Fifty-Two-Niverse, it should mean a lot. Manhattan's metatextual exposition and potentially eye-opening revelations balance (and contrast) with a combination of feel-good recaps of the DCU's various histories in an intelligent and creative way.
But is Doomsday Clock #10 really that good or as smart as it seems to think it is?
While the artwork isn't quite of the typical high standards of earlier issues, it's the writing that's particularly uneven. This issue doesn't quite deliver on the high-concept premise it's promoting. It may offer some creative ideas regarding DC's history, in particular its history over the past 35 years – revolutionary for DC – but it's been done before by others, if not this obviously. Meanwhile, Doctor Manhattan's tale may be intended to mirror Ozymandias's from Watchmen, but it lacks punch at times and he's reduced to little more than a self-aware piece of furniture. He isn't all that different from others while presumably symbolizing something far more personal, yet he also exudes clichés.
Strangely, little of that matters.
Regardless of whether Doomsday Clock #10 is attempting to be too smarter than it actually is, there's a whole lot more to it than that. It's one of the better issues of Doomsday Clock even if it's a frustratingly obvious one. More than that is how there's a very strong upside to all this: what it could represent for DC Comics moving forward. This issue is solid enough in its own right, and as a part of the bigger series too, while also offering the brightest hope for the future since Rebirth began.
If you're a die-hard fan of DC, then Doomsday Clock #10 may be just what you wanted.
Doomsday Clock #11 Review – Let's Call This What It Is: A Mistake
The global political crisis reaches a tipping point. Metahumans begin to draw their own battle lines, while public trust in them has fallen apart. With Russia demanding that Superman be held accountable for his actions with Firestorm, the United States looks set to lose its greatest line of defence.
Watching over everything is Ozymandias, who has manipulated events to serve his own purpose, and Doctor Manhattan, who appears to have become obsessed with his confrontation with Superman. As Batman races against the clock to uncover the truth with the assistance of the new Rorschach, Lex Luthor reveals his own investigation to Lois Lane…
Blah blah blah, exposition, exposition, clumsy metaphor, blah blah.
I'm sorry for starting this review in such a flippant and juvenile way. However, occasionally there's such a massive wall of blather in comics to get past that it needs to be called out for what it is. Because that's exactly what Doomsday Clock #11, DC's increasingly delayed and lacklustre series, offers its readers. This isn't to say it's all bad – it just feels that way sometimes.
First of all, though, let's look at the positives.
Gary Frank's work on Doomsday Clock is truly stunning. When this series finally finishes (which could be any time within the next twenty years, at the current publishing rate) it'll be the artwork that people will remember most fondly. It's practically worth the cost alone, and no amount of praise seems enough.
Then, there's Geoff Johns' writing. That may seem like a contradiction, given how this review started, but elements of story and plot are creative and interesting and the pacing builds nicely. The execution of it may be woeful, but the man has good ideas and deserves credit for them.
And that's the real crux of the matter.
This story, for all its high ambitions, falls apart here as it heads towards its grand finale. Characters who seemed so pivotal early on are now little more than inconvenient cyphers, the politics has become muddied and bland, and establishing any sort of cohesion in the bloated plot has become a matter of no show and all tell. For all the intriguing concepts being offered, Doomsday Clock now looks like a Sisyphean task that's far too much for Geoff Johns to handle.
Interestingly, a great deal of this is paralleled by Ozymandias and his actions in this issue. Ozymandias has devolved from being the world's smartest man to the dumbest, and having made several mistakes he appears to have learned nothing from them. Instead, he's cobbled together the scraps of a nonsensical plan which he assumes is brilliant but clearly isn't. Does that sound familiar?
Now, it's possible to view this as being a metaphorical mea culpa from DC for their infamous "disconnect" over the past several years, and their increasingly hollow attempts at fixing it, but it can be just as easily viewed as symbolic of the series itself. The final quote by James Joyce which caps off this issue, speaks of being unafraid to make mistakes… a statement both commending the bravery to take chances, but acknowledges that colossal mistakes can be made. And that's how this issue reads:
A mistake. Unafraid, like this series in general, but still a mistake.
This series has achieved the unthinkable just by existing, and DC has been quick to tout it as being "critically acclaimed", despite the obvious caveat which every fan is greatly aware of. It has an impossible legacy to live up to, but it's been unafraid and it's tried so hard. But this issue exposes so many of its flaws and demonstrates how badly it's coming up short.
Doomsday Clock #11 does have its highlights and the art is gorgeous. If you've been following this series then it's essential, and there truly are a couple of tiny gold nuggets buried in this steaming pile of exposition. But at its core, it's a weak, long-winded issue with one-dimensional characters, full of waffle that simply doesn't hold up. After such a long delay, you'd imagine it would be better… or at least good. Sadly, it isn't.
Doomsday Clock #12 Review – Better Late Than Never?
The moment has arrived. In Doomsday Clock #12, Superman finally confronts Doctor Manhattan, the being who has played god and changed the Man of Steel's very existence. As the world moves to the brink of global annihilation, and with super-powered beings from every nation poised to enter the conflict, it appears that nothing can stop the oncoming chaos and destruction.
However, as Superman battles on, the second Rorschach is once again recruited to play his part in the bigger picture. Meanwhile, Batman, Lex Luthor and Ozymandias all plan for the inevitable end – but is it already too late? And what part can the Comedian, Mime and Marionette play in saving the world?
Well, at least it's finally over. And you know what? Doomsday Clock #12 was actually one of the best issues of any comic book in recent memory. Which, unfortunately, isn't to say that it didn't have some serious problems.
But let's look at the positives first, because they're absolutely fantastic. For the first time in a long time, I actually gasped out loud at some of the statements being made, and some of the dialogue was truly inspired. When Geoff Johns is on form, the man knows how to tap into essence of what makes DC's legendary characters so special and tell a great story – and in Doomsday Clock #12, he absolutely hits the mark. While Superman seems to do very little, he's the complete embodiment of hope in the DCU, just as he should be, and the story reflects that brilliantly.
The story itself, while playing out in possibly the most obvious way there is, hits every beat perfectly and flows smoothly. DC's finest heroes make their appearance in waves, culminating in a crescendo that should fill every reader, new and old, with a sense of triumph and joy. A sense of optimism practically screams out from every page of Doomsday Clock #12, while on a deeper level explaining why some missteps were made over the years. It reassures fans that everything has always served a greater good and that anything broken can be fixed. Although, perhaps, saying sorry again would have helped too.
There's plenty that's said about the current society around us, the kind of world we live in. From red-capped, thinly-veiled racism and closed-minded bigotry to the increasing political divides between us, there's plenty being said here. Thankfully, the idea that an immigrant from another world can still inspire and help others, who in turn then help, even more, is still valid. If the DCU can be made a better place, then maybe our own world can be too.
Plus, there's easily one of the greatest moments ever for Alfred. It kind of makes you wonder why anybody would consider getting rid of a character that awesome.
Of course, there's a downside to all of this.
Notably, it's unfortunate that some major aspects of the storyline simply peter out. Lex Luthor, Lois Lane, Ozymandias, Batman, Rorschach II and others barely get a glance in; when they do, any importance they were seemingly meant to play in the big picture is practically brushed aside as an afterthought. While this issue plays for emotional impact – and successfully, it has to be said – in terms of great overall storytelling the result is a hot mess. Nobody, other than Superman, comes off looking good as a result of this… and in his case, that's only because of what he symbolizes.
Seriously, what was the actual point of this entire series other than to deliver this finale? While Doomsday Clock #12 truly is special, it also further exposes the shallowness and weak storytelling of the series as a whole. Despite all the high notes being presented, the idea that readers have been watching a story play out for almost four years now that essentially does little different from Zero Hour is disappointing. It relies on just another deus ex machina to get the job done, and a contradictory one that sacrifices the Watchmen legacy in the process.
Also, in an eerie parallel to another recent Watchmen spin-off, this comic doesn't know when to shut up. For all the aimless characters, dangling plot threads and untapped potential, Doomsday Clock #12 instead bypasses so much. Rather, it uses its generous page count to ramble on a bit too long, excessively driving its message home to a level where it loses its charm. It also paves the way for further sequels, practically inviting them, and urging readers to stay tuned. To squander the goodwill gained with readers up to that point on what could be interpreted as a series of promos, as opposed to an actual conclusion, feels cheap.
So, with most of the negatives now out of the way, the important part is that as an individual issue this was great. The writing was impressive, the art even more so (barring a few curiously rushed-looking panels) and it was a great ending to what's been a sadly lacklustre series. Credit where it's due here, this is a fantastic piece of work and the ramifications for the DCU could be huge… assuming DC even chooses to acknowledge it fully.
After a series of increasingly ridiculous delays, Doomsday Clock is finally over. It's an apology that's better late than never, and it's one worth paying attention to. Whether it's accepted though, that's up to the readers to decide.