Nintendo has always been interested in fitness. The idea of combining gaming and healthy living started way back with the Exertainment Life Cycle and more recently the Wii Fit. You'd think that after trying for so many years to marry the two that Nintendo would throw in the sweaty towel, but they haven't. Introducing the Ring Fit Adventure.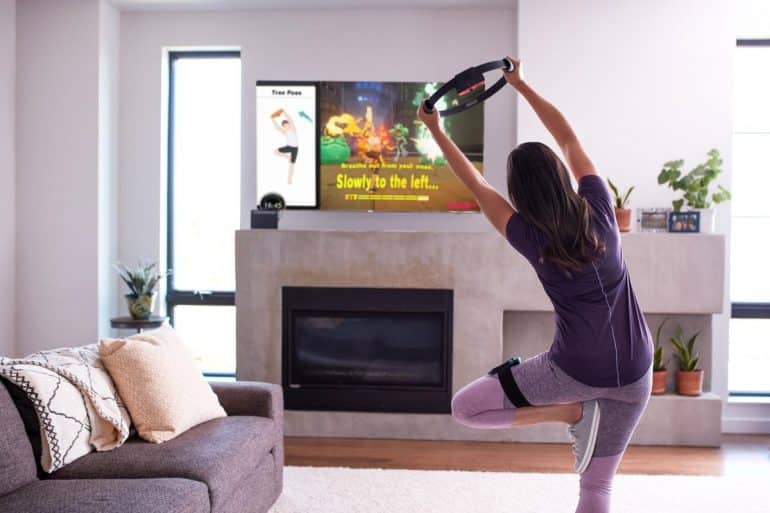 At first glance, Nintendo's Ring Fit Adventure looks like a basic plastic ring with a Joy-Con slot and a leg band, where you can slide your second Joy-Con into. To the naked eye, it's nothing fancy, just a plain ring. However, the Ring-Con, as it is called, thanks to the Joy-Con that perfectly slides into the device, is actually a surprisingly solid piece of equipment that detects when you squeeze it, pull it and move it around. On its own, it doesn't do much, but when paired with the game, a whole new world of sweaty, muscle aching fitness opens up.
Ring Fit Adventure puts you in the shoes of an anonymous hero who has mistakenly released a spandex-clad protein shake-filled evil Dragon into the game's world. Of course, since you let the brute out in the first place, it's up to you to defeat and capture him again. Luckily, you are not on your own as the enthusiastic Ring, as he is fittingly called, will guide you through your journey to becoming a fitter you.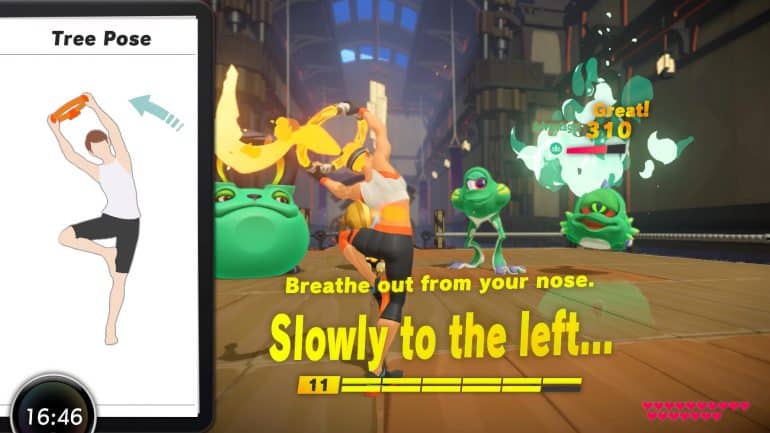 Ring serves as both your guide and motivator as you explore the world and battle anthropomorphic gym equipment. The gameplay basically boils down to you running from point A to B (by physically jogging in place) and then using the Ring to suck up coins (by pulling it) or blasting crates (by pressing it together).
Occasionally you'll have to face off against the game's enemies and it's here where Ring Fit Adventure's RPG elements kick in. Battles are a turn-based affair and see you having to choose your attack and then performing a specific exercise move in order to successfully cause damage. Sounds easy, right? Well, it's not.
In the beginning, it's quite easy but, after squat number 10, you'll definitely start to feel the burn. Once you've used a certain move against an enemy you have to wait for it to cool down before you can use it again. This is actually a smart move as it forces you to use all the exercises available, ensuring that you get a full workout.
Adding to this, if you match the colour of the move to your foe it does substantially more damage. Meaning that sometimes it might be worth working on your abs in order to end a battle quicker.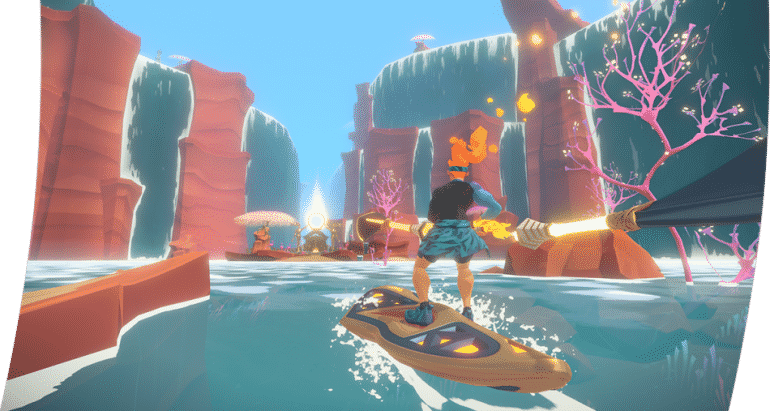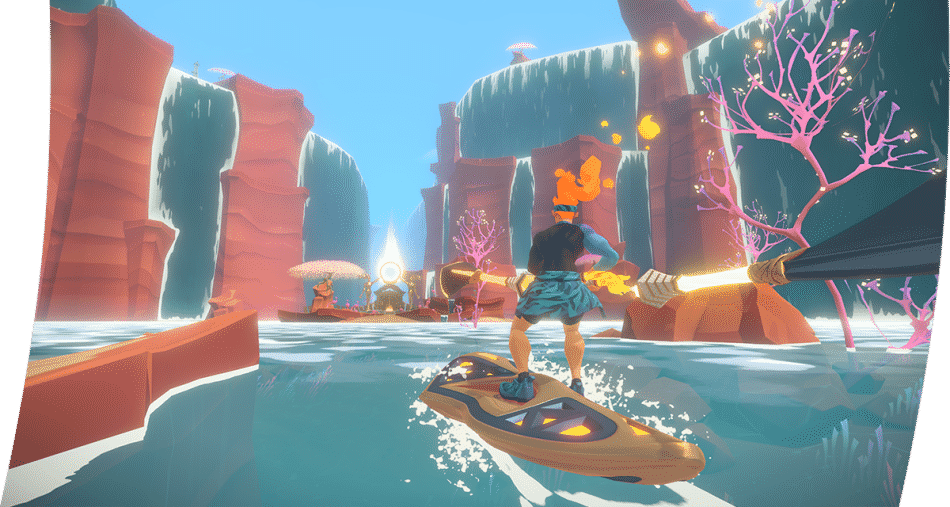 As with most RPG's out there, as you level up you will unlock more complex and powerful exercise moves to help you beat the ever-increasing foes you'll be facing. Along the way, Ring continually guides and encourages you to keep going, which, to be honest, actually helped me focus a lot more on my form when doing the exercises and gave me just the push I needed to defeat an enemy when I thought my muscles just couldn't anymore.
For those looking for a quick little workout, Nintendo's Ring Fit Adventure also offers some mini-games which are again surprisingly fun and, for a short workout, does the job perfectly.
As someone who is relatively active and can do a lap or two around the neighbourhood without passing out, I wasn't expecting Ring Fit Adventure to have much of an effect on me. I don't mind admitting that some of the workouts and moves actually left me feeling stiff and aching the next day. Naturally, it depends on what difficulty you play the game. Trying to be the tough guy, I actually dared to play on the most difficult setting, which I enjoyed but also regretted the next day.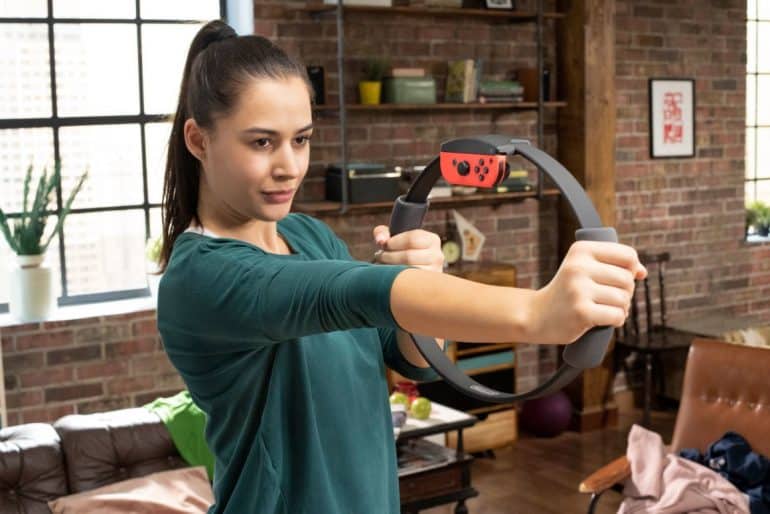 For a device that consists of a ring and a leg strap, I was surprised at how flexible it was when it came to adjusting the exercises to suit your level of fitness. While I sweated and struggled my way through each level, my younger daughter, who played on a lower difficulty, was able to breeze through some of the battles and levels, leaving me in the dust.
I'd be lying if I said that the game doesn't feel grindy at times, but this is just the nature of games based on repetitive movements. These really aren't ways around this. This is especially true when it comes to boss battles, which can be sweat inducingly long at times. No one said exercising was easy.
Ring Fit Adventure is one of the more successful combinations of gaming and exercise. As with most exercise aids, it won't make the process of exercising any easier but what it does successfully is to make it fun. Sure, it won't cause you to grow huge muscles or shed off that unwanted belly overnight but, as a way to complement a healthy lifestyle and encourage you to get off the couch and get moving, it does a great job. Now, I'm off to do some more squats and defeat a few bad guys in the process.
https://youtu.be/wvHELogbm2E
The Review
Ring Fit Adventure
Ring Fit Adventure is not perfect, but it's the best amalgamation of exercise and gaming in recent memory.
PROS
Great combination of RPG combat and exercises
Get you moving and sweating
Great mini-games
CONS
Can feel grindy at times
Feeling stiff the next morning
Review Breakdown
Storyline

0%

Gameplay

0%

Graphics

0%

Replay Value

0%

Sound and Music

0%