Nintendo's most famous siblings make a return in New Super Mario Bros. U Deluxe, a port of the original Wii U game, which, judging by Wii U's poor sales, many may have missed the first time around. Well, don't fear as New Super Mario Bros. U Deluxe not only gives those that missed the opportunity to play the game another chance at experiencing 2D bliss, but it also includes the New Super Luigi U expansion and adds a new playable character.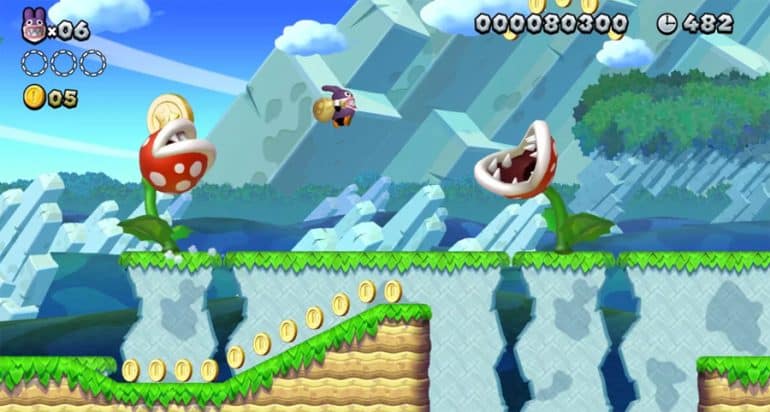 Players are once again tasked with jumping, stomping and basically trying to survive the many creatively designed 2D levels. There is little doubt that the Super Mario Bros. games have always offered some of the best 2D platforming around and New Super Mario Bros. U Deluxe is no exception, thanks to its tight controls and challenging level design.
Princess Peach has once again found herself in hot water and, as always, it's up to Mario and friends to save the day (and the princess).
What starts off as a bit of a breeze, where jumping and stomping on your enemies will get you through the first couple of levels, soon escalates into challenging jumps, moving platforms and tougher enemies. This difficulty spike can be frustrating at times, especially if you weren't expecting it. It is great that the game tries to keep things fresh by continually throwing new obstacles at you to overcome.
Along the way, you will have access to quite a few pickups to aid you on your adventure. These do make getting from point A to B easier, but you'll still need the necessary skill (and patience) to successfully complete some of the more difficult stages.
As expected, there are also loads of secret areas to find with hordes of those shiny golden coins ripe for picking. The drive to find all these made me return to completed levels quite a few times, as I scoured each in search of their secrets. There are also some boss fights, but these mostly boil down to stomping on their heads repeatedly until the keel over.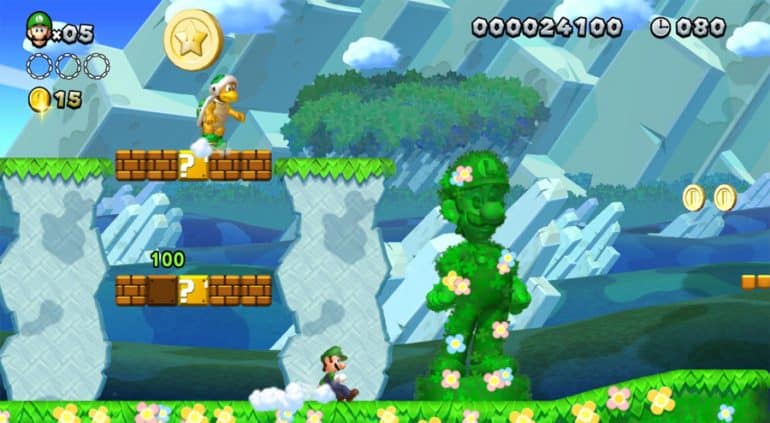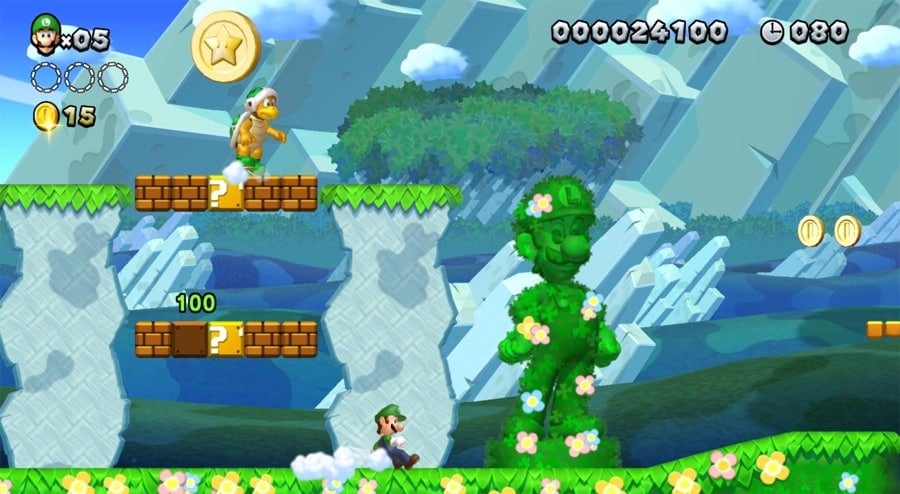 Players can also choose between five playable characters. While Mario, Luigi and Toad play very similar, Nabbit and Toadette help make things just a tad easier for less experienced players. Nabbit doesn't take damage from any of the game's enemies but can die when missing a jump or slipping off a platform. Toadette, on the other hand, can pick up the Super Crown power-up, which transforms her into Peachette. This transformation gives her the ability to slowly float on decent and gain an extra jump. It's great that these two characters cater for those who struggle with the specific levels (especially since characters can be changed before entering a level), although more experienced players might find that they make things just a bit too easy.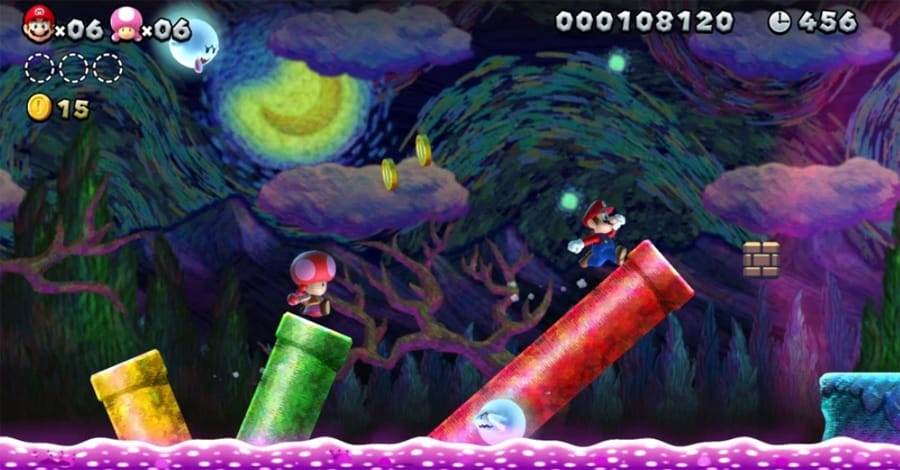 Outside of the main story mode, there is also a myriad of challenges to complete, which will earn you medals. These challenges are surprisingly creative (and difficult) and trying to complete them can be quite addictive. There is also a co-op mode, which is unexpectedly fun and challenging. Of course, the more players you add the more chaotic things tend to become.
Visually, the game looks great in both docked and hand-held mode. Levels such as the obligatory desert, grass, water and ice levels all make a return. There are the Vincent van Gogh-inspired levels that do manage to change things up a bit. Other than that, the visual design is more of what we've come to expect from the franchise.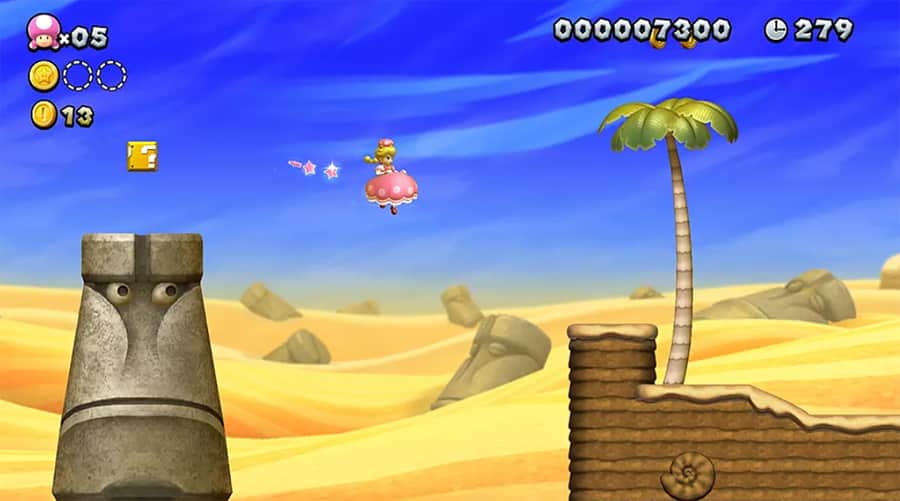 Despite being a port of the Wii U version, New Super Mario Bros. U Deluxe is still a great entry in the franchise and reminded me of just how great 2D platformers can be. There were times that the tried and tested formula did start to show its age, which might disappoint those who were expecting a bit more. However, overall, I found returning to the Mushroom Kingdom to be, for the most part, just as enjoyable as I had hoped.
While those that played the Wii U version might not want to re-dip their toes back into the Mushroom Kingdom, those that haven't yet experienced the game should definitely give it a go. New Super Mario Bros. U Deluxe is well worth playing.
The Review
New Super Mario Bros. U Deluxe
New Super Mario Bros. U Deluxe might not add much to the original game but it still is worth playing if you didn't get a chance to play it the first time around.
PROS
Creative level design
Tight controls
Challenge modes
CONS
Doesn't add much to the original
Review Breakdown
Storyline

0%

Gameplay

0%

Graphics

0%

Replay Value

0%

Sound and Music

0%