Ever since Ratchet & Clank: Rift Apart was first announced for the PlayStation 5 on June 11, 2020, fans have been wondering just who the brand new female Lombax featured in the announcement trailer was. Thanks to the latest trailer, we finally know a bit more about this mysterious new playable female character.
Watch the new trailer for Ratchet & Clank: Rift Apart:
The new Ratchet & Clank: Rift Apart trailer sees Doctor Nefarious interrupting a ceremony that is being held for the game's two protagonists, Ratchet and Clank.
Of course, all hell breaks loose and the duo is spilt after being forced through a dimensional portal. Clank meets up with the game's female Lombax, who we learn is suitably called Rivet.
As with Ratchet, Rivet quickly attaches Clank to her back and they head off to do some platforming.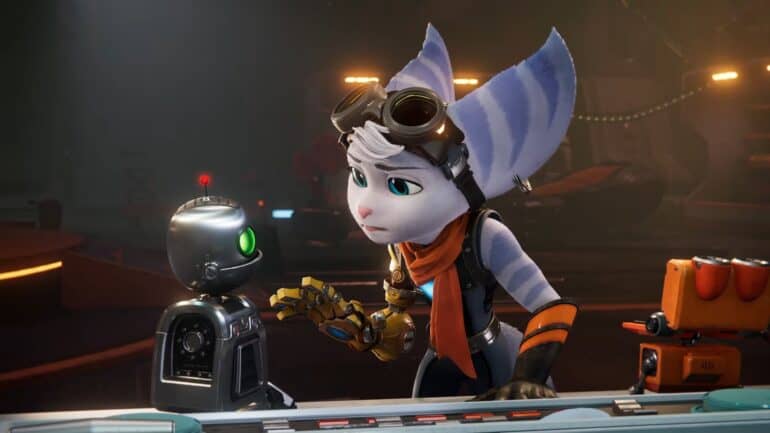 A familiar voice
Along with the new trailer developer, Insomniac also revealed that the voice behind the new Lombax is Jeniffer Hale, who voiced Femshep (the female Commander Sheperd) in the Mass Effect trilogy.
The Ratchet & Clank: Rift Apart game is being exclusively developed for the PlayStation 5 and said to take advantage of all the raw power and features that Sony's new console offers. This means that we'll no doubt see impressive visuals and sounds, and hopefully also interesting implementations of Sony's DualSense Controller.
One of the ways in which Insomniac is using next-gen technology in the game is through portals, which will see players being instantly teleported from one dimension to the next without long loading times.
After a handful of releases that haven't pushed the PlayStation 5 to its limits, at last we'll be seeing developers showcasing what the next-gen consoles are capable of. Fingers crossed that it turns out to be really great!
Ratchet & Clank: Rift Apart is set to release exclusively for the PlayStation 5 on the 11th of June 2021.
Update: Sony's Ratchet & Clank: Rift Apart presentation shows off 15 minutes of new gameplay. And it's incredible!