Get ready for a new level of challenge in God of War Ragnarök with the addition of New Game Plus. Discover how this feature will change the game in this article.
RELATED: Live-Action God of War Series Casting Using A.I.
Recently released in November 2022, God of War Ragnarök, many fans of the franchise were excited about the latest instalment. Not only was the game the first in its series to make a cross-gen release (meaning you can play it on the PlayStation 4 and 5), but it also saw multiple nominations, including The Game Award for Game of the Year. It also won numerous awards, including The Game Award for Best Performance. In addition, many fans were impressed by the latest instalment in the series, describing the game as perfect and praising the game's storytelling and the interactive side quests you can participate in.
Of course, despite God of War Ragnarök having a definitive ending, players are still hoping for another instalment. While Sony may not have answered fans' wish for another God of War game, they have gone live with a new DLC for God of War Ragnarök that will allow players to re-experience the game. The New Game Plus (NG+) went live yesterday, 5 April 2023 and can be accessed once players have finished the game in any difficulty setting. In addition, the new Game Plus allows players to carry over everything they have unlocked when completing the game. So, when you are doing a re-run of the game, you will have access to all your weapons and other arsenals from the beginning. This is in addition to the newly added items that you can either unlock in the re-run, purchase from the store or automatically gain access to when you use the New Game Plus (NG+) DLC for the first time.
RELATED: God of War 6: Exciting Theories About The Next Game 
How to Access the New Game Plus (NG+) DLC?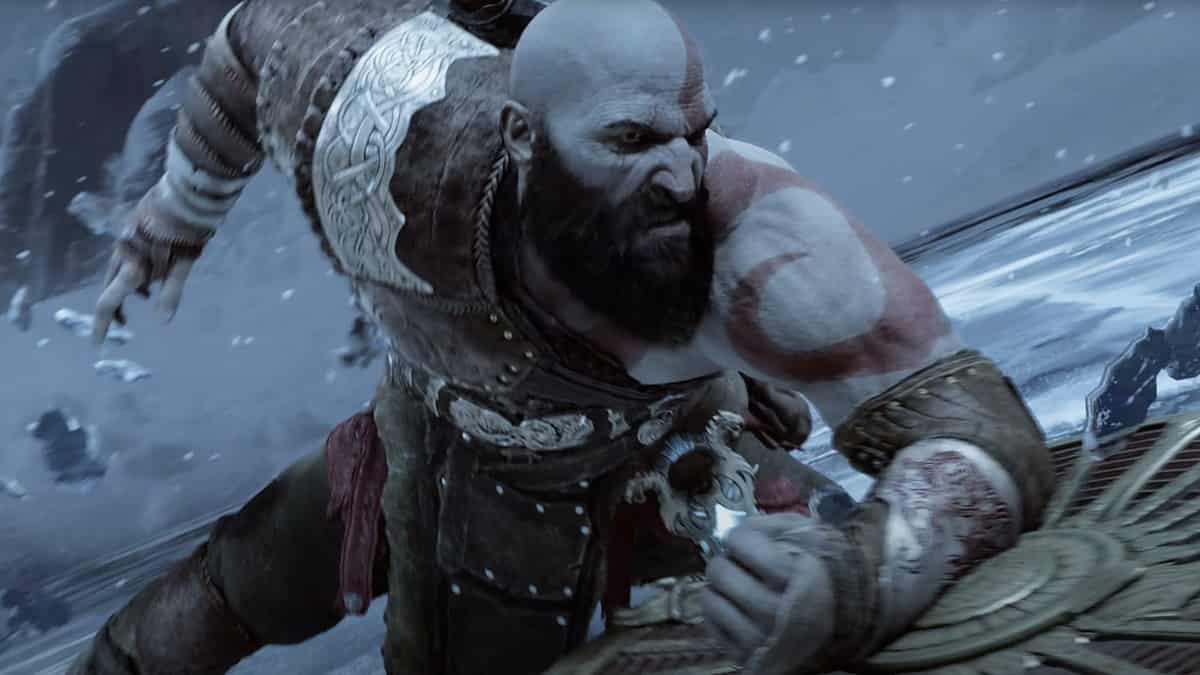 The DLC offers players access to new equipment, a new level cap, and new Enchantments, allowing for unique gameplay. So, as soon as you beat the game (The Realms at War quest), you can access the 'New Game +' option from the main menu. Upon selecting this option, you will be asked which save you want the New Game + to run off, but remember; you can only select The Realms at War quest. No other save will work with the DLC. After this, you will be prompted to select a Manual New Game Data slot and then pick your difficulty settings for the gameplay. If not, the NG+ will just use your existing difficulty settings.
What Items Do You Start with in New Game Plus?
Armour of the Black Bear: This is a different version of the outfit you initially started the game with your first playthrough. Starting at level 7, this is the fur cape Kratos wears at the very beginning of the game, which now sports a black and yellow colour scheme.
Weapons: Kratos will start the game with his Draupnir Spear and the Blades of Chaos, which, normally, would only be unlocked after his fight against Thor. Furthermore, his Shield will not break when fighting against The Huntress as it did in the game's first run. However, the game will still act as if the Shield broke.
Kill Labor and Ratatask Progress: The progress for both will be carried over from your previous gameplay.
Story-based Restrictions: You can only switch equipment for certain characters after a specific narrative event. For example, Kratos can only switch equipment after his dream, Atreus can only switch after encountering the Raiders after the Bjorn bear boss fight, and upon joining her party in The Reckoning quest in Vanaheim, Freya will be able to switch.
RELATED: Has Kratos Retired After The Harrowing Events Of God of War: Ragnarök?
Which Items Do You Have to Unlock Again in New Game Plus?
Collectables: Unfortunately, all your Lore and Artifact collectables will be reset, which means you will have to re-discover them as you play through for the second time.
Sonic Arrows and Hex Arrows: To ensure the game's narrative is not messed up, you must unlock these items again when playing the New Game Plus. Furthermore, it is also to ensure you can complete the puzzles again without issue.
Codex Entries: All codex entries will have to be unlocked at your progress through the NG+ playthrough of the game, as they will be reset.
Which General Additions Will Be Included with the New Game Plus?
Level Cap: Kratos and all your enemies will be much stronger in the NG+ playthrough due to a new power level cap. Furthermore, all your level 9 equipment, such as armour, weapons, weapon components, and shields, can be upgraded to a 'Plus' version, allowing for further game progression.
Resources: The new DLC will provide new resources you can upgrade as you play. This includes weapons, weapon accessories, shields and armour. This includes the Skap Slag resource, as seen in God of War 2018. You can also buy more Resources in the Dwarven Shops to upgrade your equipment, and you can sell Resources in an enlarged amount instead of singularly.
Black & White Render Mode: You can now unlock a Black and White mode after completing the game once. Turning it on is as easy as finding your 'Graphics and Camera' option in the Settings menu.
Skill Mod Tokens: The NG+ will allow players to upgrade their Skill Mod Tokens with XP. This, in turn, will make their effects more potent.
Kill Labors and Ratatasks Tiers: In the NG+, these will have a new Platinum tier that can be unlocked during your NG+ gameplay or in your first game playthrough. The latter is pretty simple, meaning if you need to complete a particular task several times to unlock the NG+ Platinum Tier, and you have already done so in your first run, then it will be unlocked in the NG+ when you begin your second run.
Difficulty: This is not necessarily exclusive to the NG+ run of the game, but the DLC has allowed players to display their difficulty setting on the screen. This can be turned on under the 'Gameplay' tab in the Settings menu by the HUD section.
Gilded Coin: If you convert your equipment to level 9.1, you will receive a Gilded Coin, which can be used at the Dwarven Shops.
Chests: Hacksilver will be found in higher amounts in Chests and throughout the game. Furthermore, previously opened Nnior Chests will now contain Yggdrasil Dew which will increase Kratos core stats.
RELATED: The God of War Voice Actors Are Keen To Star In The Live-Action
What Will Your New Game Plus Equipment Look Like?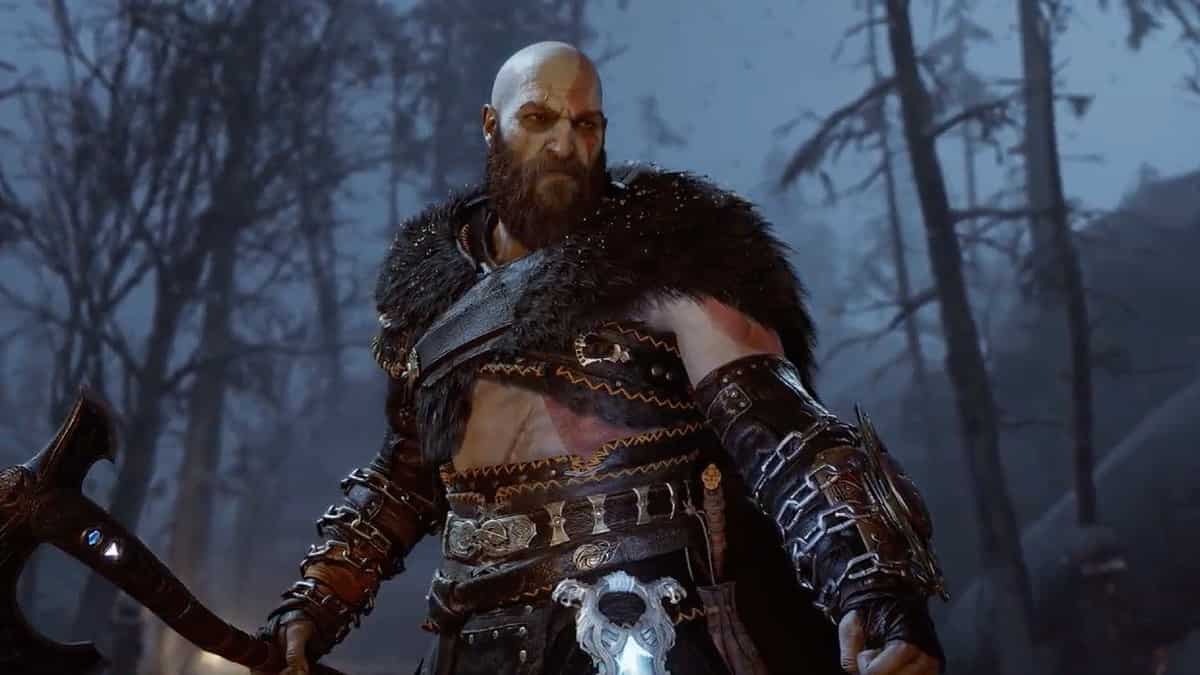 Generally, some of the existing armour from the God of War Ragnarök game will now have a fresh new look. Sony has revamped 13 of their current armours, adding new colour combinations to make for a refreshing look. As long as your armour is Level 9 or higher, you can apply them after purchasing it at the Huldra Brothers' Shop. However, the Berserker Armor can only be accessed after you have defeated the Berserker King in your New Game Plus run-through. Here are some of the other items you will gain access to with the NG+ DLC:
· Armour of the Black Bear
As mentioned above, Kratos' fur coat from the game's opening scene will be added to the NG+ additions. However, it won't just serve as a means to keep the demigod warm but will also provide stats that mainly focus on Strength and Defense. For example, the Chest Armor's Perk will increase immunity when you evade an enemy attack, and a last-second evade will have fire Bifrost Shards fire at your enemy. And then Kratos' first melee attack after evading an enemy will see the Wrist and Belt's perks increase the damage dealt.
· Spartan Armor
For people who enjoy a more independent approach to the game or just enjoy a challenge, the God of War Ragnarök Spartan Armor will be perfect for you. Unfortunately, the armour is locked at Level 1 and has no stats or perks. What this means is that you will have no means of protection, stripping your character down to the minimum while increasing the difficulty level to the maximum. You can also purchase Attachments of Sparta, which includes weapons also locked at Level 1 with no perks and stats. But, if you are not a fan of the difficulty increase but want to retain the Spartan look, then you can transmog this with a different set.
· Ares Armor
Available to purchase for Hacksilver at the Huldra Brothers' Shop, the New Game Plus is re-introducing God of War 2018's Ares and Zeus armours. Equipped with new visuals and perks and a chance for lucky players to drop a Health Stone on hit. You can get a Rage Gain with a bigger explosion upon stomping the Health Stone.
· Zeus Armor
This armour will allow you to increase your Melee and Runic damage, but the catch is incoming damage is also increased. Therefore, one blow could knock Kratos down in a clean shot if you are not careful. However, in turn, you can unleash some fantastic punishments on your enemies as the armour offers next-level raw power. After defeating Gná, the Valkyrie Queen and completing specific NG+ Remnants of Asgard, you will unlock the Zeus Armor.
· Spartan Aspis (New Shield)
Also available to purchase at Huldra Brothers' Shop with Hacksilver, the Spartan Aspis differs from the Guardian Shield in the parry window. The Spartan Aspis has a significantly smaller window that makes timing it challenging. However, if done correctly, the damaging result is quite rewarding.
RELATED: Metacritic Has Announced The Best Game Of 2022, And It Isn't Elden Ring Or God Of War
Which New Enchantments Does New Game Plus Bring Us?
Purchase Engraving and Badge Enchantments with Gilded Coins
This means you can purchase any of the Nineteen Equipment Perk Enchantments from the Dawrven Shops with your Gilded Coins. Simply put, the New Game Plus Enchantments will give you a selection of potent perks from both Armor (Engravings) and Shield Rönds (Badges). And from here, you can equip them in your Amulet as an Enchantment. Unfortunately, you cannot double up the perks, and they have a minimum Stat requirement that must be met before the Perk will unlock despite equipping it. However, you can make various armour combinations. For example, you can equip certain chest armour perks while wearing another, which means you can combine the perks of the two chest armours.
Berserker Soul Drops Will Boost Your Stat Enchantments
You will be rewarded with new Enchantments when you defeat a Berserker Soul in your New Game Plus run. When equipped, these can help you maintain the build you like most and provide big boosts for Kratos' stats.
Burdens Enchantments Will Make the Gameplay More Challenging
With a total of nine Burden Enchantments available, this new set of Enchantments costs 10 000 Hacksilver each and serves to make the game more difficult. A great example of how the Burden of Evasion will automatically inflict the frost status effect each time Kratos rolls. Also available to purchase at the Huldra Brothers' Shop, it is advised to try combining all nine Burdens with the Spartan Armour to enjoy maximum difficulty in the New Game Plus run of God of War Ragnarök.
RELATED: God of War Ragnarok Photo Mode Is Helping Fans Discover New Details
What Else Can You Expect from God of War Ragnarök New Game Plus?
New Game Plus Enemies and Bosses Have been Adjusted
Many of the bosses and enemies have been altered so that even though you may have defeated them in your previous playthrough, the NG+ run proves to be challenging. Here is what you can expect from your battles in the NG+ run of God of War Ragnarök:
Final bosses such as King Hrolf Kraki and Valkyrie Queen Gna had their moves altered, so when you encounter them in the NG+ run, they will be much more challenging to beat. This also includes optional bosses such as the Grim; you can opt to fight in the Svartalfheim's Alberich Tunnel, all of which will have extra moves.
Bosses will drop completely new Resources and Loot in the NG+ gameplay, such as the Gale Flame, which can be found when battling The Huntress.
All the bosses and mini-bosses you encounter on the Give Me No Mercy and Give Me God of War difficulty settings will be wearing Runic Armour. This will make it significantly more difficult to cut through their armour unless your use the correct Runic Attacks to help take them down.
The Give Me No Mercy difficulty setting will also allow other enemies to turn on Elite during combat and increase their Health and Damage while also gaining a Power Level.
New Game Plus Has Expanded Nifelheim Sparring Arena
Upon unlocking NG+, you will now have access to an expanded sparring arena. This means you have a more comprehensive selection of enemies to choose from when you want to practice fighting. Furthermore, you can choose to fight as either Atreus or Kratos and can select a companion on any of the following characters:
Kratos (if you are playing as Atreus or vice versa)
Brok
Angrboda
Thrud
Freya
Sindri
Ingrid
Thor
Skipping Cinematics Is Optional
The New Game Plus has ensured that you now have the option to play the NG+ run of God of War Ragnarök at your own pace. You can skip cut scenes when replaying the game's story if you wish. Of course, you also have the option not to skip and experience the game all over again.
RELATED: Did God of War Ragnarok Make Kratos Weaker?
How to Take Full Advantage of the New Game Plus DLC
If you have yet to complete your first playthrough of God of War Ragnarök or have not yet started, your second run with the New Game Plus DLC added, these tips can help you gain the entire experience from the DLC. For example, an important thing to keep in mind is that you will be rewarded if you complete something in your NG+ run that you already completed in your first run of the game. So with that said, try to complete everything in the first run of the game, as that will significantly help you in the second run. And this is beside the fact that regardless of what difficulty setting you played the first run in, the NG+ will ultimately be more difficult.
Another great tip that can help you significantly upon making it to the NG+ playthrough of the game is upgrading all your equipment to (at minimum) Level 7. Of course, upgrading them to a higher level will be more beneficial to you, but this is fine if that's all you are able to do. You will want to upgrade weapons such as the Leviathan Axe, Blades of Chaos, Draupnir Spear and Shield, as well as the weapon attachments. Don't forget to upgrade your abilities, too. And remember, completing your combat-based Ratatasks in your first run can help to unlock the Platinum Tiers in your NG+ run and, in turn, help you earn Skap Slag.
And finally, as mentioned above, the game has certain story-based restrictions. As a result, you must ensure that your character is wearing the armour and using the weapons you want for them. This means you should ensure your desired customization settings are in place before beginning your second run, as you can only switch them out after certain plot points have been passed in the gameplay.
RELATED: Alan Ritchson Fan Cast For Kratos In Amazon's Live-Action God of War
Are you excited about the God of War Ragnarök New Game Plus DLC?