We've reviewed quite a few Nerf blasters recently, with most of the ones we've reviewed mainly geared towards shooting those foam darts as far and as accurately as possible. Of course, this is a great thing when you are looking to quickly and effectively take down your opponents or target from a long distance, but what if you are faced with multiple opponents or targets at a shorter range? More importantly, what if you just want to look like an action hero? If this is the case then the Nerf Trilogy DS-15 might just be the blaster for you.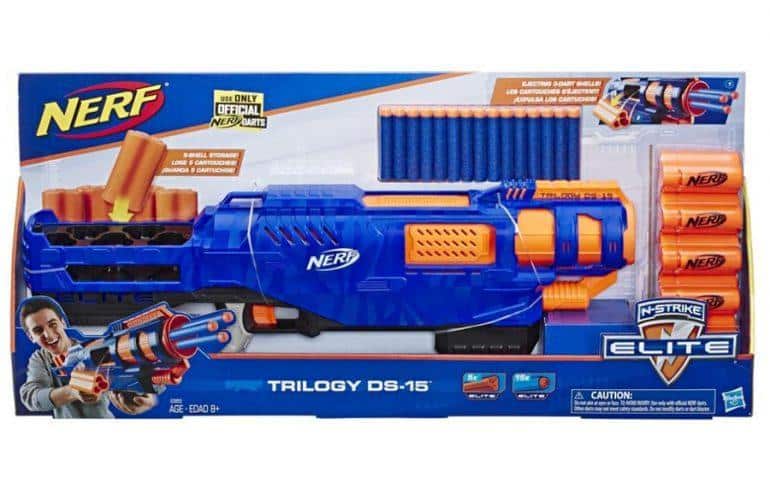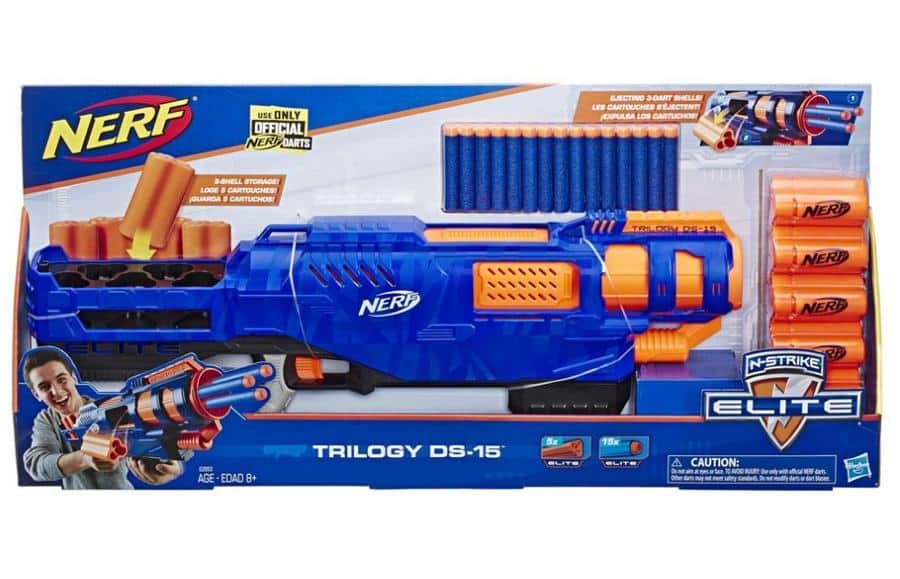 While the name doesn't exactly evoke a picture of a new kick-ass blaster, but rather something that might be found in your kitchen, the Nerf Trilogy DS-15 is quite large, which works in a way that will make you feel like Sylvester Stallone or Arnold Schwarzenegger. That said, it actually has a very small grip. This shouldn't be a problem for most Nerf fans but those with larger hands might not find the grip as comfortable as some of those found on other N-Strike Elite blasters. As far as weight goes, the blaster is actually surprisingly light for its size and my 8-year old had no issues chasing me around the house with it.
What sets the Nerf Trilogy DS-15 apart from some of the other blasters we've reviewed is that it actually fires three darts at once. In essence, it is themed around a pump action-shotgun. It even goes as far as to include cartridges that you load your darts into. Each of these cartridges takes three Elite foam darts which then gets loaded into the blaster from the top opening. Once the blaster is primed you are ready to fire three darts at once.
Reloading after the Nerf Trilogy DS-15 has been fired means pulling back on the pump-action slide, which ejects the empty cartridge out from the side, just like a real shotgun. It's actually very easy to use and my kids had no problem getting to grips with the pump-action mechanic (as my battered body can attest to).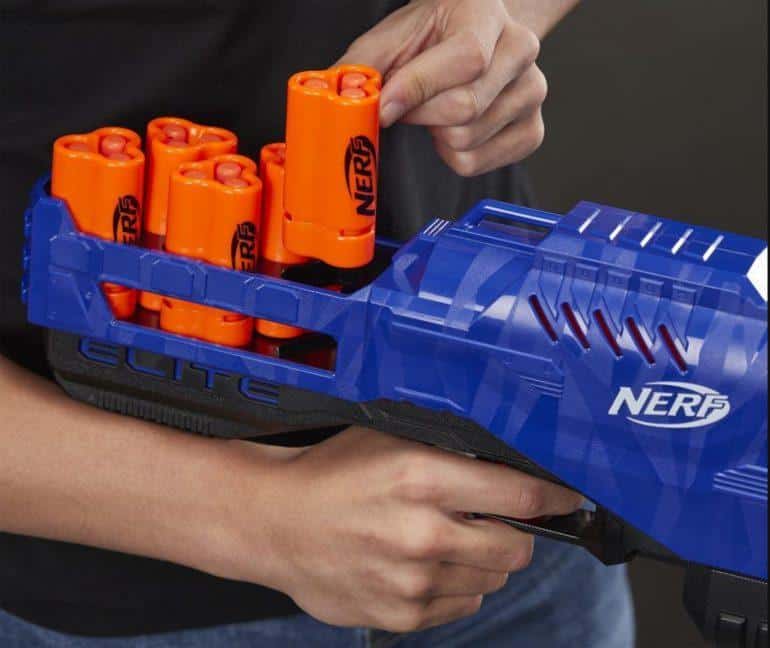 As with all things in life, looking awesome while firing this Nerf blaster does have it's drawbacks. Effectively letting your cartridges eject onto the floor after each shot means that if you don't pick them up, you'll find yourself unable to fire again. This might be a problem if you find yourself in the thick of an epic battle against, in my case, my two daughters teaming up against me.
That said, the blaster does come with 5 cartridges that can be preloaded and conveniently stored in a rack on the stock of the blaster. This does alleviate the problem somewhat, but you'll still need to pick up the empty cartridges if you want to keep those foam darts flying.
As far as accuracy goes, it's basically a blaster that follows the 'if you shoot more than one dart you don't have to be accurate' mantra.  At a short-range, the spread of the three darts means that you'll definitely be hitting something. It's at the longer ranges where the Nerf Trilogy DS-15 struggles. The blaster does have a sight rail, however, this isn't a blaster you'll be using for its accuracy.
Looks-wise, the Nerf Trilogy DS-15 uses the same N-Strike Elite blue, black and orange colour scheme seen on some of the other blasters in this range, and this suits the blaster perfectly.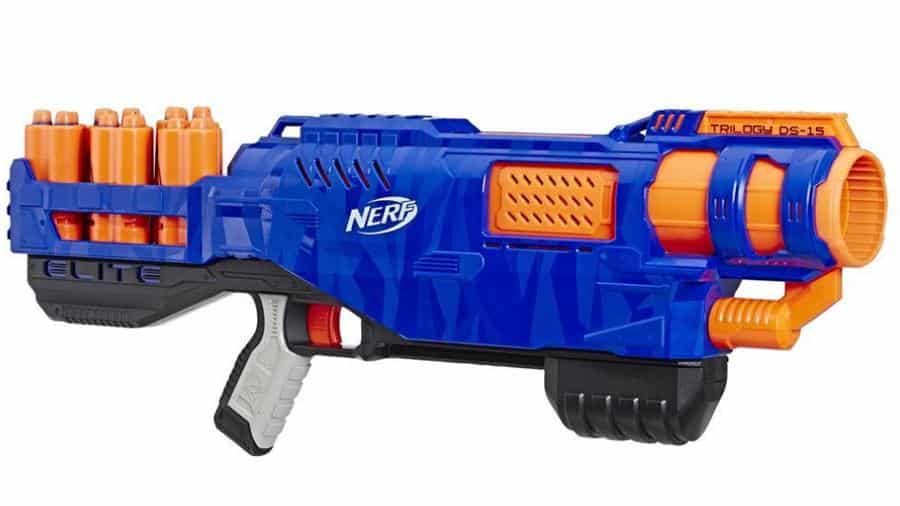 To be honest, of all the ones I've reviewed to date, this has to be my personal favourite. The Nerf Trilogy DS-15 looks good, works well, and, more importantly, as an absolute blast to use.
The Review
Nerf Trilogy DS-15
Nerf Trilogy DS-15 might not be the most accurate Nerf blaster out there but boy, does it make you feel like an action hero when firing it. This is a Nerf blaster every self-respecting '80s action film fan needs.
PROS
Looks awesome
Makes you feel like an action hero
it fires three darts at once
Review Breakdown
Packaging

Durability

Paintwork

Detail

Features

Fun Factor