I recently reviewed the Apollo XV-700 Nerf Blaster in the new Rival range from Hasbro. It was during that period that I realised why so many fall in love with the NERF range and how Hasbro's drive to continually innovate keeps fans of these blasters coming back for more.
Over the years, these toys have become a collector's piece for many with kids and adults. Enter NERF Fest, a festival dedicated to not only showing off the latest and greatest Nerf blaster Hasbro has to offer but also giving consumers the opportunity to try out these blasters for themselves.
It was a hot and sweltering day when we walked through the orange inflatable arch that signalled our arrival at NERF Fest 2018. The venue, Jozi X, while not the shadiest of places, was the perfect venue for the event allowing multiple inflatable bouncy obstacle courses to be set up. We arrived early and were greeted by one of the friendly staff members from Hasbro in their signature orange NERF shirts.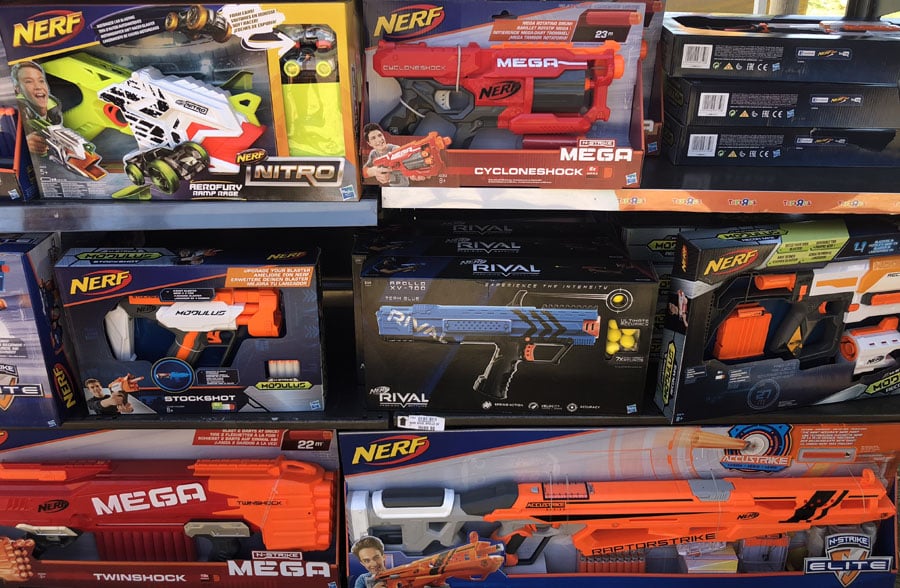 While the main aim of the event was to enable those who registered by purchasing one of the NERF blasters to try out some of the products on various obstacle courses, there was a free play area for keeping the little ones entertained while they waited for their time slot.
I have to say, that by having each child book a specific time slot, the organisers were able to keep the venue from becoming overcrowded. It was a smart move as it meant that we never found ourselves stuck in a queue or having our kids miss out on specific play area due to overcrowding.
While on the subject of the free play area, this was a great way of keeping the kids entertained (which is quite a task) and making sure that there was enough to do. The kids were able to try out their aiming skills at the NERF aiming booth, play with the NERF races at the NERF Nitro booth and play on the myriad of inflatable obstacles.
Once it was our turn, we were divided into teams and were briefed on how the various courses would work. There was the NERF Accustrike zone (where you could test your accuracy), NERF Modulus obstacle course (we were tasked with using different NERF Modulus blasters), the NERF Rival zone (which is similar to a paintball course) and, lastly, the Super Soaker zone (where you have to slide down a huge slip-n-slide while trying to shoot cups from a stand).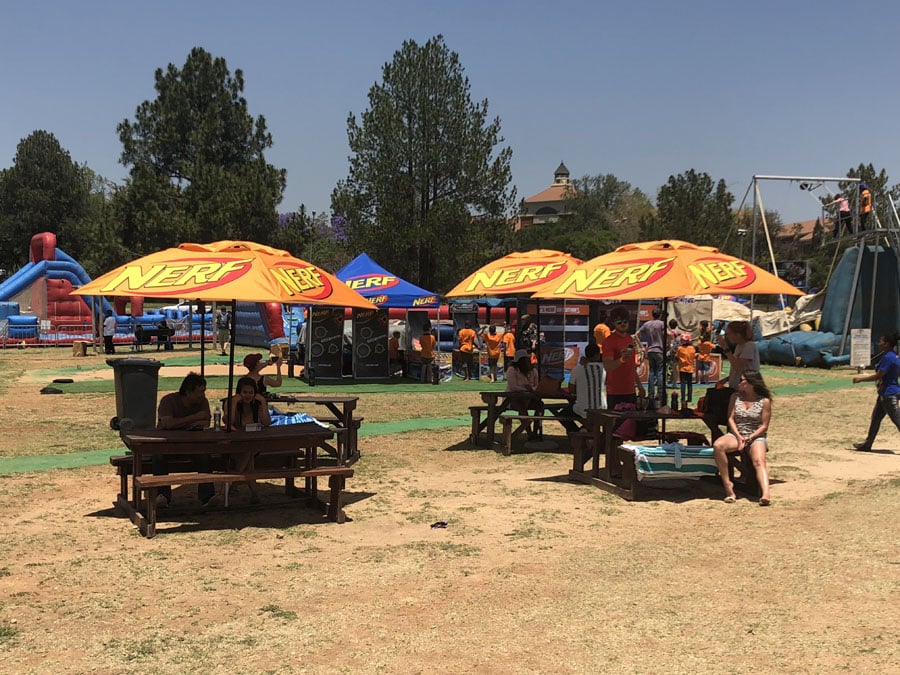 Each of these courses/zones where well thought out and showcased the best attributes of each of the different Nerf blaster ranges. What made these zones even more enjoyable to our kids was the fact that the people in charge made sure that everyone had fun, even if it meant sliding down the slip-n-slide and losing your Super Soaker along the way or just completing the NERF Modulus obstacle course without firing a shot.
There was a moment during the day when the combination of sweltering heat and lack of shade made me a bit grumpy but, after seeing how much effort was put into making sure each child enjoyed themselves and had fun while still being safe, my mood changed. I really salute these staff members for this. I enjoyed Nerf Fest 2018 not because there were loads for adults to do while waiting for the kids to finish their courses but because it was a memorable day for my kids who both commented on how much fun they had.
At the end of the day, my kids not only left with a medal commemorating the day but with lasting memories of a day spent having fun, getting wet and playing with those awesome NERF blasters. Thank you, Hasbro. You have ensured that my kids will be dragging me to NERF Fest 2019.