EA's arcade-style racing Need For Speed franchise has been around for a quarter-century and, while the new release might be titled Need For Speed Heat, the creators probably should have called it Underground 3 or Most Wanted 2 instead. Unlike 2017's Payback, which felt a little flawed, Heat, a fine-tuned open-world street racer also developed by Ghost Games, borrows from the best parts of the franchise to deliver the most fun racer the studio has produced in years. And so begins NFS' triumphant return.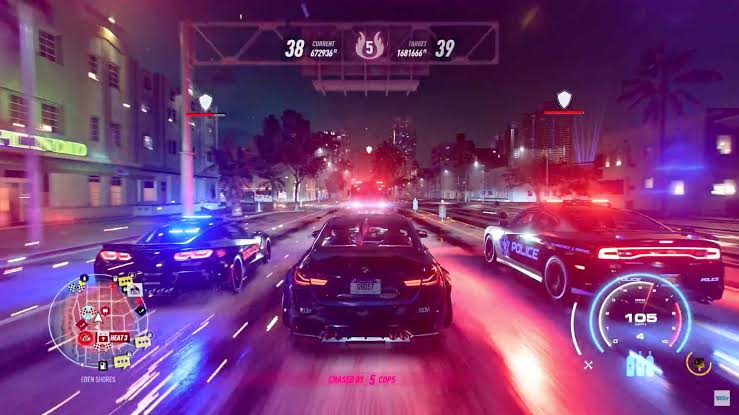 Over the years, EA has struggled to get the franchise back on the map. Need For Speed Heat, which focuses on vehicle customisation, cop chases and street racers, is hardly revolutionary. In fact, veterans will feel an odd sense of deja vu as they race, drift and cruise across the neon-drenched open streets of Palm City, a fictionalised new playground (with collectables and events dotting the map with things to do) modelled after Miami, Florida. But despite its similarities to previous games, it has managed to bring the fun back to the franchise, an area where 2013's Need for Speed: Rivals and 2015's Need for Speed reboot and 2017's Payback failed.
The main hook is that there are two distinct yin-yang experiences in the game. Daytime focuses on sanctioned street racing for cash payouts (which can be used for customisations), whereas the nighttime races are illegal and help build rep points (which is needed to unlock new vehicles). In order to progress in Need For Speed Heat, you'll need to master the time-of-day switching system by balancing between the two.
Moving away from Payback's story-heavy gameplay, there's not a lot of narrative going on in Need For Speed Heat and most of the cutscenes are short fillers between the races. The game focuses on a rookie player character, which you can customise with clothing and accessories, who is new to Palm City. Eager to earn some cash ("bank") and win the city's annual racing tournament, he quickly befriends a local mechanic and his street racing sister. Together the three take on the local racing circuit. At the same time, local police are cracking down on illegal racing in the town and send out a special task force to do "whatever it takes" to bring the racers to justice. You know, the usual hackneyed Fast and The Furious stuff, complete with corny dialogue and unrealistically high stakes.
Structurally, night and day races are the same. But there is one big difference, the police. Police chases in Heat are aggressive and thrilling. Probably the most fun you'll have is ramming into the supercharged police cruisers and outriding them on the road by the skin of your teeth. The police tail you through races and sometimes continue the pursuit directly after you cross the finish line until you can shake them off. If the police bust you before you can get to safety, you'll be arrested and lose all the cash you made. This isn't good for your cash flow or your rep either.
Other cool features:
Heat can be played online (where others can join your events) or completely offline.
There are 127 cars in total to unlock and choose from.
There are no luck-based Speed Cards.
There is a myriad of parts available if you want to fully upgrade each car's performance.
Heat offers a fantastic sense of speed, with the various cars handling differently.
Let's hope EA and Ghost Games use Need For Speed Heat as a template moving forward. It's really a great return to form for the franchise and should steer it back onto the hot tar road. Fans should love it.
The Review
Need For Speed Heat
It's clear right from the starting line that Need For Speed Heat is a return to form for the franchise. Fans who've been longing for a follow up to Most Wanted will be pleasantly surprised.
Review Breakdown
Storyline

0%

Gameplay

0%

Graphics

0%

Replay Value

0%

Sound and Music

0%